Dicatat oleh
Awanama

| | Posted On Isnin, 28 November 2011 at 9:29 PG
sumber :-
---
Posted: 28 Nov 2011 08:05 AM PST
---
Pile of waste by the road an eyesore
Posted: 27 Nov 2011 09:30 PM PST
Long trail of rubbish: One side of Jalan 1/42 that has become a garbage dump.
Source: http://thestar.com.my/metro/story.asp?file=/2011/11/28/central/9985070&sec=central (By CHOONG MEK ZHIN, 28/11/2011)
For years residents of Kampung Segambut Luar and Kampung Segambut Permai have been living near a rubbish dump. The dump in Jalan 1/42 can also be seen from Jalan Kuching that runs parallel to the road.
Pensioner Khairuddin Karim, 56, said the rubbish collection truck came on schedule once every three days but within that short span of time, a big pile of garbage would have accumulated at the spot.
One of the main worries of the villagers is that the pile attracts stray animals and rodents. "At night, a large group of stray dogs scavenge for food at the pile of rubbish and in the process garbage gets scattered everywhere. Rodents are also attracted to the pile," he said. Khairuddin said they feared the pests could cause diseases. He also highlighted the problem of clogged drains which could caused flash floods.
Segambut MP Lim Lip Eng said about three years ago, there used to be large metal rubbish bins where the dump was located. "However, some residents claimed that these bins were taken by scrap metal collectors," he said, adding that about 100 households used the spot to dump garbage.
Lim hoped DBKL would provide some new communal bins to keep the area clean. "The pile of rubbish is an eyesore and creates a bad impression of the city as well," he said.
You are subscribed to email updates from Lim Lip Eng
To stop receiving these emails, you may unsubscribe now.
Email delivery powered by Google
Google Inc., 20 West Kinzie, Chicago IL USA 60610
魏宗贤文打烟之声 Gwee Tong Hiang for Bentayan
Posted: 28 Nov 2011 04:28 AM PST
---
Posted: 27 Nov 2011 09:03 PM PST
Posted: 28 Nov 2011 01:11 AM PST
---
Challenge Nor Mohamed Yakcop to a public debate on whether the extension of the concession period for Penang Bridge by 17 years (en/bm/cn)
Posted: 28 Nov 2011 12:19 AM PST
Challenges Tan Sri Nor Mohamed Yakcop To A Public Debate Whether The Extension Of The Concession Period For Penang Bridge By 17 Years And Butterworth-Kulim Expressway (BKE) By 11 Years In Exchange For A Toll Hike Freeze For 5 Years Benefits Penangites and Malaysians.
I wish to challenge Minister in the Prime Minister's Department Tan Sri Nor Mohamed Yakcop to a public debate on whether the extension of the concession period for Penang Bridge by 17 years and BKE by 11 years, in exchange for a freeze on on toll hike for 5 years on 5 highways including the NSE, benefits Penangites and Malaysians.
Tan Sri Nor attacked me in the New Straits Times today for practicing double-standards in opposing the revised deals that will defer toll fare hike for 5 years until 2016. I fail to see how this revision deal benefited the people and how I can be practicing double-standards when I am taking the principled stand in opposing toll operators benefiting hugely at the people's expense.
TOLL COMPENSATION WAIVER ~ REVISED CONCESSION TERMS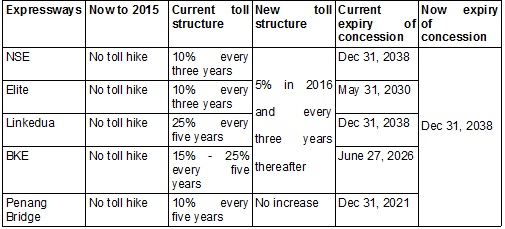 This revision deal above is NOT a win-win situation for both the government and the toll operator as well as the rakyat but clearly a win all solution for the toll operators. Penangites are unfairly penalised for the toll fare hike freeze for 5 years for Penang Bridge, NSE, BKE, Linkedua and Elite. Penangites have to pay an extra 17 years for Penang Bridge till 31.12.2038 instead of 31.12.2021 and for BKE an extra 11 years till 31.12.2038 instead of 27.6.2026, just to allow the 5 toll operators to defer the toll hike by 5 years. There is no extension for NSE or Linkedua.
What is most unconscionable and unfair to the rakyat is that the toll operators are reaping obscenely high profits where they have more than recouped their original investments of construction cost. In a written parliamentary reply of revenue obtained by toll operators until 31.12.2010, the toll operator for NSE spent RM 5,945 million to construct the NSE but has received RM 24,266 million in toll receipts and government compensation.
In other words the NSE toll operator has recorded a surplus of RM 18,321 million as at 31.12.2010 over his investment outlay. Is there any need for the NSE toll operator to collect any more tolls from the public much less increase toll fares? By right and in the rakyat's interest, toll collection in the NSE should be stopped immediately in view that the revenue returns are 3 times more than the original investment.
The situation is similar for Penang Bridge which has collected RM 1,859 million but spent RM 944 million on construction cost, enjoying a surplus of RM 924 million. For BKE, toll collection amounts to RM 340 million on construction cost of RM 256 million, recording a surplus of RM 84 million. Instead of paying until 31 December 2038, Penangites should not be paying any toll at all in the Penang Bridge and the BKE.
And yet Tan Sri Nor claims that this revision deal benefits the rakyat by freezing toll hike, when the toll hike remains but slyly disguised where its impact is not felt now, but the pain lengthened for another 17 years for Penang Bridge and 11 years fro the BKE.
If Tan Sri Nor is so confident that this revision deal benefits the people, then he should not fear to debate with me so that the people can see how this revision deal benefits them instead of the toll operators.
—– BM Translation—-
Kenyataan Akhbar Ketua Menteri Pulau Pinang Lim Guan Eng di Kuala Lumpur pada 28.11.2011
Cabar Tan Sri Nor Mohamed Yakcop Untuk Berdebat Secara Terbuka Berhubung Dengan Isu Sama Ada Lanjutan Konsesi Jambatan Pulau Pinang Selama 17 Tahun Dan Lebuhraya Butterworth-Kulim (BKE) Selama 11 Tahun Sebagai Balasan Pembekuan Kenaikan Kadar Tol Selama 5 Tahun Membawa Manfaat Kepada Rakyat Pulau Pinang Mahupun Malaysia.
Saya ingin mencabar Menteri dalam Jabatan Perdana Menteri Tan Sri Nor Mohamed Yakcop untuk berdebat secara terbuka berhubung dengan isu sama ada lanjutan konsesi jambatan Pulau Pinang selama 17 tahun dan BKE selama 11 tahun sebagai balasan untuk pembekuan kenaikan kadar tol selama 5 tahun di 5 lebuhraya termasuk lebuhraya utara-selatan (NSE) akan membawa manfaat kepada rakyat Pulau Pinang mahupun Malaysia.
New Straits Times hari ini telah melaporkan bahawa Tan Sri Nor telah mengecam saya kerana mengamalkan "double-standards" dalam bantahan saya terhadap semakan semula perjanjian tol. Saya tidak dapat melihat bagaimana semakan semula yang menangguhkan kenaikan tol selama 5 tahun sehingga 2016 ini dapat membawa manfaat kepada rakyat. Tambahan pula, saya tidak faham bagaimana saya boleh dikatakan sebagai mengamalkan "double-standards" apabila saya mengambil pendirian yang berprinsip untuk membantah syarikat-syarikat pengendali tol yang selama ini meraut keuntungan yang besar daripada rakyat.

PENGECUALIAN PAMPASAN TOL ~ SEMAKAN SEMULA TERMA KONSESI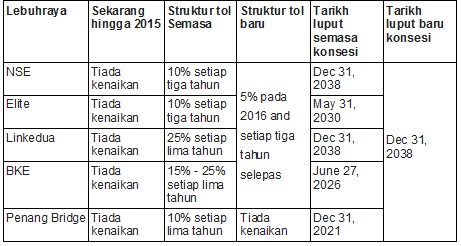 Semakan semula terma konsesi seperti di atas BUKANLAH satu keadaan "menang-menang" bagi Kerajaan, pengendali tol dan juga rakyat tetapi satu kemenangan yang besar bagi syarikat-syarikat pengendali tol sahaja.
Rakyat Pulau Pinang akan menerima hukuman yang tidak adil sebagai balasan untuk pembekuan kenaikan kadar tol selama 5 tahun bagi Jambatan Pulau Pinang, NSE, BKE, Linkedua dan Elite. Rakyat Pulau Pinang sekarang dihukum dengan lanjutan tol selama 17 tahun untuk Jambatan Pulau Pinang, iaitu sampai 31.12.2038 dan bukan tarikh luput asal 31.12.2021. Bagi BKE pula, tempoh tol ditambah 11 tahun kepada 31.12.2038 daripada tarikh luput asal 27.6.2026. Ini telah dilakukan supaya kadar tol untuk 5 lebuhraya di atas akan dibeku selama 5 tahun. Tambahan pula, tidak ada lanjutan tempoh tol bagi NSE atau Linkedua.
Yang paling tidak adil dan tidak berhati nurani, adalah hakikat bahawa syarikat-syarikat pengendali tol sudah pun meraut keuntungan yang besar di mana kos pelaburan asal pun sudah selesai dikutip.
Jawapan bertulis Parlimen mengenai hasil yang telah dikutip syarikat-syarikat pengendali tol sehingga 31.12.2010 telah menunjukkan bahawa syarikat pengendali tol NSE telah membelanjakan RM5,945 juta untuk pembinaan lebuhraya tersebut, manakala telah menerima sebanyak RM24,266 juta daripada kutipan tol dan pampasan kerajaan dalam jangka masa yang dinyatakan. Dalam erti kata lain, syarikat pengendali tol NSE telah mencatat lebihan sebanyak RM18,321 juta setakat 31.12.2010 daripada pelaburan asal.
Adakah perlu lagi untuk syarikat tersebut untuk mengutip lagi banyak tol daripada rakyat apatah lagi untuk menaikkan kadar tol? Sepatutnya, dan jika diambil kira kepentingan rakyat, kutipan tol bagi NSE patut dihentikan serta merta sedangkan hasil kutipannya sudah pun 3 kali ganda pelaburan asal.
Keadaannya serupa untuk Jambatan Pulau Pinang yang telah mengutip sebanyak RM1,859 juta dengan kos pembinaan RM944 juta. Lebihan yang dicatat sebanyak RM924 juta. Bagi BKE, tol yang dikutip berjumlah RM340 juta manakala kos pembinaannya RM256 juta, iaitu lebihan sebanyak RM84 juta. Rakyat Pulau Pinang bukan sahaja tidak sepatutnya terus dibebani tol sehingga 31 Disember 2038, malah tol bagi Jambatan Pulau Pinang dan BKE harus dihentikan serta merta.
Namun demikian, Tan Sri Nor mendakwa bahawa semakan semula perjanjian tol ini membawa manfaat kepada rakyat melalui pembekuan kenaikan kadar tol, sedangkan kenaikan kadar tol ini sebenarnyamenyamar disebalik lanjutan tempoh tol. Kesannya mungkin tidak dirasai sekarang, tetapi kesakitannya akan berlanjutan selama 17 tahun bagi Jambatan Pulau Pinang dan 11 tahun bagi BKE.
Jika Tan Sri Nor betul-betul yakin bahawa semakan semula perjanjian ini membawa manfaat kepada rakyat, beliau patut berdebat dengan saya supaya rakyat dapat memahami bagaimana semakan semula perjanjian ini akan membawa manfaat kepada mereka dan bukan kepada syarikat-syarikat pengendali tol.
—- Mandarin Translation —-
槟州首席部长林冠英于2011年11月28日在吉隆坡发表的声明:

挑战丹斯里诺莫哈末就槟城大桥及北海居林大道的特许合约,分别展延17年及11年以换取未来5年不涨过路费是否真正惠及槟城人及马来西亚人民,来一场公开辩论。
我谨在此挑战丹斯里诺莫哈末就槟城大桥及北海居林大道的特许合约,分别展延17年及11年以换取5条大道,包括南北大道在未来5年不涨过路费是否真正惠及槟城人及马来西亚人民,来一场公开辩论。
丹斯里诺莫哈末在今天的《新海峡时报》对我展开攻击,声称我在修定后的大道合约上,也即是将收费调涨推迟5年至2016年一事持有双重标准。我实在看不出到底这项新的修定合约如何惠及人民,我的立场是反对大道经营者以牺牲人民利益的方式大幅度牟利,这怎么会变成"双重标准"呢?
上述的修定合约,对政府、大道经营者及人民而言,都不是三赢的情况,反之,这很明显地只是对大道经营者最有利的解决方案。槟城人在5条大道,也即是槟城大桥、南北大道、北海居林大道、马新第二通道及中环公路的"冻结调整过路费5年"的协议下,被不公平地处罚。为了让5条大道经营者展延调涨过路费5年,槟城人被逼多还17年的槟城大桥过桥费,直至2038年12月31日,而不是原本的只需还槟城大桥过桥费至2021年12月31日。同样的情况也出现在北海居林大道,原本的特许经营权只到2026年6月27日,可是如今槟城人却必需多背起11年的大道包袱至2038年12月31日。反之,南北大道及马新第二通道的特许经营权却没有展延。
更不合情理及对人民不公平的是,这些大道经营者已经收取了大幅度的高利润,他们早已成功收回他们的原有建筑费投资。我在一次的国会书面回答中得悉,截至2010年12月31日为止,南北大道公司只花了 59亿4千500万令吉投资作建筑大道之用,却已收取了 242亿6千600万令吉的过路费及政府赔偿金。
换言之,截至2010年12月31日,相比他们的投资支出,南北大道经营者已经创下了183亿2千100万吉的盈余。南北大道公司还有必要向人民收取过路费,甚至是要调涨过路费吗?就事论事或站在人民的利益来看,南北大道应该立刻停止收费,因为他们已经收取超过原有投资3倍的盈利了。
类似的情况也发生在槟城大桥。槟城大桥公司只花了 9亿4千400万令投资在建筑费上,可是却已牟取了18亿5千900万令吉的过桥费,享受着9亿2千400万令吉的盈余。至于北海居林大道,总收费额已创下 3亿4千万令吉,而建筑成本只是 2亿5千600万令吉,记录了8千400万令吉的盈余。与其需要缴交过路费至2038年12月31日,槟城人民其实是根本不再需要缴交任何的过路费,不管是槟城大桥过桥费或北海居林大道过路费。
然而,丹斯里诺莫哈末在声称这项修定合约因为冻结调涨而惠及人民的当儿,事实上却是变相的起价,因为有关的起价依然存在,只是我们现在不会受到影响,而是分别将痛苦延长了17年(槟城大桥)及11年(北海居林大道)。
如果丹斯里诺莫哈末信心满满,认为这项修定后的特许合约是惠及人民的,那他应该勇于接受挑战,跟我来一场公开辩论,以让人民清楚的知道这项修定后的特许合约,到底是惠及人民还是惠及大道经营者。
林冠英
Konsortium Transnasional Bhd(KTB) Should Delay Their Termination Of Their Cityliner Bus Services By At Least 2 Weeks till 15 December 2011 To Give Time To Finalise Negotiations On Continuing Bus Services.(BM/BC)
Posted: 28 Nov 2011 12:11 AM PST
The Penang state government is requesting KTB to delay their termination of their Cityliner bus services by at least 2 weeks till 15 December 2011 to give time to finalise negotiations on continuing bus services. I had met KTB's Executive Chairman And Managing Director Dato' Sri Mohd. Nadzmi Mohd. Salleh together with Penang State EXCO member for public transport Chow Kon Yeow last week to discuss about their intention to terminate the bus services on 21.11.2011.
However KTB extended the termination till 1st of December 2011. The 32 Cityliner buses ply 7 routes carrying 560 people daily in Seberang Perai:-
1. Butterworth to Baling: BKE, Karangan – Kuala ketil – Baling (2 buses)
2. Butterworth to Padang serai: Penang sentral-chain ferry- Taman Inderawasih- chai leng park- sungai dua- pokok sena – kampung selamat. (6 buses)
3. Butterworth to Bukit Mertajam: Penang sentral-chain ferry- Taman Inderawasih- chai leng park- pacific mall – Jalan Baru – permatang Rawa. (10 buses)
4. Butterworth to Taman Pelangi: Penang sentral-chain ferry- Taman Inderawasih- chai leng park- pacific mall- kawasan perindustrian perai – Taman Pelangi. (2 buses)
5. Bukit Mertajam to Kuala Juru: B.M Plaza -Desa Damai – Jalan Kebun Sireh- Simpang Juru- Simpang Semilang- Kuala Juru.( 2 buses)
6. Bukit Mertajam to Parit Buntar: B.M Plaza -Desa Damai – Jalan Kebun Sireh- Bukit Tengah- Simpang Juru – Valdor – Permatang Tinggi- Jawi – Nibong Tebal – Parit Buntar. (4 buses); and
7. Bukit Mertajam to Nibong Tebal to Parit Buntar (4 buses)
After preliminary discussions, the State Government of Penang has been informed by Konsortium Transnasional Berhad that the Cityliner bus services in Seberang Perai will continue at least till 1 December 2011. The Penang state government hopes that the termination can be extended by KTB for another 2 weeks till 15th December 2011.
There are total fleet of 32 Cityliner stage buses, with 28 buses operating all 7 routes. The termination of service by city liner will affect the public transport user, and cause inconvenience to them. According to KTB city liner is running severe losses and it is no longer viable for the company to operate their services.
Meanwhile, the State Government is in active negotiations with KTB to seek out a viable and feasible remedy for the longer term. The Penang State Government will also negotiate with Rapid Penang to find solution.
The Penang State Government urges SPAD (Land Public Transport Commission) to intervene with funding and resources as well as to review both social routes(unprofitable but providing for rural areas) and popular routes to ensure that they are served by the respective bus companies. If bus companies serving social routes can not be given popular routes, there should be some subsidy or assistance from SPAD.
The Penang State Government recognises the importance of public transport as an important social good and has provided free bus services. This year the state government spent more than RM 2 million to provide 16 BEST ( bridge express shuttle service transit) buses between Seberang Jaya and the Bayan Lepas FIZ and 3 buses touring the heritage enclave of George Town for free.
— Mandarin Translation —-
槟州首席部长兼民主行动党秘书长林冠英于2011年11月28日在槟城乔治市光大发表声明:
Konsortium Transnasional Bhd(KTB) 应该延长Cityliner的巴士停驶的时限至少多2周至2011年12月15日,给予时间谈判继续提供巴士川行服务的定案。
槟州政府要求KTB延长停驶服务至少2周至2011年12月15日,给予时间谈判继续提供巴士川行服务的定案。 我和槟州交通道理管理委员会主席曹观友在上周与KTB 主席兼 董事经理拿督斯里莫哈末纳兹米会面,商讨该公司打算在2011年11月21日起停止巴士服务的事项。
无论如何,KTB已决定延长该巴士公司服务至2011年12月1日,Cityliner 32辆川行威省的巴士每日搭客约560人, 7条川行路线为:
1. 北海至华玲:北海居林大道-加拉岸-瓜拉吉低-华玲 (2辆巴士)
2. 北海至巴东色海: 槟城中环广场-北海码头-凤凰花园-才能园-双溪赖-波格先那-平安村(6辆巴士)
3. 北海至大山脚:槟城中环广场-北海码头-凤凰花园-才能园-太平洋广场-新路-鱼池路(10辆巴士)
4. 北海至彩虹花园:槟城中环广场-北海码头-凤凰花园-才能园-太平洋广场-北赖工业区-彩虹花园(2辆巴士)
5. 大山脚至瓜拉柔府:大山脚高峰城-帝沙南眉-哥本斯里 -柔府-森米兰-瓜拉柔府(2辆巴士)
6. 大山脚至巴里文打:大山脚高峰城- 帝沙南眉-哥本斯里 -武吉丁雅-柔府-峇冬丁宜-华都-爪夷-高渊-巴里文打(4辆巴士)7. 大山脚至高渊至巴里文打 (4辆巴士)
经过初步商议,TKB公司告知州政府有关Cityliner川行威省的巴士服务将延至2011年12月1日,槟州政府希望该巴士服务延长多2周至2011年12月15日。
Cityliner巴士共有32车队,28辆巴士和7条川行路线,停驶将影响公共巴士使用者,造成他们日常生活的不方便。据KTB指, Cityliner面对严重亏损,所以该公司无法再承担有关营运费用。
州政府正积极与KTB谈判,以寻求一个可行的长期方案,州政府同时也将与槟城快捷通巴士谈判寻找解决方案。
槟州政府促请陆地公共交通委员会(SPAD)介入,同时提供资金和资源,以检讨社会路线(无利可图但必须提供予乡区)和热门路线,确保有公司负责这些川行路线,若川行社会路线的巴士公司不获川行热门路线,那SPAD应该给予津贴或援助。
槟州政府认同公共交通作为一项重要社会公益的重要性,并提供免费巴士服务,今年州政府拨出超过2百万令吉提供16辆BEST巴士(大桥快捷通)川行诗布郎再也到峇六拜工业区,还有3辆巴士免费载乘客川行乔治市古迹区。
林冠英
Posted: 28 Nov 2011 12:07 AM PST
Mencadangkan Menaikkan Bayaran Kepada RM200 Dan Bukan RM100 One-Off Untuk Program Anak Emas Untuk Semua Bayi Kelahiran Pulau Pinang Mulai 1 Januari 2011.
Kerajaan negeri Pulau Pinang ingin mengucapkan Salam Maal Hijrah kepada semua umat Islam yang meraikan 1 Muharram 1433H. Sempena perayaan Awal Muharam 1433H, saya akan mencadangkan kepada mesyuarat EXCO pada minggu depan agar bayaran program anak emas Pulau Pinang dinaikkan kepada RM 200 one-off daripada bayaran asal RM 100.
Kejayaan Program Penghargaan Warga Emas RM 100 setiap tahun dan RM 1,000 "one-off" urusan jenazah kepada si waris demi mengenang jasa bakti sumbangan warganegara yang melebihi 60 tahun kepada pembangunan negeri, telah menyebabkan beberapa pihak mencadangkan bahawa kerajaan negeri menimbang pula golongan yang baru lahir.
Sebagai kerajaan berjiwa rakyat yang dengar suara rakyat, buat kerja rakyat dan berikan harapan kepada rakyat, kerajaan negeri PR anggap program anak emas ini adalah satu cadangan baik untuk meraikan tambahan anak Pulau Pinang yang baru. Program Anak Emas telah dicadangkan awal tahun ini dengan bayaran RM100 one-off dibayar untuk semua bayi kelahiran mulai 1 Januari 2011 di mana salah satu ibu bapa adalah pengundi di Pulau Pinang.
Bayaran RM 100 program anak emas ini adalah diperolehi daripada lebihan Bajet yang dicatatkan oleh kerajaan negeri Pakatan Rakyat setiap tahun memerintah di Pulau Pinang. Lebihan Bajet adalah RM 88 juta pada 2008, RM 77 juta pada 2009 dan RM33 juta pada 2010. Pengurusan kewangan yang baik, bersih dan anti-rasuah ini disahkan dan dipuji oleh Laporan Ketua Audit Negara dan juga Transparency International.
Sungguhpun bajet 2011 dijangka berdefisit sebanyak RM 108 juta, sebaliknya perbelanjaan berhemah dan urus tadbir cekap, akauntabel dan telus atau CAT membolehkan bajet berdefisit tahun ditukar menjadi bajet lebihan. Atas prestasi kewangan yang menggalakkan ini, maka kerajaan negeri boleh menanggung tambahan RM 100 kepada RM 200 untuk program anak emas ini.
Tambahan pula, negeri Pulau Pinang juga mencatatkan pengurangan hutang yang paling besar dalam sejarah Malaysia sebanyak 95% atau RM600 juta daripada RM630 juta pada Mac 8 2008 bila PR mengambil tampuk pemerintahan negeri kepada RM30 juta pada akhir Oktober 2011. Tambahan kepada RM200 untuk program anak emas akan melihat perbelanjaan di antara RM5 – 10 juta.
Semua ibu bapa diminta mendaftarkan diri dengan Pejabat Daerah, pejabat ADUN dan Ahli Parlimen Pakatan Rakyat ataupun pejabat Pengawai Penyeleras DUN. Bayaran pertama program anak emas akan dibuat pada bulan depan Disember.
—Mandarin Translation—
槟州首席部长林冠英于2011年月11月27日在槟城乔治市光大发表的回历新年献词
建议从2011年1月1日起,将"槟州宝贝计划"下的一次性100令吉,提高至200令吉给所有在槟城出生的新生儿。

槟城州政府恭贺所有回教徒回历新快乐。配合回历新,我将在下周的行政议会,向所有的州行政议员建议,以将现有的"槟州宝贝计划"下的100令吉新生儿补贴金数额,增至200令吉。
随着槟州民联政府的"乐龄人士回馈计划"成功后,有人建议州政府考虑初生宝宝也获津贴的。在乐龄回馈计划下,槟城州所有年届60岁或以上的槟城选民,都能获得每年100令吉的回馈金,以感激他们对槟城做出的贡献。当有关的乐龄人士逝世后,其继承人也将获得一次性1000令吉的抚恤金。
作为一个以民为本的政府,我们准备听人民的话、做人民的事、给人民一个新的希望。而州政府也认为,"槟州宝贝计划"是一项为庆祝新生儿的好建议,因为槟城的人口又增加了。这项计划是在今年初被提出。从2011年1月1日起,凡是父母当中其中一人为槟州登记选民,州政府将发出100令吉给州内每一名初生宝宝。
州政府分发的这100令吉"槟州宝贝计划",是从槟州民联政府创下的财政盈余处取得。自从执政槟城之后,槟州的财务每年均有盈余,在2008年,我们的财政盈余是8千800万令吉,2009年则是7千700万令吉,以及2011年的3千300万令吉。槟城州政府良好的财务管理、廉洁及反贪的努力,也获得了总稽查司及国际透明组织的认可及表扬。
虽然 2011年度的财政预算案,估计将会有1亿零800万令吉的赤字,但是透过谨慎的开销、以CAT能干、公信、透明的施政方针,今年的赤字预算将会转为盈余。有了这些令人鼓舞的财务表现,我们相信州政府绝对有能力承担"槟州宝贝计划"从100令吉增至200令吉的建议。
再说,槟城州政府也成功从2008年3月迄今,创下马来西亚史上最高的减债记录,成功减了95%或相等于6亿令吉的债务。槟城州政府从2008年3月执政初期的6亿3千万令吉债务,减至2011年10月杪的3千万令吉债务。而将"槟州宝贝计划"从原有的100令吉增至200令吉,则预料将耗资500万令吉至1千万令吉之间。
所有的父母受促向县署、民联国州议员服务中心、选区协调官员办公室登记。第一批的"槟州宝贝计划"补贴金预料将在下个月,也即是12月开始颁发。
林冠英
Muhyiddin's Proud Defence Of UMNO's Racist Agenda And He Is Malay First And Malaysian Second Only Proves That 1Malaysia Is An Empty Slogan Designed To Win Votes And Rapidly Discarded After The Next General Elections.
Posted: 27 Nov 2011 04:44 AM PST
UMNO Deputy President Tan Sri Muhyiddin Yassin's proud defence of UMO's racist agenda and that he is Malay First and Malaysian second only proves that 1Malaysia is an empty slogan designed to win votes and rapidly discarded after the next general elections. What is surprising is that Muhyiddin does not consider illogical or inconsistent with pursuing a strictly racial Malay agenda with the agenda of other non-Malay Malaysians.
Muhyiddin even pursues the perverse logic that DAP leaders such as Lim Kit Siang and myself are Chinese chauvinists even though DAP has fought for all Malaysians and our membership open to all including Malays, Indians Ibans and Kadazans. Muhyiddin conveniently ignores the fact that I was imprisoned and lost my parliamentary seat for defending an underaged Malay rape victim who was detained instead of her rapists.
DAP is no threat to Malays. Only UMNO is a threat to Malays and Malaysians with its open acceptance and defence of repressive violation of basic human rights, corruption and abuse of power.

By using such fear and threats, UMNO can justify and cover up its numerous financial and corruption scandals that has cost Malaysia hundreds of billions of ringgit such as:_
– the latest exposes of excessive expenditure of RM3.7 billion by government departments in the 2010 Auditor-General's Report without any punishment imposed; and
– the controversy of allowing public funds to a company related to a Minister, that was meant for rearing cows but misused to purchase high-end luxury condominiums.
UMNO has consistently undertaken a remorseless campaign of lies and fear against the DAP to scare the Malays that their rights and interests are being threatened. Nothing could be further from the truth as the civil service, the police and the army is overwhelmingly dominated by the Malays. Further the critical economic sectors in the insurance, banking, automobile, ports, highways are controlled by Malay entrepreneurs or interests.
In politics, the Prime Minister and Deputy Prime Minister are Malays. All the Menteri Besars and Ketua Menteris are Malays except for Penang. No non-Malay political leader has even talked about wanting to be Prime Minister because Malaysians accept the political reality that the Prime Minister of Malaysia must come from the Malay community. That is why talk of wanting to amend the Federal Constitution to only Malays is superfluous as it ignores political reality and is racist as it considers non-Malays as second-class citizens.
The highest political post available to non-Malays now is as Ministers and the Penang Chief Minister post. Even the post of the Penang Chief Minister, the last Chief Minister post held by a non-Malay, may fall into the hands of UMNO due to UMNO contesting the highest number of seats amongst BN component parties in Penang. Out of the 40 state seats in Penang, UMNO contests 15, Gerakan 13, MCA 10 and MIC 2. If BN forms the government, so long as UMNO contests the largest number of seats, any BN Chief Minister will be a puppet of UMNO until an UMNO candidate eventually becomes the Chief Minister.
Despite such extensive control by Malays in the political, public and private sector, DAP has never carried out a campaign of fear and lies that this threatens the interests of non-Malays. DAP has never carried out such a campaign because DAP considers all Malays as Malaysians who has an equal right as any other Malaysian to be in these sectors. This is evident in the open tender system where 70% of state government contracts are won by Malays proving the Malay contractors are competitive, only UMNO crony contractors are useless.
Further the Penang state government has appointed its top civil servants based on merits who happened to be Malay, including the State Secretary, State Financial Officer and the two Presidents of the local councils in Penang Island and Seberang Perai (who also happened to the first women so appointed).
The time has come to reject UMNO's racial approach that Malays are not competent and need a corrupt and racialist party like UMNO to protect them. The time has come for us to unite on common issues of justice, truth, freedom, public welfare, and democracy.
UMNO has stolen my generation's future for the past 50 years. We must not allow UMNO to steal our children's future. Only a people-centric government under a Malaysian framework offered by Pakatan Rakyat can protect our children's future.
—– BM Translation—–
Kenyataan Akhbar Setiausaha Agung DAP dan Ahli Parlimen Bagan Lim Guan Eng di Kuala Lumpur pada 27.11.2011

Tindakan Tan Sri Muhyiddin Yassin untuk mempertahankan agenda perkauman UMNO dan kenyataannya bahawa beliau adalah Melayu dahulu dan rakyat Malaysia kemudian merupakan bukti bahawa 1Malaysia adalah slogan kosong yang hanya bertujuan untuk mengaut undi dan akan dibuang selepas Pilihan Raya Umum yang akan datang.
Tindakan Tan Sri Muhyiddin Yassin untuk mempertahankan agenda perkauman UMNO dan kenyataannya bahawa beliau adalah Melayu dahulu dan rakyat Malaysia kemudian merupakan bukti bahawa 1Malaysia adalah slogan kosong yang hanya bertujuan untuk mengaut undi dan akan dibuang selepas Pilihan Raya Umum yang akan datang. Yang lebih mengejutkan, Muhyiddin tidak merasa bahawa tindakannya untuk memperjuangkan agenda perkauman Melayu adalah bercanggah atau tidak konsisten dengan agenda rakyat Malaysia bukan Melayu.
Malah Muhyiddin menggunakan logik yang tidak masuk akal bahawa pemimpin DAP seperti Lim Kit Siang dan saya merupakan Cina cauvinis walaupun DAP telah berjuang untuk semua rakyat Malaysia dan keahlian parti kita terbuka kepada semua termasuk Melayu, India, Iban dan Kadazan. Muhyiddin dengan mudah juga telah lupa bahawa saya telah dipenjarakan dan kehilangan kerusi Parlimen kerana memperjuangkan nasib seorang gadis Melayu bawah umur yang menjadi mangsa rogol.
DAP bukan ancaman kepada orang Melayu. Hanya UMNO yang menjadi ancaman bukan sahaja kepada orang Melayu tetapi rakyat Malaysia dengan sikapnya yang menggunakan serta mempertahankan pelanggaran hak asasi manusia, rasuah dan penyalahgunaan kuasa.
Dengan menanam rasa takut serta menggunakan ugutan, UMNO mengkaburkan mata rakyat daripada skandal-skandal kewangan dan rasuah yang telah mengakibatkan kehilangan beratus-ratus bilion ringgit, seperti:
– Pendedahan terkini Laporan Ketua Audit Negara 2010 tentang jabatan-jabatan kerajaan yang telah terlebih belanja sebanyak RM3.7 bilion tanpa apa-apa hukuman dikenakan; dan
– Kontroversi di mana dana awam yang telah diberikan kepada sebuah syarikat yang berkaitan dengan seorang Menteri telah digunakan bukan untuk tujuan yang sepatutnya, iaitu untuk penternakan lembu, tetapi sebaliknya telah digunakan untuk pembelian dua kondominium mewah.
Selama ini UMNO telah menggunakan taktik kejam untuk menipu dan menanam perasaan takut di kalangan orang Melayu, kononnya DAP menjadi pengancam kepada hak dan kepentingan mereka. Ini langsung tidak berasas kerana perkhidmatan awam, polis dan tentera semuanya dikawal Melayu. Manakala sektor-sektor kritikal dalam ekonomi seperti insuran, perbankan, industri automobil, pelabuhan dan lebuhraya semuanya juga dikawal oleh usahawan-usahawan atau syarikat-syarikat Melayu.
Dalam politik pula, Perdana Menteri dan Timbalan Perdana Menteri merupakan orang Melayu. Semua Menteri-menteri Besar dan Ketua-ketua Menteri juga Melayu kecuali di Pulau Pinang. Tidak pernah ada seorang pun pemimpin bukan Melayu yang bercita-cita menjadi Perdana Menteri kerana rakyat Malaysia menerima realiti politik di mana Perdana Menteri Malaysia seharusnya berbangsa Melayu. Oleh itu, ura-ura untuk meminda Perlembagaan Persekutuan untuk membenarkan orang Melayu sahaja untuk menjadi Perdana Menteri bukan sahaja tidak diperlukan, malah bersifat perkauman kerana menganggap rakyat bukan Melayu sebagai rakyat kelas kedua.
Jawatan politik tertinggi yang boleh disandang bukan Melayu sekarang adalah setakat Menteri Persekutuan dan juga Ketua Menteri Pulau Pinang. Malah jawatan Ketua Menteri Pulau Pinang, satu-satunya jawatan yang dipegang bukan Melayu, mungkin akan jatuh ke tangan UMNO kerana UMNO bertanding kerusi yang paling banyak di kalangan parti-parti komponen BN di Pulau Pinang. Daripada 40 kerusi DUN di Pulau Pinang, UMNO bertanding 15, Gerakan 13, MCA 10 dan MIC 2. Kalau BN membentukkan kerajaan dan selagi UMNO bertanding kerusi yang paling banyak, mana-mana Ketua Menteri BN akan menjadi boneka UMNO sampailah seorang calon UMNO menjadi Ketua Menteri.
Walaupun masyarakat Melayu mempunyai kawalan yang hebat dalam sektor-sektor politik, awam dan swasta, DAP tidak pernah pun menggunakan isu-isu itu untuk menakutkan rakyat bukan Melayu. DAP tidak pernah berlaku begitu kerana kita menganggap semua orang Melayu mempunyai hak dan peluang yang sama dengan rakyat Malaysia yang lain dalam sektor-sektor tersebut. Ini jelas dibuktikan apabila 70% daripada kontrak Kerajaan Negeri Pulau Pinang telah dimenangi oleh kontrak Melayu, lantas membuktikan bahawa kontraktor Melayu mampu berdaya saing. Hanya kontraktor kroni UMNO sahaja yang tidak mampu bersaing.
Tambahan pula, Kerajaan Negeri Pulau Pinang telah melantik penjawat-penjawat awam yang tertinggi berdasarkan kebolehan mereka. Secara kebetulan mereka juga Melayu, dan ini termasuk Setiausaha Kerajaan Negeri, Pegawai Kewangan Negeri dan juga YDP-YDP kedua-dua Majlis Perbandaran di Pulau Pinang dan Seberang Perai (yang juga merupakan YDP-YDP wanita yang pertama dilantik).
Sudah tiba masa untuk menolak dasar perkauman UMNO. Orang Melayu tidak lemah dan tidak perlu kepada parti yang rasuah dan rasis seperti UMNO untuk mempertahankan mereka. Sudah tiba masa untuk kita bersatu atas dasar-dasar bersama seperti keadilan, kebenaran, kebebasan, kebajikan awam dan demokrasi.
UMNO sudah pun melenyapkan masa depan generasi saya selama 50 tahun. Kita tidak boleh membenarkan UMNO untuk mencuri masa depan anak-anak kita. Hanya sebuah kerajaan berjiwa rakyat di bawah kerangka Malaysia yang ditawarkan Pakatan Rakyat boleh menjamin masa depan yang terang untuk anak-anak kita.
—-Mandarin Translation—-
民主行动党秘书长兼槟州首席部长林冠英于2011年11月27日在吉隆坡发表声明:
丹斯里慕尤丁竟然自豪地袒护巫统的种族主义议程,并说自己首先是马来人,其次才是马来西亚人,这证明"一个马来西亚"只是一个被用来赢取选票的空洞口号,在下一届大选过后就会被丢到一旁。

丹斯里慕尤丁竟然自豪地袒护巫统的种族主义议程,并说自己首先是马来人,其次才是马来西亚人,这证明"一个马来西亚"只是一个被用来赢取选票的空洞口号,在下一届大选过后就会被丢到一旁。更让人惊讶的是,慕尤丁并不认为推崇马来人种族主义议程与推崇马来西亚其它非马来人的议程是无法相一致,也是不合逻辑的。
慕尤丁甚至进一步玩弄逻辑,指称行动党领袖如林吉祥和我本人都是华人沙文主义,虽然行动党为全民斗争,我们的党藉也开放给全体国人,包括马来人、印度人、伊班人、卡达山人。慕尤丁也故意忽略一个事实,那就是我为了捍卫一个被扣留、未成年的马来女孩强奸案受害者,我被判入狱,并失去国会议员资格,反而真正的强奸犯却逍遥法外。
行动党不会威胁马来人。只有巫统才会威胁马来人及马来西亚人,它公然纵容及维护那些违反人权、贪污及滥权的行为。
巫统通过制造恐惧及淫威,企图合理化、掩饰它的财务及贪污丑闻,这些丑闻已经导致马来西亚损失数千亿令吉,例如:
- 最近2010年总稽查报告揭露,政府部门开销超出37亿令吉,但是没有任何人受到处分;
- 允许公共资金拨给与部长有关连的公司,这笔钱原本应该用来养牛,却被滥用来购买豪华公寓。
巫统无耻地针对行动党发动了一连串的诋毁行动, 恐吓马来人指他们的权利和利益受到威胁。事实上,公务员、警员和军人都是由马来人主导。重要的经济领域如保险、银行、汽车、港口、高速公路都是由马来人企业家或利益相关者控制。
政治上,正副首相都是马来人。所有的州务大臣及首长都是马来人,除了槟城。没有任何非马来人政治领袖谈及要成为首相,因为马来西亚人接受政治现实,那就是首相必须来自马来社会。因为,高谈修宪规定只能由马来人任首相是多此一举的,它忽略了政治现实,也是视非马来人为二等公民的种族主义本位做法。
目前属于非马来人的最高职政治职位是部长及槟州首席部长。就连这个由非马来人掌管的首席部长职,也可能落入巫统的手中,因为巫统是槟城竞选最多议席的国阵成员党。在槟州40个州议席中,只要巫统竞选大多数议席,任何国阵首长都是巫统的傀儡,直到一名巫统候选人最终成为首长。
尽管马来人大量掌控政治、公共服务及私人界,行动党从来没有发起任何运动,散布谎言来恐吓非马来人。行动党没有这么做,是因为我们把所有马来人当成马来西亚人,他们与其他国人一样,有权利在这些领域内工作。特别是槟州政府的70%工程是由马来承包商竞标获得,这证明了马来承包商是有竞争能力的,唯有那些巫统朋党承包商是无能的。
再说,槟州政府在任人唯贤的原则上,委任了数名马来人高官,包括州秘书、州财政司及槟岛、威省两个市政局的主席(她们分别皆为上述两个市政局的首位女性主席)。
是时候全民拒绝巫统那一套种族议程,别再相信所谓马来人没有能力、需要像巫统如此腐败及种族主义的政党来保护他们的废话。是时候全民团结起来,为共同的目标如公义、真理、自由、公共福利及民主而前进。
巫统已经浪费了我那个年代出生整代人50年的时光。我们千万不能再让巫统浪费我们孩子的未来。只有民联在马来西亚人基础上所建立的以民为本政府才能保护孩子们的未来。
林冠英
You are subscribed to email updates from Lim Guan Eng
To stop receiving these emails, you may unsubscribe now.
Email delivery powered by Google
Google Inc., 20 West Kinzie, Chicago IL USA 60610
Posted: 27 Nov 2011 11:23 PM PST
---
Najib forewarned he is heading for another political disaster if rejects proposal for a PSC and forces PAB through all readings in Dewan Rakyat tomorrow
Posted: 27 Nov 2011 08:26 PM PST
The Police Royal Commission Report 2005 listed the complaints against bias, unreasonableness and discrimination in the exercise of police powers under Section 27 of the Police Act 1967 which vests police with the power to regulate assemblies, meetings and processions through the granting of a permit, including the following: *Permits granted to opposition political parties [...]
Time Runs Short for Europe to Resolve Debt Crisis
Posted: 27 Nov 2011 06:45 PM PST
By LANDON THOMAS Jr. November 27, 2011 | The New York Times LONDON — Eighteen months into a sovereign debt crisis — and after many futile efforts to resolve it — the endgame appears to be fast approaching for Europe. While its leaders may well hold to the current path of offering piecemeal solutions, nervous [...]
The imperative march against the Peaceful Assembly Bill
Posted: 27 Nov 2011 06:18 PM PST
By Low Teck Kuan November 26, 2011 | The Malaysian Insider NOV 26 — Have you ever felt a sense of discomfort sitting on your chair whenever you read the news? Or sometimes (most of the time for me) a sense of disbelief and appal at how politics has screwed our rights, liberties and monies [...]
Najib has taken the rakyat for a ride!
Posted: 27 Nov 2011 06:19 PM PST
By Aliran November 28, 2011 | The Malaysian Insider NOV 28 — The much-heralded reforms promised by Najib to bring us into a new era of liberalism has exploded in the face of the rakyat as a sham, a shameful promise. We were promised that the ISA would be revoked — and the rakyat rejoiced [...]
Free Enterprise As An Islamic Tradition
Posted: 27 Nov 2011 06:26 PM PST
Malaysia in the Era of Globalization #90 Chapter11: Embracing Free Enterprise Free Enterprise As An Islamic Tradition By Bakri Musa There are those who believe that capitalism implies greed, the very antithesis of our core religious value. Nothing can be further from the truth. This misguided notion led many nations to adopt socialism, with its [...]
You are subscribed to email updates from Lim Kit Siang
To stop receiving these emails, you may unsubscribe now.
Email delivery powered by Google
Google Inc., 20 West Kinzie, Chicago IL USA 60610
Posted: 27 Nov 2011 01:35 PM PST
---
You are subscribed to email updates from MY VOICE FOR THE NATION
To stop receiving these emails, you may unsubscribe now.
Email delivery powered by Google
Google Inc., 20 West Kinzie, Chicago IL USA 60610
You are subscribed to email updates from BLOG - BLOG PARTI DAP
To stop receiving these emails, you may unsubscribe now.
Email delivery powered by Google
Google Inc., 20 West Kinzie, Chicago IL USA 60610