---
Posted: 26 May 2013 03:03 AM PDT
---
You are subscribed to email updates from MEDIA 4RAKYAT
To stop receiving these emails, you may unsubscribe now.
Email delivery powered by Google
Google Inc., 20 West Kinzie, Chicago IL USA 60610
Posted: 25 May 2013 07:05 PM PDT
---
Behind Malaysian Poll Protest, a Peace Deal That Collapsed
Posted: 25 May 2013 09:17 AM PDT
A former Indonesian vice president with a history of brokering peace agreements has accused Malaysian opposition leader Anwar Ibrahim of reneging on a secret deal to respect the outcome of Malaysia's elections on May 5.
Jusuf Kalla revealed the pre-election accord in an interview with The Wall Street Journal, amid a public protest campaign by Mr. Anwar over what the opposition leader said was widespread vote fraud by the ruling National Front coalition. The election returned Prime Minister Najib Razak and the long-ruling National Front to power in the tightest national election in Malaysian history.
Mr. Kalla said the two candidates—whom he said he considered friends of his going back decades—had made a written agreement in April to refrain from personal attacks during the campaign and to accept the outcome, in a deal first proposed by Mr. Anwar.
Mr. Anwar acknowledged he had made the pact with Mr. Najib, with Mr. Kalla as mediator, but said the National Front had rendered it void by the way it ran its campaign.
He singled out Malaysia's media, much of which is controlled or owned by the government or members of the ruling coalition. "How can you talk reconciliation when you demonize your opponent in this manner?" Mr. Anwar said to The Wall Street Journal. He also said it was Mr. Kalla, not him, who first proposed the pact.
Mr. Najib stressed reconciliation in his first public remarks after the election, though both sides said that the other had rejected a clause in the pact that the winner was to offer the loser a role in a "reconciliation government."
Mr. Najib's camp confirmed that the agreement was made and dismissed Mr. Anwar's view that it had been undermined by the campaign—during which both sides accused the other of low blows and distortions. Mr. Anwar had strong support among Malaysian Web-based media during the campaign.
Mr. Kalla said he felt that both sides met their commitment to refrain from personal attacks during the campaign, and he hasn't criticized Mr. Najib over the conduct of the election.
Mr. Anwar said he plans to step up a legal campaign to overturn the results in 29 electoral districts, raising political tensions in Malaysia, which has grown increasingly divided in the aftermath of the election.
Mr. Anwar, a former deputy prime minister who has been the country's most prominent opposition leader for the past 15 years, has led a national campaign of mass rallies since the election. The scene has grown increasingly confrontational. Three prominent opposition activists were detained and later released in the past week.
In the weeks before the election, Mr. Anwar alleged that the National Front and Malaysia's Election Commission were manipulating electoral rolls and mobilizing illegal voters. On May 5, Mr. Anwar said his alliance had won and accused the National Front of stealing the election.
The National Front and the Election Commission rejected the allegations of electoral fraud. The Commission said there were extremely few irregularities, and that a record 85% of voters cast ballots.
Mr. Anwar said he is pessimistic that courts would overturn results in key districts.
The final vote count showed that Mr. Anwar's Pakatan Rakyat alliance won a majority of the popular vote, but Mr. Najib's coalition won heavily in many rural constituencies, where he has strong popular support, to emerge with a 21-seat parliamentary majority.
Mr. Kalla said that the outcome of the balloting, held on a Sunday, was clear. "We had a commitment," he said. "On Monday, I asked Anwar to accept it and look at reality. But they said, 'No, no, no, no.' "
Mr. Kalla said Mr. Anwar approached him about an agreement two months ago, and they met at his Jakarta home. Mr. Anwar asked him to reach out to his opponent and secure his commitment for a peaceful election outcome, Mr. Kalla said.
At the time, Mr. Anwar was leading in voter surveys in Peninsular Malaysia, where most of the country's 29 million people live. A victory by his alliance—a collection of Islamists, a mostly ethnic Chinese party and the largely urban secular party he leads—would have been an earthquake to an establishment controlled since 1957 by the coalition that Mr. Najib now leads.
Mr. Kalla had brokered peace agreements in various conflicts across the troubled Indonesian archipelago during his time as vice president from 2004 to 2009, and had roles in peace negotiations in Thailand and Sri Lanka.
He said that he shuttled back and forth between Jakarta and Kuala Lumpur, meeting the opposition leader and Mr. Najib.
"Mr. Anwar sought Jusuf Kalla's assistance to secure a mutual agreement between BN [Barisan Nasional, the National Front] and [Pakatan Rakyat] stating that both sides agreed to accept the results of the general election, even in the event of a slim majority by either side," an adviser to Mr. Najib said. "The prime minister reiterated privately to Jusuf Kalla and in public before the election that BN would respect the will of the people and accept the election results, even if the opposition wins."
Mr. Anwar said Mr. Kalla reached out to him to offer his assistance in ensuring an orderly outcome to the elections. "There were many friends around the region who were concerned about the transition of power and whether it would be peaceful," he said.
Both candidates had pasts rich with fodder for personal attacks during the campaign. Mr. Anwar spent nearly six years in prison on sodomy and corruption convictions after failing to unseat his one-time mentor, Mahathir Mohamad, in 1998. The sodomy charge was overturned, and he was later acquitted on a second sodomy trial. Mr. Anwar consistently denied the charges.
Mr. Najib, meanwhile, has been subject to rumors widely disseminated in the media—which he has denied—that he had an affair with a Mongolian model and translator who was later murdered. Two police officers were convicted in the murder. Mr. Najib hasn't been charged with any wrongdoing.
Mr. Kalla said he fears that the longer the dispute between the two political leaders goes on, the divisions in Malaysia—among factions in the majority Malay Muslim group and between Malays and the ethnic Chinese minority—will harden and perhaps lead to violence. Malaysia was racked by race riots in 1969 and Mr. Kalla's neighboring country, Indonesia, has suffered repeated outbreaks of sectarian violence.
'Cahaya' demokrasi menyinari Dataran PJ
Posted: 25 May 2013 09:05 AM PDT
Selepas berlangsungnya lapan siri perhimpunan Blackout 505 di seluruh negara, kini perhimpunan kesembilan dan terakhir yang digelar 'Perhimpunan Suara Rakyat 505′ – akan berlangsung di Petaling Jaya jam 5 petang ini.
Perhimpunan, di mana NGO Solidariti Anak Muda Malaysia (SAMM) adalah antara penganjur utamanya, diadakan untuk membantah dakwaan penipuan pilihan raya dan salahlaku dalam pilihan raya umum baru-baru ini.
Pihak berkuasa menyiasat atau medakwa mereka yang terlibat dalam penganjuran perhimpunan Blackout 505 di bawah Akta Perhimpunan Aman (APA), kerana didakwa gagal memberi notis 10 hari kepada pihak polis.
Sementara itu, Menteri Dalam Negeri Datuk Seri Ahmad Zahid Hamidi dilaporkan berkata perhimpunan hari ini merupakan "satu tindakan provokasi" dan tidak mengikut peruntukan di bawah APA.
Perhimpunan sebelum ini telah menarik puluhan ribu orang -
yang terbesar diadakan di stadium Kelana Jaya tidak jauh dari tempat perhimpunan hari ini. Kira-kira 120,000 orang membanjiri perhimpunan pada 8 Mei itu – sama ada di luar atau di dalam stadium yang penuh sesak.
Bagi perhimpunan hari ini – di Dataran Petaling Jaya – mempunyai kapasiti maksimum kira-kira 80,000. Jika mengambilkira perhimpunan sebelum ini, maka ia juga dijangka dibanjiri puluhan ribu hadirin.
LAPORAN LANGSUNG
11.05pm: Pengerusi Badrul Hisham Shaharin meminta lampu di Dataran PJ dipadamkan dan meminta hadirin menggunakan telefon dan pemetik api untuk menerangi tempat tersebut.
Idea ini ialah untuk meraikan pembebasan Adam Adli, seorang aktivis pelajar yang berdepan dengan tuduhan menghasut. Adam kini berada di Pulau Pinang mengunjungi ibunya yang sakit itu.
Hadirin memenuhi permintaan tersebut dengan menjulang telefon mereka dan suasana di situ kelihatan seperti sekumpulan kelip-kelip.
Badrul Hisham menganggarkan jumlah hadirin telah meningkatkan kepada 70,000.
10.45pm: MP Lembah Pantai, Nurul Izzah Anwar berkata, Suruhanjaya Pilihan Raya perlu membayar untuk "jenayah" mereka.
Katanya, mereka tidak boleh melepaskan diri daripada cengkaman undang-undang.
Beliau berkata, Pakatan telah mencapai kemenangan moral pada 5 Mei tetapi gabungan itu dan penyokong mereka masih mempunyai banyak lagi yang perlu dilakukan.
10.40pm - Haris Ibrahim menggesa orang ramai supaya memboikot organisasi media yang berat sebelah atau memihak kepada BN.
Berikutan itu, beliau mengumumkan bahawa kumpulan ABU (Asalkan Bukan Umno) telah menyediakan klip video untuk menunjukkan bagaimana BN telah menipu dalam pilihan raya umum.
"Kami mahu anda membawa video ini ke kawasan luar bandar, bagi menunjukkan bagaimana mereka telah ditipu oleh BN," kata Haris.
10.30pm - Selepas berkongsi lokap di Jinjang, Tian Chua (kiri) dan Haris Ibrahim berkongsi pentas pula malam ini.
"Jangan berfikir tangkapan itu akan menakutkan rakyat. Kami tidak akan gentar," katanya.
10.20pm - Pengerusi Bersama BERSIH 2.0, Datuk S Ambiga berkata, beliau tidak dijadualkan untuk berucap hari ini tetapi penahanan Adam Adli, Tian Chua, Haris Ibrahim dan Datuk Tamrin Ghaffar telah mendorongnya untuk berucap.
Beliau menggesa mereka yang mempunyai bukti penipuan pilihan raya supaya mengemukakannya kepada tribunal rakyat BERSIH.
Sehubungan itu, katanya, seandainya SPR masih mempunyai maruah, maka mereka mesti meletakkan jawatan sekarang dan kegagalan penggunaan dakwat kekal merupakan alasan yang sudah cukup untuk mereka berbuat demikian.
9.45pm - MP Pandan Rafizi Ramli (kiri) berkata tidak akan ada penjara yang mencukupi untuk kerajaan memenjarakan semua orang yang menyuarakan bantahan terhadap penipuan pilihan raya.
Rafizi, yang mempengerusikan jawatankuasa Pakatan menyiasat penipuan pilihan raya, berkata rakyat telah hilang keyakinan terhadap SPR kerana telah melanggar janji mereka.
"Jika rakyat berkata terdapat penipuan, bukan tugas mereka untuk menyiasat?" tanya Rafizi.
"Mulai minggu depan kita akan failkan 29 petisyen pilihan raya dan kita minta semua istiqamah,. Kita akan  berjumpa di Dataran Merdeka selepas ini sehinggalah tuntutan kita dipenuhi," katanya.
Rafizi membayangkan kemungkinan akan adanya himpunan BERSIH 4.0.
9.30pm: Orang ramai membanjiri padang Dataran PJ dan CheguBard mengumumkan himpunan malam ini mencatat kehadiran 50,000 orang.
9.20pm: Penyanyi blues, Ito menyanyikan lagu 'Ubah Sekarang' dan orang ramai berdiri melambaikan tangan mengiringi nyanyiannya.
9.20pm - MP Kuantan, Fuziah Salleh sedang bercakap sekarang dan katanya, gaji Pengerusi Suruhanjaya Pilihan Raya, Tan Sri  Abdul Aziz Yusoff tidak akan menjadi "halal" jika SPR terus mengabaikan pendapat orang ramai.
9.15pm: Penyanyi Dayangku Intan (kanan) yang bertanding di Parlimen Pengerang berkata Pakatan Rakyat memenangi hati rakyat selepas pilihan raya umum.
Beliau turut mengambil kesempatan menyanyikan serangkap lirik lagu popularnya.
"Aku berpaut di dahan cinta, Masih mengharap kehadirannya,
Aku berpaut didahan cinta, Masih mengharap kehadirannya,"disambut tepukan hadirin.
9.10pm: Badrul Hisham Shaharin mengambil tugas pengerusi majlis dan memperkenalkan pemimpin Ronnie Liu naik ke pentas.
Beliau menegaskan perlunya reformasi sistem pilihan raya "jika tidak, kita tidak akan sampai ke Putrajaya".
"Saya percaya sudah tiba masanya kita melancarkan BERSIH 4.0!" katanya sambil mendapat tepukan gumuruh hadirin.
9.00pm: Perhimpunan diteruskan, jumlah hadirin telah meningkat dua kali ganda kepada kira-kira 20,000 orang.
8.00pm: Hujan renyai-renyai tetapi orang ramai masih tidak berganjak, dan ada yang membuka payung.
7.30pm: Jumlah hadirin meningkat kepada 10,000 orang dan jumlah itu kurang daripada yang dijangkakan oleh pihak penganjur.
7.15pm: Ketua NGO Solidariti Anak Muda Malaysia (SAMM) Badrul Hisham Shaharin, yang lebih dikenali sebagai Chegubard, berucap menggesa peserta mengajak rakan-rakan mereka menyertai perhimpunan tersebut.
"Malam ini kita akan bersama 'kereta perisai' Reformasi, Tian Chua dan belum sempat kita telefon untuk jemput dia, dia dah kata nak datang – pejuang rakyat Haris Ibrahim!" umum Chegubard.
Badrul Hisham, yang dipercayai dikehendaki pihak polis kerana didakwa membuat "ucapan berunsur hasutan", berkata penganjur perhimpunan itu berkempen untuk tiga isu:
1. Bahawa semua anggota Suruhanjaya Pilihan Raya meletakkan jawatan;
2. Pilihan raya diadakan semula di kawasan di mana berlaku penipuan; dan,
3. Menubuhkan tribunal rakyat untuk membolehkan orang ramai melaporkan penipuan pilihan raya.
Selepas Badrul Shaharin bercakap, majlis itu ditangguhkan seketika untuk solat maghrib.
6.45pm - Aktivis pelajar KS Bawani, yang menjadi terkenal kerana ungkapan "Listen, listen, listen" yang turut berucap, menggesa hadirin supaya mengajak rakan-rakan dan saudara-mara mereka supaya menyertai perhimpunan untuk menegakkan hak rakyat.
6.40pm: Pengacara majlis, aktivis mahasiswa Ekhsan Bukharee menggesa peserta yang berada di kawasan tengah padang agar tidak merokok demi keselesaan peserta wanita dan golongan lain yang tidak merokok.
6.27pm: Seorang pelawak Leman Raja Lawak dan artis Abby Abadi turut muncul di pentas pidato petang ini.
Leman dalam ucapannya mengambil peluang untuk menyindir gaya rambut isteri perdana menteri Datin Seri Rosmah Mansor.
"Tanya sama Rosmah, kenapa rambut kembang, nanti jawab Rosmah, tupai buat sarang," kata Leman yang menyanyikan lagu 'Tanya Sama Pokok' dengan lirik diubah suai.

6.20pm: Timbalan ketua menteri Pulau PInang Rashid Hasnor ketika berucap mendakwa Pakatan telahpun memenangi pilihan raya umum ke-13 apabila meraih 51 peratus undi popular.
"Walaupun kita tewas, tapi sebenarnya kita menang," katanya.
Beliau juga meminta orang ramai agar terus menyatakan sokongan kepada Pakatan Rakyat.
Satu undi untuk Pakatan adalah satu undi bagi Anwar menjadi PM,katanya.
6.10pm:Timbalan Presiden PKR, Azmin Ali antara pemimpin Pakatan Rakyat yang paling awal muncul di Dataran Petaling Jaya.
Menurut Azmin, beliau hadir ke himpunan ini pada sebelah petang kerana akan menghadiri majlis di Batu Caves anjuran ADUN Batu Caves, Amir Shari pada sebelah malam.
5.45pm: Seorang wakil dari NGO menuntut bayaran Royalti minyak kepada Kelantan dalam ucapannya menggesa agar SPR diletakkan di bawah tanggungjawab parlimen dan bukannya di bawah jabatan perdana menteri.
"Kami, anak muda Malaysia, mahu pilihan raya umum diadakan semula," katanya.
5.40pm: Imam masjid yang pernah dipenjarakan kerana membaling selipar kepada hakim, Imam Hoslan dalam ucapannya memberitahu orang ramai isterinya melahirkan anak ke-11 mereka sewaktu beliau dipenjarakan.
"Jangan takut untuk beranak ramai-ramai tuan-tuan dan puan-puan kerana anak-anak kita yang ramai ini akan menumbangkan semua mereka yang zalim," laung Imam Hoslan disambut sorakan orang ramai.
5.30pm: Hanya beberapa orang anggota polis dilihat berkawal di perhimpunan hari ini. Sebilangan anggota tersebut dilihat mengawal lalulintas.

5.27pm: Aktivis siswa Safwan Anang menjadi individu pertama berucap.
"Ada sesetengah orang tak faham bahasa, mereka kata jika orang yang tidak puas hati dengan keputusan pilihan raya, boleh keluar dari Malaysia. Ini kenyataan bodoh, betul atau tidak?," katanya yang disambut dengan laungan "Ya" oleh para peserta.
5.24pm: Orang ramai berdiri tegak apabila acara dimulakan dengan nyanyian lagu Negaraku.
Malah, individu yang dilihat sedang menyeberang jalan dari kompleks Amcorp Mall juga berhenti di tengah jalan dan berdiri tegak sewaktu lagu kebangsaan dinyanyikan.
5.15pm: Pengerusi majlis memulakan acara dengan mengumumkan tiga tujuan utama untuk mengadakan perhimpunan hari ini:
menuntut pemimpin SPR meletak jawatan.
menuntut pilihan raya diadakan semula di kawasan yang disyaki berlaku penipuan
menyokong tribunal BERSIH untuk menyiasat dakwaan kes penipuan pilihan raya.
Sementara itu, jumlah peserta semakin meningkat – kini dianggarkan 5,000 orang di kawasan padang.
4.45pm: Jumlah peserta meningkat kepada kira-kira 500 orang dalam suasana yang semakin meriah.
Salah seorang peserta, Yusri Mohd Yusof berkata perhimpunan ini bagi menyatakan kemaharan ke atas Suruhanjaya Pilihan Raya atas dakwaan penipuan yang berlaku dalam pilihan raya.
Pensyarah berusia 41 tahun itu yang turut hadir di perhimpunan di Kelana Jaya berkata beliau berharap perhimpunan kali ini sebagai perhimpunan paling besar.
Ditanya mengenai kenyataan Menteri Dalam Negeri Datuk Seri Ahmad Zahid Hamidi bahawa perhimpunan hari ini tidak menepati keperluan Akta Perhimpunan Aman 2012, Yusri berpendapat sebaliknya.
Katanya, para peserta tidak menyebabkan kekacauan atau mengadakan perhimpunan jalanan.
"Kita hanya berhimpun di sini secara aman," katanya.
4.42pm: Salah satu gerai yang dibuka di kawasan perhimpunan ini didapati cuba mengumpul 100,000 tandatangan individu yang menuntut demokrasi.
Individu yang mengusahakan projek tersebut, yang enggan dinamakan berkata beliau akan menyerahkan nama berkenaan kepada Yang di-Pertuan Agong bagi menekan kerajaan agar mendengar tuntutan rakyat.
4.30pm: Kelihatan beberapa trak FRU yang melalui jalan dekat padang Dataran PJ.
Bagaimanapun, tidak ada anggota polis dilihat berhampiran padang.
4.15pm: Jumlah orang berpakaian hitam semakin meningkat kepada ratusan orang, tetapi padang masih kosong. Sebaliknya, orang ramai berkumpul di sekitar gerai makanan di luar padang.
Kira-kira 50 peserta protes berbaris Persiaran Barat, melaungkan "Reformasi", "Hidup Rakyat" dan beberapa slogan lain.
Mereka menggesa kereta yang melalui jalan utama untuk membunyikan hon tanpa sokongan.
Pemimpin DAP, Hew Kuan Yau aka 'Superman' menjual baju-T yang memaparkan foto wajahnya bersama logo Superman. Dari masa ke semasa, penceramah popular itu diminta peminatnya untuk bergambar.
3.01pm: Kira-kira 100 orang kini berada di sekitar dataran tersebut, kebanyakannya berpakaian hitam dan mencari perlindungan dari pancaran panas matahari yang sekitar 33 darjah Celsius dengan yang terang.
Ada yang memilih untuk membeli-belah di Amcorp Mall yang berhawa dingin di seberang jalan, dengan berpakaian baju hitam perhimpunan Blackout 505.
Setakat ini tidak kelihatan kehadiran kehadiran polis dan penganjur masih sibuk menyediakan pentas, tetapi laluan kaki lima di padang itu dan berhampiran stesen LRT Taman Jaya sudah dipenuhi gerai menjual makanan dan barangan.
Walaupun notis mempromosi perhimpunan itu – yang diedarkan melalui media sosial – termasuk amaran "Vuvuzelas diharamkan", tetapi ia masih dapat didengar.
Beberapa penyokong juga telah berbaris di sepanjang jalan untuk melaungkan slogan politik, manakala pemandu yang lalu di situ turut membunyikan hon.
Lalulintas masih lancar di kawasan itu, tetapi jalan empat lorong di luar padang semakin sesak apabila lebih banyak kereta diletak di tepi jalan, memaksa trafik menggunakan hanya satu lorong di setiap arah.
Anwar blames BN for collapse of peace treaty with Najib
Posted: 25 May 2013 09:03 AM PDT
Datuk Seri Anwar Ibrahim today accused Barisan Nasional (BN) of breaching several agreed points in an April peace deal brokered by former Indonesian vice-president Jusuf Kalla between him and Datuk Seri Najib Razak.
The Pakatan Rakyat (PR) de facto chief argued that to honour the deal, which stipulated that both sides accept the outcome of Election 2013 regardless which way it swung, there were several key pre-requisites that had to be fulfilled first.
"There were some parameters agreed upon. Number one, ethics in terms of campaigning and conduct of affairs of government so the media in particular is not used to demonise the opposition…this did not happen…"
 "Second condition of free and fair elections which means access to media, some of the Bersih's demands, which was not met," the PKR de-facto leader told reporters today at the end of the party's ninth national congress, claiming that electoral fraud has been proven.
"And third, was contingent upon those conditions, our position is that we accept the decision," the former deputy prime minister added.
Anwar was responding to today's report on the Wall Street Journal where Jusuf had reportedly accused him of reneging on the peace deal by protesting the polls results.
The renowned international business paper featured interviews with all three parties confirming the secret peace deal, and quoted Jusuf as claiming that he had phoned Anwar a day after the May 5 polls and urged the opposition leader to respect the commitment and "look at reality".
"We had a commitment," Jusuf was quoted as saying. "But they said, 'No, no, no, no.' ''
But Anwar appeared to indicate today that Jusuf had not actually accused him of breaking the agreement.
"I've also sought clarification although from what I've got. Jusuf Kalla did not say that. He was trying to make sure the full context was well understood."
Anwar also said that he had publicly spoken on the issues of ethics in campaigning, free and fair elections, and the peaceful transition of power, saying: "To me, there's nothing secret about the deal."
When asked who had started the deal, Anwar said that friends in neighbouring countries — Thailand, Indonesia and the Philippines — were concerned about the possibility of a peaceful transition of power in Malaysia.
He then said that someone had taken the initiative to start the deal which he agreed to, although he did not explicitly name the individual.
Anwar said the deal was done without him meeting Najib, saying such a meeting would only be done after he had consulted PR leaders.
"It was in about a month or so before elections. He met me and Datuk Seri Najib separately," Anwar said earlier on in the press conference, likely referring to Jusuf.
In its report, the WSJ had reported that it was Anwar who approached Jusuf on the agreement two months ago, seeking the latter's help in securing his opponent's commitment for a peaceful election outcome.
The deal — that both sides refrain from personal attacks during campaigns and to accept the outcome of the polls — was subsequently made in April.
The two rivals had apparently rejected a clause in the accord to offer the loser a role in a "reconciliation government", the WSJ wrote.
An adviser to Najib reportedly confirmed the deal, telling the WSJ that Anwar had sought Jusuf's assistance to secure a mutual agreement to accept the results of the polls peacefully, regardless which way it goes and even in the event of a slim majority.
"The prime minister reiterated privately to Jusuf Kalla and in public before the election that BN would respect the will of the people and accept the election results, even if the opposition wins," the paper quoted the aide as saying.
According to the paper, Jusuf is known for his role in brokering peace deals during his term as vice-president from 2004 to 2009, having done so in Thailand and Sri Lanka to help resolve conflicts across the Indonesian archipelago.
In the May 5 polls, Najib and the ruling Barisan Nasional (BN) was returned to power in Putrajaya after a heated contest that saw Anwar's Pakatan Rakyat (PR) win the popular vote but lose the polls.
A dissatisfied Anwar and PR have been staging mammoth rallies across the country since the close of the election, insisting that the election had been stolen from them through fraud and widespread cheating.
During one of his rally speeches, Anwar vowed never to surrender until PR claims its rightful place at the helm of Putrajaya.
The 65-year-old Anwar also appears to have put his plans for retirement on hold, and seems determined to fight on.
One of PR's point of contention is the popular vote, which saw BN scoring just under 48 per cent of the total number of votes cast and PR scoring the majority at 51 per cent.
But the uneven dispersal of votes across various constituencies, which PR has labelled gerrymandering by the BN, had cost them the election as it only snapped up 89 seats to BN's 133 seats in the 222-seat Parliament despite winning the popular vote.
Apart from the "Black 505" rallies, which have drawn mammoth turnouts all around, PR is also filing formal petitions against the results in 27 constituencies.
Anwar: Pengendali GLC di S'gor bukan tokoh politik
Posted: 25 May 2013 09:01 AM PDT
Ketua Umum PKR, Datuk Seri Anwar Ibrahim hari ini menegaskan bahawa individu yang mengendalikan syarikat berkaitan kerajaan (GLC) di Selangor bukan terdiri daripada tokoh politik.
Dalam ucapan penggulungannya, Anwar menjelaskan bahawa kedudukan GLC bukan merupakan rizab parti.
"Kita jangan kompromi dengan prinsip integiriti pentadbiran yang baik yang kita bicarakan. Kedudukan GLC itu bukan rizab parti.
"Dan sesiapa yang duduk dalam GLC itu mungkin orang politik mungkin tidak. Tapi orang itu mesti ada kelayakan yang tidak akan mencampurkan urusan parti," katanya dalam Kongres Nasional Keadilan ke-9 di Petaling Jaya.
Dalam ucapan perbahasannya, Ketua Penerangan PKR Shuhaimi Shafiei, meminta ahli parti dilantik dalam GLC dan majlis tempatan untuk memantau mereka yang tidak sehaluan dengan dasar parti.
Sehubungan itu, ketika bercakap kepada media selepas ucapan penggulungannya, Anwar sekali lagi menegaskan, ahli parti tidak sewajarnya terlibat dalam mana-mana perkhidmatan awam atau dalam kerajaan negeri.
"Isunya ialah individu itu perlu benar-benar profesional untuk mengendali sesebuah organisasi dan tidak mewakili parti.
"Parti tidak wajar dilihat atau terlibat secara langsung dalam mana-mana pengurusan perkhidmatan awam urusniaga negeri. Kita mesti mengasingkan tanggungjawab mereka," katanya lagi.
BN urged to work with 'majority' on reforms
Posted: 24 May 2013 10:48 PM PDT
PKR president Wan Azizah Wan Ismail has urged BN to work with the "majority of the rakyat" who supported the opposition to embark on democratic reforms first before calling for national reconciliation.
"As the voice of the majority of rakyat, we continue to demand that the minority BN government to join us in executing the Democratic Restoration Agenda … through political reforms, electoral reforms and parliamentary reforms before offering reconciliation," she said in her policy speech to the 9th PKR Congress this morning.
PKR, together with allies PAS and DAP under Pakatan Rakyat, had garnered 51 percent of the popular vote but only secured 40 percent of seats in Parliament as compared to the ruling BN coalition which won 47 percent of the popular vote but bagged 60 percent of seats.
Prime Minister Najib Abdul Razak had immediately called for national reconciliation after the election results of May 5 but had since moved to arrest several opposition figures following massive rallies to protest against the polls results, alleging fraud.
Newly-minted Home Minister Zahid Hamidi had said that the "silent majority" were against Pakatan's protests and argued those who did not agree with the country's electoral system should emigrate.
However, Wan Azizah today reminded that the electoral verdict showed the "majority" of Malaysians was on Pakatan's side and Zahid's assertion showed that BN was insincere about national reconciliation.
"Do BN leaders want 51 percent of Malaysians to move to another country?
"Even other countries which use the 'first past the post' system, the differences in the number of voters in large and small constituencies are not as great," she said.
Malaysia's largest parliamentary constituency of Kapar (144,000 voters) is nine times bigger than the country's smallest – Putrajaya (16,000 voters).
'EC leadership must resign'
Wan Azizah also called on the Election Commission's (EC) leadership to resign for "not ony failing to ensure a clean and fair election but abetting in BN's criminal cheating".
She added that even the only one of eight demands of electoral reform group Bersih which the EC implemented, namely the indelible ink, ended up in failure.
She also called for the royal commission of inquiry investigating the illegal granting of citizenship to foreigners which is ongoing in Sabah to also be expanded nationwide.
Wan Azizah said the party remains committed to the Black 505 nationwide rallies to protest the alleged electoral fraud.
She noted the large number of youths present during the rallies, calling them the hope of the future.
"The arrest and prosecution of a youth named Adam Adli recently shows the BN government's fear towards youths who dared to speak the truthg and oppose electoral fraud," she said.
The PKR president adds that the 13th general election was a rejection of BN's politics of race, violence, divide and rule as well as fanatical elements.
She also urged the strengthening of the party's leadership and machinery going forward.
You are subscribed to email updates from Anwar Ibrahim
To stop receiving these emails, you may unsubscribe now.
Email delivery powered by Google
Google Inc., 20 West Kinzie, Chicago IL USA 60610
Posted: 25 May 2013 11:12 AM PDT
---
PULIHKAN DEMOKRASI, BUKAN KONFLIKASI ~~ DATUK DR WAN AZIZAH
Posted: 25 May 2013 12:20 AM PDT
Sebagai suara majoriti rakyat, Presiden PKR, Datin Seri Wan Azizah Wan Ismail hari ini menuntut agar kerajaan BN bersama-sama dengan parti itu melaksanakan Agenda Pemulihan Demokrasi sebelum mengadakan rekonsiliasi politik.
Menurut Wan Azizah, tawaran yang dibuat Perdana Menteri Datuk Seri Najib Razak berhubung rekonsiliasi politik sebelum ini dilihat tidak ikhlas apabila terdapat pemimpin BN yang meminta agar sesiapa yang tidak berpuas hati dengan sistem pilihan raya supaya berpindah ke luar negara.
"Tawaran perdana menteri Datuk Seri Najib Razak yang dibuat selepas kemenangan palsu PRU13 agar mengadakan
rekonsiliasi terbukti tidak ikhlas apabila ada pemimpin BN yang angkuh dan sombong mencabar sesiapa yang tidak bersetuju dengan sistem pilihan raya negara supaya berpindah ke negara lain.
"Apakah pemimpin BN tersebut mahu 51 peratus rakyat Malaysia berpindah ke negara lain?
"Oleh yang demikian sebagai suara majoriti rakyat kita akan terus menuntut kerajaan minoriti BN bersama-sama kita untuk melaksanakan Agenda Pemulihan Demokrasi melalui reformasi politik yakni reformasi pilihan raya dan reformasi Parlimen sebelum menawarkan rekonsiliasi," katanya.
Beliau berkata demikian ketika memberi ucapan perasmian bagi hari kedua Kongres Nasional PKR kali ke-9 di Petaling Jaya.
PKR, bersama-sama dengan PAS dan DAP di bawah Pakatan Rakyat,memperolehi 51 peratus undi popular tetapi hanya menang 40 peratus kerusi Parlimen berbanding BN yang hanya mendapat 47 peratus undi popular tetapi menang 60 peratus kerusi.
Sebelum ini, Najib menawarkan rekonsialisasi politik selepas keputusan pilihan raya umum ke-13 pada 5 Mei lalu yang menyebelahi BN.
Bagaimanapun, Menteri Dalam Negeri Datuk Seri Ahmad Zahid Hamidi pula berkata mana-mana individu yang tidak berpuas hati dengan sistem pilihan raya agar berhijrah ke negara lain.
Sementara itu, dalam ucapan sama, berikutan wujudnya dakwaan lebihan kertas undi serta pemberian kad pengenalan kepada warga asing, Wan Azizah turut mencadangkan agar Suruhanjaya Siasatan Diraja (RCI) diperluaskan ke seluruh negara.
"PKR dengan ini mencadangkan supaya ditubuhkan satu RCI bagi menyiasat projek pemberian kad pengenalan sepertimana yang terbukti berlaku di Sabah agar diperluaskan ke seluruh negara," katanya lagi.
Wan Azizah jua menggesa kepimpinan Suruhanjaya Pilihan Raya (SPR) meletakkan jawatan "kerana bukan sekadar gagal menjamin proses pilihan raya yang bersih dan adil, malah terlibat dalam jenayah penipuan bagi pihak Barisan Nasional".

Beliau berkata hanya satu daripada lapan tuntutan kumpulan reformasi pilihan raya BERSIH yang dilaksanakan SPR, iaitu dakwat kekal, yang berakhir dengan kegagalan.

Wan Azizah berkata parti itu tetap komited kepada perhimpunan Black 505 di seluruh negara bagi membantah dakwaan penipuan pilihan raya.

Beliau berkata sebilangan besar orang muda menghadiri perhimpunan tersebut dan beliau menyifatkan golongan itu sebagai generasi harapan masa depan.

Wan Azizah berkata, penangkapan dan pendakwaan Adam Adli baru-baru ini menunjukkan kerajaan BN takut kepada orang muda yang berani bercakap kebenaran dan menentang penipuan pilihan raya.
You are subscribed to email updates from BULETIN RAKYAT
To stop receiving these emails, you may unsubscribe now.
Email delivery powered by Google
Google Inc., 20 West Kinzie, Chicago IL USA 60610
Posted: 25 May 2013 03:08 AM PDT
---
You are subscribed to email updates from MEDIA 4RAKYAT
To stop receiving these emails, you may unsubscribe now.
Email delivery powered by Google
Google Inc., 20 West Kinzie, Chicago IL USA 60610
Posted: 24 May 2013 11:11 PM PDT
---
Rafizi : Kertas Undi Lebih Daripada Jumlah Sebenar
Posted: 24 May 2013 02:30 AM PDT
PETALING JAYA 24 MEI : Pakatan Rakyat (PR) mendedahkan penipuan yang berlaku dalam Pilihan Raya Umum Ke 13 (PRU13) lalu dengan dakwaan undi melebihi kertas undi dikeluarkan dalam peti undi sepertimana terjadi di kawasan Parlimen Balik Pulau di Pulau Pinang.

Pengarah Strategi PKR, Rafizi Ramli mendakwa bagi pengundian di saluran 2 di SRJK(C) Yu Chye tercatat perbezaan jumlah kertas undi yang berada di dalam peti undi selepas pengundian dijalankan.

"Borang 13 iaitu Penyata Kertas Undi bagi Parlimen Balik Pulau menunjukkan sebanyak 424 kertas undi dikeluarkan.

"Selepas pengiraan dibuat dan keputusan dipindahkan ke Borang 14 iaitu penyata pengundian selepas pengiraan undi, keputusan menunjukkan terdapat 562 undi di dalam peti undi iaitu 138 undi melebihi daripada jumlah kertas undi yang dikeluarkan," katanya dalam sidang media di sini hari ini.
Ahli Parlimen Pandan itu berkata, jumlah undi di dalam peti undi yang lebih menyeleweng keputusan bagi parlimen dan DUN di antara 138 hingga 318 undi.
Katanya, dengan majoriti yang rendah dan undi rosak yang tinggi, keputusan di saluran 2 itu sahaja sudah cukup untuk mengubah keputusan bagi peringkat Parlimen Balik Pulau dan DUN Telok Bahang.
"Kejadian ini membuktikan bahawa peristiwa undi yang dikira melebihi daripada kertas undi yang mulanya dikeluarkan memang berlaku.
"Ia berlaku di Balik Pulau dan sudah tentu juga berlaku di tempat lain," katanya.
Sementara itu, PR juga mendakwa mempunyai bukti berlaku insiden membeli undi sepertimana di Pulau Pinang dalam PRU13 lalu.
Ahli Parlimen Bayan Baru, Sim Tze Tzin mendakwa wang tunai diberikan kepada pengundi selepas keputusan tidak memihak kepada PR dengan penukaran baucer yang diberikan sebelum itu.
"Ia berlaku di DUN Bayan Lepas, Pulau Betong dan Tanjung Bungah. Mereka memberi wang secara tunai di tiga tempat iaitu selama tiga hari beroperasi iaitu pada 10, 11 dan 12 Mei lepas.
"Kita telah melakukan pemeriksaan ke tempat itu dan laporan polis telah dibuat mengenainya," ujarnya.
Sumber: Selangorku
Mahkamah Tolak Permohonan Reman, Tian Chua, Tamrin dan Haris Dibebaskan
Posted: 24 May 2013 02:00 AM PDT
KUALA LUMPUR, 24 Mei — Polis hari ini melepaskan tiga individu yang ditahan untuk siasatan dibawah Akta Hasutan 1948 dan Kanun Keseksaan selepas majistret menolak permohonan untuk melanjutkan reman.

Pakatan Rakyat (PR) semalam menyifatkan penangkapan tersebut sebagai sebahagian tindakan keras polis ke atas pemimpin pembangkang.

Semalam, Ahli Parlimen (MP) Batu PKR Chua Tian Chang, ahli PAS Tamrin Ghafar dan aktivis Haris Ibrahim ditahan kerana menghasut dan di bawa ke balai polis Jinjang untuk disoal siasat dan penahanan, difahamkan penahanan tersebut dilakukan dibawah seksyen 4(1)(c) Akta Hasutan dan seksyen 124 Kanun Keseksaan.
Namun peguam Gobind Singh Deo yang mewakili Haris semalam berkata tidak dimaklumkan tentang "kenyataan menghasut" yang dikatakan dibuat oleh anak guamnya ataupun kedua-dua mereka yang ditahan.

Ketiga-tiga dipercayai ditahan kerana pengelibatan dalam sebuah forum pada 13 Mei terhadap keputusan pilihan raya umum lalu.
Individu pertama yang ditahan akibat forum itu dan didakwa kerana menghasut adalah aktivis mahasiswa, Adam Adli Abdul Halim di kompleks mahkamah Jalan Duta pagi semalam.
Lelaki berumur 24 tahun itu mengaku tidak bersalah dan dibebaskan dengan ikat jamin RM5,000 dan perbicaraannya ditetapkan bermula pada 2 Julai.
"Kami puji majistret yang sangat berani. Seorang hakim yang berani telah mendengar hujah-hujah undang-undang dan membuat keputusan bahawa penahanan kami adalah tanpa asas," kata Chua semasa berjalan keluar daripada lokap dengan peguamnya, beliau merujuk kepada majistret Norashikin Sahat.
"Sebab itu kami dibebaskan tanpa syarat" tambah naib presiden PKR tersebut semasa berjalan keluar, manakala Tamrin dan Haris terlebih dahulu keluar daripada lokap.
Awal hari ini, sekumpulan kecil penyokong telah mengadakan bantahan kecil di luar lokap, melaungkan slogan dan menaikkan sepanduk menggesa pembebasan ketiga-tiga tahanan tersebut.
Namun peguam Gobind Singh Deo yang mewakili Haris semalam berkata tidak dimaklumkan tentang "kenyataan menghasut" yang dikatakan dibuat oleh anak guamnya ataupun kedua-dua mereka yang ditahan.
Ketiga-tiga dipercayai ditahan kerana pengelibatan dalam sebuah forum pada 13 Mei terhadap keputusan pilihan raya umum lalu.
Individu pertama yang ditahan akibat forum itu dan didakwa kerana menghasut adalah aktivis mahasiswa, Adam Adli Abdul Halim di kompleks mahkamah Jalan Duta pagi semalam.
Adam, 24, mengaku tidak bersalah dan dibebaskan dengan ikat jamin RM5,000 dan perbicaraannya ditetapkan bermula pada 2 Julai.
Individu pertama yang ditahan akibat forum itu dan didakwa kerana menghasut adalah aktivis mahasiswa, Adam Adli Abdul Halim di kompleks mahkamah Jalan Duta pagi semalam.
Walaupun ketiga-tiga mereka dibebaskan hari ini, Chua mendakwa mempunyai maklumat akan lebih ramai yang mungkin akan ditangkap selepas ini.
"Dengan hujah yang sama, kami berharap bahawa mahkamah akan mengambil tindakan tegas untuk mempertahankan bukan sahaja hak individu, tetapi juga prinsip-prinsip asas undang-undang," kata Ahli Parlimen Batu itu yang lebih dikenali sebagai Tian Chua.
Sumber: TheMalaysianInsider
You are subscribed to email updates from Suara Sri Andalas
To stop receiving these emails, you may unsubscribe now.
Email delivery powered by Google
Google Inc., 20 West Kinzie, Chicago IL USA 60610
Posted: 24 May 2013 07:18 PM PDT
---
Posted: 24 May 2013 06:03 AM PDT
I wrote about it, didn't I? A vote for Najib Abdul Razak would be a vote for the return of Mahathirism, and no sooner was I proven right last Saturday when student activist Adam Adli Abd Halim was hauled up by the police for investigation into his 'seditious' remarks.
While Adam is now out on bail awaiting trial, Haris Ibrahim, Tian Chua and Tamrin Ghafar were nabbed one after another, again under the notorious and anachronistic Sedition Act 1948.
It does feel like 1987 and 1998 all over again, and we are stuck.
We are stuck because this Umno-dominated government persistently refuses to acknowledge that the world has moved on and that a large segment of Malaysian society is now ready to ditch it. The only way for Umno to remain in power is through vote-rigging, bribery, control of the media, electoral fraud and draconian legislation.
While the Internal Security Act is gone, the Sedition Act is not. Najib, now the minority prime minister, announced last July that it would be abolished, but was cunning enough to not gazette it as he knew he would need it after GE13. How convenient. As a closet authoritarian, he never disappoints. And his Wesak message that "there will be an abundance of joy and peace and forgiveness as people seek blessings for themselves and their loved ones" just makes me puke.
Early this week, Mahathir Mohamad (left) warned against street rallies on his blog, saying that "in many instances the police had to withdraw or they may be directed to withdraw. They become disinclined to carry out their duties. Some people would take advantage of this by committing minor crimes. The people would feel insecure".
But time and again, the protesters have proven him wrong, for those who were bent on wreaking havoc turned out to be agents provocateur planted by Umno!
Ahmad Zahid Hamidi, desperate to prove his worth, has first alienated the public with his migration outburst and then come down hard on those who dare to stand up to state bullying. There will be a do-or-die party election end of the year and, true to their chauvinistic nature, all the Umno bigwigs must act tough to secure the support of the rank and file.
As many Malaysia watchers have said, the real contest in Malaysia is not general elections, which are fought on uneven terrain and horribly skewed to the disproportionate advantage of the ruling coalition, but Umno party polls, in which horse-trading, betraying and vote-buying are far more rampant.
This year, it is going to be all the more crucial now that close to two-thirds of the cabinet is made up of Umno ministers, most of whom will not think twice to resort to high-handedness and provocative statements just to up the ante against their rivals, all at the expense of the people.
Iron-fisted tactics
Some have asked why I must blame Mahathir for all that is wrong with Malaysian society today?
Of course one has to apportion a large chunk of the blame to the man who is single-handedly responsible for the rot in our judiciary, distortion of parliamentary democracy, police brutality and media manipulation. In short, Mahathir has practically destroyed the relatively fair system of checks and balances envisioned by the founding fathers in 1957.
His iron-fisted tactics in 1987 and then in 1998 have left his successors with a modus operandi to emulate when their authority is severely challenged, and they have shown no qualms in substituting even the last vestiges of our democracy with renewed authoritarianism.
Lest not forget that it was Mahathir who as education minister in the 1970s brutally suppressed our vibrant campus culture, after which student activism went into a sharp decline. In the decades that followed, the Chinese were taught to think they were superior to the Malays academically.
For years, the Chinese parents would want their young ones to shun student activism, focus on textbook knowledge, and care about nothing else. For a student to take to the streets to protest against an unjust system and a suffocating campus culture was not only useless but also a sign of moral decay.
That's why Adam (right) has been amazing. With his simple but brave act of defiance, he has won the hearts and minds of many Chinese parents. He has changed radically their perception about student politics, and given them tremendous hopes for the future generations. Adam and his supportive father have done Malaysia proud indeed.
I would not care one iota if Mahathir had honoured his promise by not playing a prominent role in Malaysian politics. Instead, he is just omnipresent.
In other words, I would not hold Adolf Hitler accountable for neo-Nazism that is now becoming pervasive again across Europe, or Emperor Hirohito for the jingoistic stance taken by Prime Minister Shinzo Abe in recent weeks, or Mao Zedong for the re-emergence of ugly nationalism in China, for the simple reason that all these autocrats who once brought their respective countries onto the brink of total destruction are dead.
Not so with Mahathir, as he continues to manoeuvre behind the scenes and influence his party's directions in a way that may eventually bring Malaysia 'securely' back to the age of tyranny,  not to mention the racist and seditious views which he sees no wrong in uttering every now and then.
This is precisely what the 'neutral elites' choose not to admit, pretending instead that Malaysia has moved out of the dark shadows of Mahathirism. Unlike the Germans who have thoroughly de-Nazified their beloved country, we are yet to embark on the project of de-Mahathirisation. The task is doubly hard now that Mahathir is practically the backseat driver, and a devious one at that.
Hence, the arrests of Adam, Tian Chua, Harris and Tamrin are only just the beginning and represent the shape of more abhorrent things to come.
Yes, it is 1987 and 1998 all over again, but the sentiments on the ground are vastly different in 2013. In their pursuit of greater democratic space, Malaysians have demonstrated their determination in confronting state violence face to face. It is a trend that must not be reversed, and change is now a duty that cannot be relegated.
Azmin: Crackdown a return to Mahathirism
Posted: 24 May 2013 06:00 AM PDT
The recent crackdown on opposition leaders and pro-democracy activists is a clear sign of the return of 'Mahathirism', when high-handed tactics were used to to muzzle dissidents, PKR says.
The slew of arrests yesterday under the Sedition Act are a "return to the days of (former premier Dr) Mahathir (Mohamad)", when civilians were detained for their "assertion of civil rights", PKR deputy president Azmin Ali said today.
"With Home Minister (Ahmad Zahid Hamidi) trying to outdo his predecessors in being high and mighty, and (Prime Minister) Najib (Abdul Razak) remaining in 'elegant silence', we certainly can expect more arrests and prosecutions of opposition leaders and civil rights activists," Azmin (left) said in a statement.
He urged the people to remain staunch in their pursuit for democracy and to exercise their constitutional rights to voice their objection to the electoral fraud that occurred during the 13th general election.
Yesterday, PKR vice-president Tian Chua, Anything But Umno (ABU) chief Haris Ibrahim and former Batu Berendam MP and PAS member Tamrin Ghafar were arrested for allegedly uttering seditious statements, while student activist Adam Adli Abdul Halim was charged with committing sedition.
Earlier on PKR's Seri Setia assemblyperson Nik Nazmi Nik Ahmad wascharged with organising an illegal assembly to protest  against electoral irregularities.
Several other opposition leaders have also been investigated over various offences, including DAP founding chairperson Dr Chen Man Hin, Serdang MP Ong Kian Ming, Taiping MP Nga Kor Ming and Pandan MP Rafizi Ramli.
'Home Ministry is high-handed'
DAP also condemned the Home Ministry for its "high-handed approach" in the police crackdown.
Commenting that the arrests so far could be only the "tip of the iceberg", Segambut MP Lim Lip Eng said DAP leaders were willing to cooperate with the police in their investigations.
"If the police reveal to us the leaders on their list and what the charges are under the relevant laws, we will be more than willing to go to a designated police station at an appointed time," Lim said.
In another statement, PAS vice-president Mahfuz Omar lashed out at the BN for manipulating the laws and enforcement bodies at their whim  in oppressing its political foes.
"The confiscation of Harakah Daily and Suara Keadilan and the arrests of the political activists are proof that they (BN) don't honour their word to reconcile after their humiliating loss in the election," Mahfuz said.
The crackdown also attracted the attention of international human rights watchdog Amnesty International, which called on the government to release all peaceful protesters arrested under the Sedition Act 1948.
"Rather than abolishing the repressive sedition law as promised, the government is now using it against peaceful protesters," Amnesty International's Asia Pacific's deputy director Isabelle Arradon said.
Najib, in July last year, vowed to replace the act with a new act to be known as the National Harmony Act.
Amnesty International has repeatedly raised concerns about the Sedition Act and the way the authorities have used it to repress political dissent.
The Sedition Act criminalises a wide array of acts, including those "with a tendency to excite disaffection against any Ruler or government" or to "question any matter" protected by the federal constitution, added Arradon.
PKR dakwa ada undi tambahan dalam peti undi
Posted: 24 May 2013 05:59 AM PDT
PKR hari ini mula mendedahkan dakwaan penipuan pilihan raya secara terperinci, bermula dengan kawasan parlimen Balik Pulau di Pulau Pinang di mana ia mendakwa terdapat lebih jumlah undi daripada kertas undi yang dikeluarkan.
Pengarah Strategi PKR, Rafizi Ramli mendakwa di saluran dua pusat mengundi di SJK (C) Yu Chye, Borang 13 menunjukkan sejumlah 424 kertas undi telah dikeluarkan.
Bagaimanapun, katanya, selepas perjumlahan keputusan dibuat, Borang 14 menunjukkan sebanyak 562 undi dalam peti undi tersebut, lebih 138 undi daripada kertas undi apa yang telah dikeluarkan.
Menurutnya, dengan majoriti yang kecil dan jumlah undi rosak yang tinggi, maka keputusan di saluran dua, cukup untuk mengubah keputusan di kawasan parlimen Balik Pulau dan kerusi negeri di Telok Bahang.
Rafizi memberitahu demikian dalam satu sidang akhbar di ibu pejabat PKR pagi ini.
PKR moots new panel to do redelineation
Posted: 24 May 2013 05:57 AM PDT
A new commission should be established to study the redelineation of state and parliamentary constituencies, which is due to soon, PKR deputy president Azmin Ali proposed today.
"The gerrymandering masterminded by Umno has crippled the electoral system in Malaysia. The delineation of constituency boundaries was done unfairly and did not meet the principle of representative democracy.
"The Election Commission (EC) should focus more on the management of elections and not be burdened with the responsibility to propose redelineation of constituency boundaries.
"This will only jeopardise the credibility and independence of the EC," Azmin said in his opening address at the annual congress of the PKR Wanita and Youth wings in Petaling Jaya this afternoon.
The Gombak MP proposed that a new commission that will be independent, transparent and professional be given the task of re-delineating constituency boundaries.
Azmin cited the Boundary Commission of the United Kingdom, which is tasked to conduct the redelineation of constituencies every five years, as the example for Malaysia to follow.
Kick off efforts in this, Wanita, Youth wings told
"Hence, I suggest that the Wanita and Youth wings be proactive in kicking off the effort to discuss with those who have the expertise to propose the justification for re-delineation based on democratic ethics, to serve as a counter-proposal to the re-delineation proposal of the EC at the end of this year."
Last night DAP publicity secretary Tony Pua (right) told a rally in Petaling Jaya that Pakatan Rakyat MPs will push for a bi-partisan parliamentary select committee on redelineation when the new Parliament convenes on June 24.
This is to ensure a fairer distribution of voters in the constituencies, said Pua, the MP for PJ Utara.
The federal constitution stipulates for an interval of not less than eight years between two redelineation exercises, with a mandatory deadline of two years for the process to be completed.
The last constituency redelineation was carried out in 2002 and the proposals adopted by Parliament in 2003.
After the redelineation, the EC still needs a two-thirds backing of the Members of Parliament or the members of the state assemblies for the new constituency boundaries to be approved.
Yesterday, EC deputy chairperson Wan Ahmad Wan Omar said the new round of redelineation exercise will begin soon.
In his speech today, Azmin also slammed Prime Minister Najib Abdul Razak by "reminding" him that he is heading a minority government, which has lost the popular vote.
"Yet, Malaysia's democracy is strange and miraculous. Pakatan Rakyat which has garnered 51 percent of the popular vote from the people becomes the opposition, whereas Umno (and BN) forms the government although he only receives 47 percent (of the votes)," he lamented.
[PRESS STATEMENT] Charging Adam Adli, Tian Chua, Tamrin and Harris arrest – This is tyranny
Posted: 23 May 2013 10:04 PM PDT
Adam Adli has been charged with sedition purportedly "by calling for the toppling of the elected government". Tian Chua, Harris Ibrahim and Tamrin Tun Gaffar have been arrested. This is tyranny writ large. Let's get it straight: Najib's government is not a duly elected government. It is a government that's come into power by systemic widespread fraud aided and abetted by the Election Commission. Its legitimacy is therefore in question. This is our position and we are mounting a legal and judicial challenge in this regard.
Meantime, the people by the hundreds of thousands are exercising their constitutional right to gather peacefully to demonstrate their utter disgust with this cheating and the consequent illegitimate assumption of power. By the latest count, almost half a million Malaysians, mostly comprising the young from all races have attended our nation-wide rallies.
They have come because of their conviction for justice and their deep sense of fair play and not because of any inducement or bribe or promise of material gain. On the contrary, they have come to these rallies in spite of the constant threats and warnings from the police of arrest because they believe in their cause – a cause for their future and the generations to come. This is nobility of spirit which no tyranny can suppress. Adam Adli embodies this spirit and the aspirations of the hundreds of thousands who have attended and the millions more who voted for change, fair play and justice.
The dictatorships of Stalin, Marcos are Suharto are long gone. The likes of Ben Ali, Mubarak and Gaddafi are gone not so long ago. Even Mahathir's time where such abuses of state power were ever so common is over. Yet, not only has Najib reneged on his pledges of political reform, he is winding the clock backwards.
First, Nik Nazmi was charged. Last night, they arrested 18 people who together with a thousand others had gathered in front of the Jinjang police station to show support for Adam.  No doubt, this intimidation will continue even as the show of solidarity for those arrested will spring up across the land.
The new Inspector-General of Police Tan Sri Khalid Abu Bakar is talking tough and issuing all kinds of threats to the people, taking the cue from the Home Minister. May I remind him that his duty is to serve the people. His priority is to keep the county safe – not from legitimate peaceful rallies – but from criminals and real mischief makers.
Meanwhile, DAP veteran Dr. Chen Man Hin, who should rightly be honoured for his tireless service to the people, was hauled up and interrogated over frivolous allegations about him being linked to a plot to overthrow the government. This is completely insane.
Is this Najib's way of spending tax payers' money? Is this the new direction to be given to the police under its new IGP? While real criminals, including those who commit hate and racist crimes, are going about with impunity, those who are calling for justice are being hounded like rats and prosecuted?
Police detainee N Dharmendran was beaten to death and people at a peaceful candle light vigil for Adam in Penang were assaulted by thugs while UMNO's racist inciters to hatred and thugs are roaming the nation with impunity.
Najib is stepping on the heads of the rakyat. Eventually, the rakyat will prevail.
ANWAR IBRAHIM
23rd May 2013
Anwar unfazed by government crackdown
Posted: 23 May 2013 10:03 PM PDT
The slew of arrests following accusations of electoral fraud in the May 5 general election has not spooked PKR de facto leader Anwar Ibrahim into giving up the opposition struggle.
Telling this to about 20,000 people at a 'Blackout 505′ rally in Kuala Ibai, Terengganu last night, Anwar said he would fight on so long as the people continued to support him.
"The crackdown has begun. We all know who will be their target in the end.
"If these arrests are a signal by Prime Minister Najib (Abdul Razak) or the home minister (Ahmad Zahid Hamidi) to rattle me, I'm telling you now that I am not afraid as long as the rakyat are with me," he said to loud cheers.
Last night's rally was part of the nationwide rallies organised by Pakatan Rakyat to spread the word about electoral fraud in GE13, which the opposition, despite winning close to 52 percent of the popular votes, failed to win federal power.
Also at last night's rally were PAS deputy president Mohamad Sabu and party vice-president Husam Musa.
PKR vice-president and Batu MP Tian Chua was slated to speak at the rally but he was arrested by police at the Low-Cost Carrier Terminal in Sepang yesterday, just before boarding his flight to Terengganu.

Police investigations
Police also  detained human rights activist Haris Ibrahim and PAS member Tamrin Ghafar in separate locations yesterday.
The trio, believed to be nabbed in relation to a protest rally clated to be held in Petaling Jaya tromorrow, are being held under the Sedition Act at the Jinjang police station.
Since the election, six Pakatan leaders and activists have come under police investigation for separate alleged offences.
They include Seri Setia assemblyperson Nik Nazmi Nik Ahmad, student activist Adam Adli Abdul Halim, Pandan MP Rafizi Ramli, DAP veteran Dr Chen Man Hin, Taiping MP Nga Kor Ming and Serdang MP Ong Kian Ming.
The police actions come  under the watch of newly-appointed inspector-general of police Khalid Abu Bakar.
Opposition crackdown shows reforms a lie, say Pakatan leaders
Posted: 23 May 2013 10:01 PM PDT
 
 The security dragnet on opposition leaders and critics this past week is the clearest sign yet that the Barisan Nasional (BN) government was never honest in wanting real political reforms, Pakatan Rakyat (PR) leaders told a rally here last night.
They told a crowd of some 5,000 that Prime Minister Datuk Seri Najib Razak had promised to repeal the Sedition Act as a step towards greater civil liberties but the arrests of four men under the law meant the reforms pledges were only designed to win votes in Election 2013.
"What were we promised? By Barisan Nasional and the minority prime minister? Did they not say that the era of government knows best is over? That democracy will flourish under the pillars of 1 Malaysia?
 "Did they also not promise to abolish the Sedition Act? We have been had! We have been had by the BN government," PKR vice-president Nurul Izzah Anwar told a PR "thanksgiving" rally last night.
PKR Batu MP Chua Tian Chang, PAS's Datuk Tamrin Ghafar and political activist Haris Ibrahim were arrested yesterday for sedition and detained overnight at the Jinjang police station in Kuala Lumpur for investigation under section 4(1)(c) of the Sedition Act and section 124 of the Penal Code.
Najib had promised to abolish the law when he announced a slew of political reforms which included the repeal of the Internal Security Act not long before Election 2013 was held.
Chua, Tamrin who was once Batu Berendam MP and Anything But Umno (ABU) chief Haris were arrested separately yesterday afternoon in an apparent national crackdown on opposition supporters.
All three are believed to be detained over their involvement in a May 13 forum on the results of the just-concluded general election.
A view of the crowd at last night's rally
The first to be detained from the forum was student activist Adam Adli Abdul Halim, who was charged with sedition in the Jalan Duta court complex yesterday morning.
The 24-year-old pleaded not guilty and was released on RM5,000 bail with his trial set for a mention on July 2.
Claiming the election had been rigged, PR has so far refused to recognise the Election 2013 results that saw Najib's BN retaining power but with a smaller majority. His coalition had also lost the popular vote which makes it a minority government.
Former Umno law minister Datuk Zaid Ibrahim said the crackdown signalled BN's fear towards the opposition's growing strength, and that a clampdown was the only way for Najib to ensure his coalition would stay in power.
He also pointed out that the arrests under the Sedition Act were made despite Najib's pledge to repeal the law.
"They knew that PR had won more than 50 per cent of the popular vote and that they had won through cheating… and now you have all these arrests when Najib had promised to abolish the Sedition Act," he said.
Former DAP Selangor State Assembly Speaker Datuk Teng Chang Khim claimed the crackdown was engineered to appease Umno's hardliners and consolidate Najib's position as he is likely to be challenged at the party polls following his poor performance in Election 2013.
"He is in a mess. He's afraid. So that is why he is showing the Umno hardliners that he can be tough," he said.
Yesterday, a DAP lawmaker suggested that the Najib administration has shown the spectre of 1987 looms large behind its call for a "national reconciliation" through the Home Ministry's crackdown yesterday against opposition figures and their media.
Newly appointed Home Minister Datuk Seri Ahmad Zahid Hamidi, however, defended the police action, saying the law enforcers must surely have the basis and solid evidence to make the arrests.
Disebalik tindakan keras terhadap penentang, puluhan ribu hadir perhimpunan Black 505 Terengganu
Posted: 23 May 2013 09:58 PM PDT
Disebalik tindakan keras kerajaan terhadap pemimpin pembangkang dan aktivis, puluhan ribu rakyat berhimpun dalam perhimpunan menentang keputusan Pilihan Raya 2013 Black 505 di Terengganu.
Media melaporkan himpunan yang berlangsung di Markaz PAS Kuala Ibai malam tadi dianggar mencatat kehadiran lebih 50,000 orang.
Pemimpin utama Pakatan Rakyat (PR) Ketua Umum PKR Datuk Seri Anwar Ibrahim, Timbalan Presiden PAS Mohamad Sabu, Naib Presiden PAS Datuk Husam Musa adalah diantara yang berucap dalam himpunan tersebut.
 Mohamad dalam ucapannya malam tadi turut mengulas isu penangkapan ahli Parlimen Batu Chua Tian Chang, bekas ahli Parlimen Batu Berendam Tamrin Ghafar serta aktivis Asalkan Bukan Umno (ABU) Haris Ibrahim.
Menurut beliau yang dikenali sebagai Mat Sabu itu, Menteri Dalam Negeri yang baru Datuk Seri Dr Ahmad Zahid Hamidi sudah panik dengan kebangkitan rakyat menentang penipuan Pilihan Raya 2013.
"Penangkapan sudahpun bermula, pendekar Bagan Datoh sudah tunjuk belang.?Zahid Hamidi mula menunjukkan belangnya terhadap rakyat marhean yang tidak bersenjata.
"Dia sudah panik, panik dengan kebangkitan rakyat," katanya dipetik dari portal Harakahdaily.
Chua, Tamrin dan Haris ditahan semalam kerana menghasut dan ditahan semalaman di lokap berpusat Balai Polis Jinjang di bawah Seksyen 4 (1) (c) Akta Hasutan dan seksyen 124 Kanun Keseksaan.
Individu pertama yang ditahan akibat forum itu dan didakwa kerana menghasut adalah aktivis mahasiswa, Adam Adli Abdul Halim di kompleks mahkamah Jalan Duta pagi semalam.
Lelaki berumur 24 tahun itu mengaku tidak bersalah dan dibebaskan dengan ikat jamin RM5,000 dan perbicaraannya ditetapkan bermula pada 2 Julai.
Mendakwa pilihan raya dicurangi, PR setakat ini enggan untuk mengiktiraf keputusan Pilihan Raya 2013 yang menyaksikan BN dan Najib mempertahankan kuasa akan tetapi dengan majoriti kurang. Gabungan dipimpinnya juga hilang undi popular menyebabkan ianya menjadi kerajaan minoriti.
Zahid walau bagaimanapun mempertahankan tindakan polis, mengatakan mereka mempunyai asas dan bukti kukuh untuk membuat penangkapan.
Sebelum ini perhimpunan Black 505 diadakan di Selangor, Pulau Pinang, Perak, Pahang, Johor, Negeri Sembilan dan Kedah dimana ribuan engkar kepada arahan polis dengan memenuhi stadium dan tempat ceramah.
Dalam Pilihan Raya 2013, BN mendapat 133 kerusi berbanding PR 89 kerusi. BN turut hilang undi majoriti pertama kali semenjak tahun 1969.
You are subscribed to email updates from Anwar Ibrahim
To stop receiving these emails, you may unsubscribe now.
Email delivery powered by Google
Google Inc., 20 West Kinzie, Chicago IL USA 60610
Posted: 23 May 2013 11:13 PM PDT
---
Autopsy Done, 'Evidence Points to Murder'
Posted: 23 May 2013 02:34 AM PDT
PETALING JAYA: The preliminary post-mortem conducted at Hospital Kuala Lumpur has revealed that police detainee N Darmindran had died to severe blunt force trauma.

HKL pathologist Dr Siew Sheue Feng's report, which was given to the deceased's family last night, ruled out heart attack or asthma as the cause of death as claimed by the police.

Darmindran, 32, an Indah Water employee, had been in police detention since May 11.

Lawyer G Sivamalar, who accompanied the family to retrieve the post-mortem report, said that the pathologist had struck out all natural causes.

"So far, the evidence points to murder, at least that would be a fair claim.
"Now it's all up to the investigating officer at Dang Wangi police station ASP Kamarul Rizal to give the final verdict," she said.

"The police can't use the excuse that the injuries were caused during the fight Darmindran was involved in on May 11 as the pathologist confirmed that the injuries were 'fresh'," she added.

After speaking to the pathologist, Sivamalar also said that Darmindran's back and buttocks were also severely injured along with another two staples found on his legs.

"The pathologist said that that his back and buttocks were severely injured, also his thighs and legs were badly swollen due to injuries," said Sivamalar.

"On top of that, they found another two staples – one on each ankle. Four staples were found on the body of the deceased, including the two on his ears," she added.

Mock funeral at IPK KL

Sivamalar said that the family was willing to fight till the end in order to seek justice for Darmindran.

"The family is staying strong, they want the police to be honest and for once provide justice for the people," she said.

"They want Darmindran's case to be the last of its kind and hoped that police brutality would cease for good," she added.

The family's lawyers, who include PKR MP for Padang Serai, N Surendran and PKR lawyer Latheefa Koya would discuss further with the family of Darmindran on their next plan of action.

The funeral would be held today at Darmindran's residence in Taman Mulia, Bandar Tun Razak in Cheras.

The family would also be holding a mock funeral outside the Kuala Lumpur police headquarters, where the deceased was detained.

Following the post-mortem report, the police have reclassified the probe as a murder investigation.
Source: FreeMalaysiaToday
Rafizi: Maklumat Petisyen PRU13 Hampir Siap
Posted: 23 May 2013 02:17 AM PDT
SHAH ALAM, 23 MEI: Pasukan #Siasat PRU-13 bersedia memfailkan petisyen bagi mencabar beberapa keputusan Pilihan Raya Umum ke-13 yang meragukan sebelum ini.

Ketua Pasukan #Siasat PRU-13, Rafizi Ramli berkata, pihaknya sedang bekerjasama dengan pasukan peguam untuk menyiapkan petisyen berkenaan dan akan melakukannya secara berperingkat.

"Kita sudah bekerja bersama kumpulan peguam dan mereka adalam proses menyedikan petisyen untuk difailkan.

"Kita akan failkan secara berperingkat-peringkat. Maknanya kita tidak menungggu semuanya siap kemudian baru difailkan.
"InsyaAllah kita akan ada 25 hingga 29 petisyen," katanya kepada TV Selangor.
Ahli Parlimen Pandan itu turut memaklumkan, PKR menumpukan kepada 19 buah kerusi dan 10 Jun merupakan tarikh akhir penghantaran petisyen supaya menepati tempoh 21 hari berbuat demikian.
Berkata mengenai kepincangan yang ditemui melalui siasatan yang dibuat Rafizi menjelaskan, soal integriti peti undi pertikaian dakwat kekal merupakan antara perkara yang dibangkitkan di dalam siasatan mereka.
"Kita banyak tumpukan kepada kes spesifik berlakunya rasuah, pengundi hantu, atau ada bukti Borang 13 dan 14 jumlah kertas undi tidak sama. Itu antara petisyen yang sedang disiapkan," maklumnya lagi.
Bagi Pengarah Pilihan Raya DAP, Dr Ong Kian Ming memaklumkan, antara kerusi yang diberikan perhatian oleh DAP adalah Parlimen Labis, Cameron Highland dan Bentong.
Menurutnya, keputusan dikawasan berkenaan dicabar ekoran kekalahan DAP dengan majoriti bawah 1,000 undi.
Sementara di pihak PAS, Peguam Asmuni Ani dalam reaksi ringkas memberitahu pihaknya akan mengadakan mesyuarat bersama pimpinan tertinggi malam ini berhubung penyerahan petisyen PRU-13 terutama dalam mendapatkan maklumat di beberapa negeri yang ditandingi.
Untuk rekod, parti politik dan calon bertanding mempunyai hak untuk mencabar keputusan pilihan raya melalui cara memfailkan petisyen di Mahkamah Tinggi di kawasan negeri yang dipertikaikan tidak kira atas apa alasan.
Perkara ini dijamin dibawah Perkara 118 Perlembagaan Persekutuan.
Sumber: Selangorku
Stop Using Political Prostitutes to Fight Your Battle, BN
Posted: 23 May 2013 02:13 AM PDT
The past four years we have seen the tactics used by BN to further their political agenda was mainly done by two groups, namely the frogs who crossed over and the so call BN sponsored NGO.

We thought they would have learned a lesson after the 13GE, but no, they have started where they left off. Using the services of these failed politician,who the people have rejected to do their bidding. These are the ones who are speaking for them against PR. It is high time Najib and his gang start standing up for them selves, and realize that the people have spoken.

We need to seriously look at the election process, it's weakness and change for the the better. BN is a minority government and as such should listen to what the people have to say rather than making seditious statements asking the majority to leave the country.

We the people will remember this for a long time, we will show you when the time comes.

So please stop using these political prostitutes to try and win your argument and policies, because you will fail and fail again.
You are subscribed to email updates from Suara Sri Andalas
To stop receiving these emails, you may unsubscribe now.
Email delivery powered by Google
Google Inc., 20 West Kinzie, Chicago IL USA 60610
Posted: 23 May 2013 07:07 PM PDT
---
Malaysian authorities crack down on opposition activists
Posted: 23 May 2013 04:45 AM PDT
After controversial re-election by National Front coalition, three anti-government figures arrested and activist student charged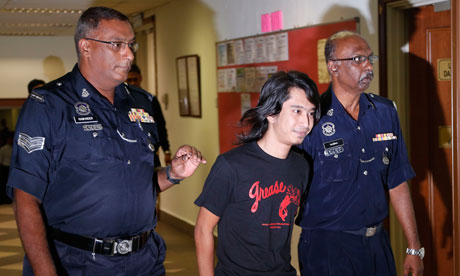 Malaysian authorities have detained three anti-government figures, charged a student activist with sedition and seized hundreds of opposition newspapers, raising political tensions after recent national elections triggered claims of fraud.
Opposition activists have staged numerous peaceful demonstrations since the 5 May general election won by the National Front coalition with a weakened parliamentary majority. The activists insist the coalition, which has governed since 1957, retained power through bogus ballots and other irregularities, though the prime minister, Najib Razak, and electoral authorities deny manipulating the results.
The latest arrests involve Tian Chua, a senior official in the opposition leader Anwar Ibrahim's People's Justice party; Haris Ibrahim, a rights activist who leads an anti-government group; and Tamrin Ghafar, an opposition party member. The men have criticised the National Front at recent political gatherings.
Chua wrote on Twitter that police detained him at an airport and told him he was being held for sedition. Ibrahim and Tamrin were held separately, but it was not immediately clear for what they were being investigated. Police officials responsible for their case could not immediately be contacted.
After his arrest, Chua tweeted that Malaysians should not allow themselves to be "overtaken by fear [but should] continue to assemble peacefully and have faith".
Their arrests occurred hours after prosecutors charged the student Adam Adli, 24, with making seditious statements that included calling for people to "go down to the streets to seize back our power" while addressing a political forum. He pleaded innocent at a Kuala Lumpur district court on Thursday and was released on bail before a hearing set for 2 July.
Sedition as defined by Malaysian law includes promoting hatred against the government.
Rights activists have long criticised Malaysia's anti-sedition law as a tool to curb democratic dissent. Najib said last year the government planned to eventually abolish the Sedition Act, which was introduced in 1949 during British colonial rule, and replace it with new laws that would strike a better balance between allowing freedom of speech and ensuring public stability.
Adli, who was arrested last weekend, faces three years in prison and a fine if convicted.
Hundreds of people have demonstrated peacefully in recent days against Adli's arrest. Adli became publicly known in 2011 when he brought down a flag bearing Najib's portrait at the ruling party's headquarters during a demonstration. He was subsequently suspended for three semesters from his teaching course at a Malaysian state-backed university.
The home ministry said it had seized more than 2,500 copies of newspapers published by opposition parties from stores nationwide since Wednesday. The government-issued publication licences for those newspapers specify they should be distributed among party members only and are not for retail sales, the ministry said in a statement.
BN to face angrier Malaysians with continued crackdown, warns Ambiga
Posted: 23 May 2013 03:54 AM PDT
"National reconciliation? To me, they only know how to use words that they do not even understand. My own view is that they have no moral standing to claim of efforts for national reconciliation or to be more liberal… not after all these arrests"
Putrajaya will only face more wrath from right-thinking Malaysians if it continues its nationwide crackdown on opposition supporters, Datuk Ambiga Sreenavasan said today.
The civil rights activist and renowned lawyer said the sudden series of arrests and court charges exposes the new government's true face and intentions, which contradicts its earlier promise for national reconciliation.
"It reflects very badly on the new government. Let them never again try to use the word liberal," she told The Malaysian Insider over the phone this afternoon.
"National reconciliation? To me, they only know how to use words that they do not even understand.
"My own view is that they have no moral standing to claim of efforts for national reconciliation or to be more liberal… not after all these arrests," she added.
Ambiga was speaking to this news portal during her wait at the Jinjang police station where PKR and PAS MPs Chua Tian Chang and Tamrin Ghafar, as well as Anything But Umno (ABU) chief Haris Ibrahim, were brought to after they were arrested separately this afternoon.
Earlier this morning, Ambiga, who is also the co-chairman of Bersih 2.0, a coalition of NGOs fighting for a free and fair electoral system, accompanied student activist Adam Adli to the Sessions Court where the youth was charged with sedition for allegedly attempting to topple the Barisan Nasional (BN) government through street protests.
Pakatan Rakyat (PR) leaders, activists and opposition supporters nationwide have been protesting the results of the just-concluded May 5 polls, which saw BN returned to federal power despite earning only a minority of the total number of votes cast.
Due to the uneven dispersal of votes in numerous constituencies across Malaysia, which the opposition have labelled unfair gerrymandering, BN emerged victors with just under 48 per cent of the popular vote to PR's 51 per cent by snapping up 133 federal seats or 60 per cent of the 222 seats contested.
Adam, who first shot to fame in 2011 after a similar run-in with the authorities, was hauled in when he told a May 13 forum shortly after the polls that the only way to topple the BN government was not through elections but street protests.
Chua, Haris and Tamrin were also speakers at the same forum and their arrests today are believed to be due to their involvement in the event.
Ambiga said, however, that the authorities did not need to resort to arresting the leaders if they had merely wanted to rope them in for questioning on the event.
"I was told they have a list of names… I am sure these leaders would have been happy to come in and give statements.
"But arresting them… it is shocking, oppressive and to me, wholly unacceptable in a democracy. I view this as an abuse of powers," she said.
She pointed out that leaders like Chua were MPs and were unlikely to evade being hauled up for questioning.
"This is just telling, isn't it? It just exposes what they (the government) truly are. Their conducts before the elections were so different. What does that tell you?
"It tells you that they were just holding back before this. Fine. Let them do what they feel they have to do.
"But this would only serve to anger the people," she warned.
Earlier today, it was reported that over 1,000 copies of PAS-owned Malay newspaper Harakah were carted off by Home Ministry officials from shops and several distribution centres in a nationwide raid.
"Ya, Harakah was seized at several places this morning," the paper's editor, Zulkifli Sulong, told The Malaysian Insider when contacted.
The seized copies were of the paper's Friday edition dated May 24-26 carrying the front page headline "GST hadiah BN untuk rakyat [GST BN's gift to the people]".
Its online edition had earlier reported Harakah's marketing manager Ahmad Faisal Tawang saying he had received phone calls this morning from several distributors who informed him that the home ministry's officials were carrying out a sting to seize copies of the newspaper.
Home ministry officials had grabbed the paper from not only from the distribution centres but from shops and even from the back of lorries as they arrived at the distribution centres.
In Malacca, Harakah reported more than 500 copies seized, while in Alor Setar, Kedah, as many as 1,000 copies were taken.
"In Seremban, Negri Sembilan, the distribution centres were also raided by KDN," Ahmad Faisal was quoted saying, using the Malay initials for the home ministry, adding,"But in Kedah, the KDN did not show their enforcement cards and letter from KDN before acting.
Yesterday, the police arrested 18, including four women, at a candlelight vigil held for Adam outside the the Jinjang police station here. They have since been released.
Media reports say some 1,000 had gathered outside the police station, which was under tight security in anticipation of a continued night vigil since Adam Adli's detention on Saturday.
Newly-minted Home Minister Datuk Seri Ahmad Zahid Hamidi, who took over the post from Datuk Seri Hishammuddin Hussein in the Najib administration's new Cabinet, was reported by Umno-owned daily Utusan Malaysia last weekend as saying that the government would take stern action against those who intended to foment chaos on the streets.
Both Ahmad Zahid and the new Inspector-General of Police had been chided by opposition politicians "playing politics" instead of working to curb crime in the wake up the May 5 polls.
Malaysia charges student activist with sedition
Posted: 23 May 2013 03:51 AM PDT
A Malaysian student has been charged with sedition and three opposition figures have also been detained amid tensions after the 5 May polls.
Student Adam Adli was charged over his call for protests against alleged election fraud.
The other three men, politicians and activists, were also detained under the Sedition Act, reports said.
The ruling coalition secured a simple majority in the polls – the closest since Malaysia's independence in 1957.
It was the ruling Barisan Nasional coalition's worst election result ever, securing just 46.6% of the popular vote.
The government said that the elections were free and fair, but the Anwar Ibrahim-led opposition said the results were marred by fraud, alleging multiple irregularities.
The opposition have held several rallies around the country to protest, drawing crowds.
'Stifling dissent'
Mr Adli was arrested after he reportedly told members of a public forum to "go down to the streets to seize back our power", AP news agency reported.
He pleaded not guilty to the charge at a Kuala Lumpur court, and was released on bail on Thursday. If found guilty, he faces up to three years in jail.
Senior opposition politician Tian Chua, and opposition activists Haris Ibrahim and Tamrin Ghafar have also been arrested.
Police chief Mohamed Salleh confirmed that they were detained for offences under the Sedition Act, Reuters news agency reported.
On his Twitter feed, Tian Chua said he was arrested as he was about to board a flight. He urged Malaysians not to be "overtaken by fear", but to "continue to assemble peacefully & have faith".
There are also reports of police raiding newspaper offices and seizing opposition newspapers.
Activists have argued that Malaysia's sedition law is used to stifle dissent.
"The [sedition] law is open to abuse," Fadiah Nadwa Fikri, Mr Adli's lawyer, told AFP news agency.
"It's an infringement to freedom of speech and freedom of assembly."
In a statement on Wednesday, human rights group Amnesty International called for Mr Adli's "unconditional release" and said that the Sedition Act "has been implemented over the years to repress political dissent".
Prime Minister Najib Razak said in July 2012 that the government would seek to repeal Malaysia's sedition law, replacing it with a National Harmony Act. However, the law is currently still in force.
Penangkapan Pimpinan Politik Dan NGO: Zahid Perlu Segera Hentikan Kegilaan Ini
Posted: 23 May 2013 01:24 AM PDT
Kenyataan Akhbar Untuk Hebahan Segera
Angkatan Muda Keadilan Selangor
23 Mei 2013
Penangkapan Pimpinan Politik Dan NGO: Zahid Perlu Segera Hentikan Kegilaan Ini
AMK Selangor menyelar tindakan rakus Menteri Dalam Negeri, Datuk Seri Dr Ahmad Zahid Hamidi yang sejak memegang jawatan, berterusan menggunakan kuasa sewenangnya bagi menutup mulut rakyat dan menghentikan penentangan terhadap penipuan pilihanraya yang lalu. Pembebasan Adam Adli melalui ikat jamin, tidak mencerminkan apa-apa apabila Yb Tian Chua, Sdr Haris Ibrahim dan Dato' Thamrin Ghafar ditahan beberapa jam yang lalu.
Tindakan Zahid ini dilihat sebagai penuh kegilaan, mengancam dan menyekat kebebasan majoriti rakyat yang mula bangkit untuk mempersoalkan kerajaan Barisan Nasional serta SPR diatas beberapa penipuan jelas bagi rejim pemerintah mengekalkan kuasa dalam pilihanraya paling kotor dalam sejarah.
AMK Selangor bertegas sebarang bentuk penentangan, dan kebangkitan yang berlaku sejak 5 Mei 2013, bukanlah berpaksi kepada kekecewaan dan tidak menerima kekalahan tetapi adalah satu manifestasi persoalan tentang beberapa bentuk salahlaku serta penipuan pilihanraya. Rakyat sebagai penentu masa depan negara, berhak mengetahui keadaan sebenar beserta punca serta menggesa tindakan pantas kerajaan untuk menjelaskan perkara ini.
Sebaliknya, Barisan Nasional tergesa-gesa menubuhkan kerajaan sebelum sebarang penjelasan diberikan dan inilah tindakan yang mendatangkan keraguan dan kekecewaan besar kepada rakyat terbanyak.
AMK Selangor menyeru pembebasan segera mereka ini yang lebih bersifat tahanan politik, dan sewajarnya Polis Diraja Malaysia dan Kementerian Dalam Negeri menjamin hak tahanan dan tidak memperlakukan mereka seperti pesalah, selagi mereka tidak dibuktikan bersalah oleh mahkamah.
Justeru, AMK Selangor menyeru rakyat tidak tunduk dan takut untuk mempersoalkan apa juga keraguan berkaitan dengan proses tatakelola negara, dan sebarang usaha keras oleh Zahid Hamidi dan Kementerian Dalam Negeri serta PDRM hanyalah satu usaha terdesak dan terakhir untuk mengekang kebangkitan rakyat ini.Semangat perjuangan rakyat, baru sahaja dinyalakan.
AZMIZAM ZAMAN HURI
Ketua AMK Selangor
Naib Ketua AMK Malaysia
Anwar Ibrahim: Malaysia Harus Belajar Demokrasi ke Indonesia
Posted: 22 May 2013 09:01 PM PDT
Anwar menuduh pemerintah telah mencurangi hasil penghitungan suara.
Pemimpin kelompok oposisi Pakatan Rakyat Malaysia, Anwar Ibrahim, mengatakan Malaysia masih harus belajar kepada Indonesia soal demokrasi dan pemilu.
Berbicara pada VIVAnews pekan lalu, Anwar mengatakan bahwa institusi demokrasi di Indonesia lebih maju sehingga bisa menyelenggarakan pemilu yang bebas dan tanpa ada campur tangan pemerintah.
Dia mengatakan, calon presiden di Indonesia yang diusung dari berbagai partai politik dapat berdebat dalam forum terbuka. "Sementara di Malaysia, saya dan PM Najib saat ingin berdebat langsung tidak diterima," ujarnya.
Tetapi Anwar tidak yakin para pemangku kepentingan Malaysia saat ini ingin benar-benar belajar mengenai demokrasi dari Indonesia. Dia berpendapat pimpinan Organisasi Nasional Malaysia Bersatu (UMNO) terlalu arogan untuk mengakui Indonesia lebih unggul dalam hal perkembangan demokrasi.
"Bagi mereka Indonesia itu cuma soal TKI saja. Mereka seharusnya memiliki sikap yang lebih realistis menerima kenyataan bahwa Indonesia dari sudut pandang memantapkan demokrasi dan pengurusan pemilu yang jujur dan adil harus dipelajari pengalamannya," kata Anwar.
Anwar juga mengecam pemilu tersebut yang menurut mereka telah dicurangi. Anwar mengatakan, dalam penghitungan komisi pemilihan umum Malaysia, seharusnya pihaknya yang menang.
Wawancara lengkap Anwar bisa dilihat di tautan ini.
You are subscribed to email updates from Anwar Ibrahim
To stop receiving these emails, you may unsubscribe now.
Email delivery powered by Google
Google Inc., 20 West Kinzie, Chicago IL USA 60610
Posted: 23 May 2013 01:30 PM PDT
---
You are subscribed to email updates from PKR CABANG LANGKAWI
To stop receiving these emails, you may unsubscribe now.
Email delivery powered by Google
Google Inc., 20 West Kinzie, Chicago IL USA 60610
Posted: 23 May 2013 11:34 AM PDT
---
Tian Chua, Haris Ibrahim pula ditahan
Posted: 22 May 2013 11:16 PM PDT
Tian Chua, Haris Ibrahim pula ditahan
Malaysiakini12:40PM Mei 23 2013
Polis hari ini menahan MP Batu Tian Chua dan juga seorang akvtivis Haris M Ibrahim dalam dua operasi berasingan, dipercayai berhubung perhimpunan untuk membantah dakwaan penipuan pilihan raya pada Sabtu ini.
Tian Chua dalam tulisannya di Twitter hari ini menyebut, beliau ditahan sejurus sebelum melepasi pemeriksaan keselamatan di lapangan terbang LCCT kira-kira tengahari.
"Sekarang saya dibawa dalam kenderaan polis (menuju) Balai Polis Jinjang," katanya.
Menurutnya lagi, polis menahannya berhubung siasatan mengikut Akta Hasutan.
Sementara itu, setiausaha agung PSM S Arutchelvan dalam satu tulisan di Facebook pula berkata Haris, yang mengetuai NGO Asalkan Bukan Umno, ditahan oleh lima orang anggota polis ketika sedang makan tengahari di Segambut.
Haris pagi ini muncul di bangunan kompleks mahkamah Kuala Lumpur bagi menyatakan sokongan ke atas aktivis siswa Adam Adli Abdul Halim yang dituduh mengikut Akta Hasutan hari ini.
Beliau juga turut berucap dalam forum mengenai dakwaan penipuan pilihan raya di Dewan Perhimpunan Cina Kuala Lumpur dan Selangor pada 13 Mei lalu.
Pendakwaan ke atas Adam Adli hari ini adalah berdasarkan ucapan siswa berkenaan dalam forum sama.
Jurucakap bagi sekumpulan 50 NGO yang menganjurkan perhimpunan di Petaling Jaya pada Sabtu ini, Badrul Hisham Shaharin telahpun menafikan bahawa ia bertujuan untuk menumbangkan kerajaan seperti 'Arab Spring' seperti yang didakwa pihak berkuasa.
Sebaliknya, perhimpuan berkenaan adalah Festival Rakyat untuk mengembalikan hak demokrasi kepada rakyat, katanya.
Bukti dan saksi mengenai dakwaan penipuan pilihan raya dijangka akan ditampilkan ladam perhimpunan berkenaan di padang berhampiran Amcorp Mall.
Antara yang dijangka mengambil bahagian dalam perhimpunan tersebut adalah NGO Suaram, Solidariti Anak Muda Malaysia, Asalkan Bukan Umno, Tindak Malaysia, Parti Sosialis Malaysia dan Parti Rakyat Malaysia.
You are subscribed to email updates from AMKNS
To stop receiving these emails, you may unsubscribe now.
Email delivery powered by Google
Google Inc., 20 West Kinzie, Chicago IL USA 60610
Posted: 23 May 2013 11:06 AM PDT
---
ORANG FELDA, LUAR BANDAR TIDAK TAHU CALON BN HILANG DEPOSIT PILIHANRAYA PERTAMA KALI
Posted: 22 May 2013 10:36 PM PDT

Keputusan PRU 13 yang lalu yang cukup memberi malu kepada UMNO/BN dimana belum pernah dalam sejarah UMNO/BN masuk bertanding dalam PRU maupun PRK (Pilihanraya Kecil), calonnya hilang wang deposit kerana tidak cukup undi diperolehi.

Kini ianya sudah pun sejarah di cipta...Bukan satu tapi dua kerusi DUN di Pulau Pinang calon BN telah hilang wang deposit..

Berlaku di DUN N13 Berapait apabila calon BN Lau Chiek Tuan hanya mampu raih 2,230 undi dibandingkan calon DAP/PR Ong Kok Fooi memperolehi 16,995 undi.

DUN N27 Pengkalan Kota calon BN dapat Loke Cheang Gin @ Loke Poh Chye dapat 1,803 undi calon DAP/PR Lau Keng Ee perolehi 15,403 undi.

Ini dinamakan keputusan pukulan maut sampai lunyai lumat.

Kisah ini dipadamkan terus dari disiarkan oleh Utusan, Berita harian, TV3 dan RTM termasuk Astro Awani.

Kalau kena pada Pakatan rakyat... siang malam pagi petang akan menjadi tajuk utama disemua media milik dan kawalan UMNO terutamanya dijadikan berita muka hadapan Utusan dan Berita Harian.
You are subscribed to email updates from BULETIN RAKYAT
To stop receiving these emails, you may unsubscribe now.
Email delivery powered by Google
Google Inc., 20 West Kinzie, Chicago IL USA 60610
Posted: 23 May 2013 03:29 AM PDT
---
You are subscribed to email updates from MEDIA 4RAKYAT
To stop receiving these emails, you may unsubscribe now.
Email delivery powered by Google
Google Inc., 20 West Kinzie, Chicago IL USA 60610
Posted: 22 May 2013 07:07 PM PDT
---
PKR in solidarity with detained M'sians in S'pore
Posted: 22 May 2013 05:10 PM PDT
PKR is to submit a memorandum to the Singapore High Commission in Kuala Lumpur to express solidarity with 21 Malaysians who have been detained for taking part in a rally in protest at the general election outcome on May 5.
According to a statement today, PKR vice-presidents Nurul Izzah Anwar and Chua Jui Meng will hand over the memorandum tomorrow morning.
The Straits Times had reported on May 15 that Singapore would revoke passes issued to Malaysians involved in the 'illegal rally' held on May 8 and 11 at Merlion Park.
Two of those involved have already had their visitor pass cancelled, while working visas for 18 more Malaysians will be reviewed on completion of investigations.
Quoting a police statement, the Singapore daily also reported that, following the arrest of the 21 individuals, the police had also issued warnings to their respective employers.
The eight men and 13 women aged between 21 to 40 have been released on bail. The nature of their jobs is not known.
Protest in London
In London, a group of Malaysian expats held a similar protest on May 19, based on video footage that has surfaced on YouTube.
This shows a group of about 200 chanting slogans such as "BN stole the elections, the people shall descend upon the streets", "Jom Ubah", and "Reject corruption".
The group reportedly started their protest at Whitehall where many important UK government buildings are located – including the cabinet office – before marching on to continue their protest at Trafalgar Square.
Utusan Malaysia quoted a blog dubbed 'Blog MIK' as saying that the group had marched from the Malaysian High Commission in London, before moving toward the Houses of Parliament near Whitehall and then on to Trafalgar Square.
Claiming that it was an illegal rally and a disgrace to Malaysia, Utusan quoted the blogger as saying: 'What is the appropriate punishment for them? Revoke their citizenship and don't let them come back.'

'May the High Commission of Malaysia identify the individuals involved and check. Perhaps they already have permanent resident status there, and thus their citizenship would be dropped immediately.'
Malaysia's election system drawn to sustain BN's dominance, don tells forum
Posted: 22 May 2013 05:04 PM PDT
Barisan Nasional's (BN) rule will continue as long as Malaysia uses the first-past-the-post voting system despite redelineation, academic Amer Saifude told a forum here last night.
The Universiti Malaya Centre for Democracy and Elections (Umcedel) deputy director said the expected redelineation of constituencies by year-end would benefit Prime Minister Datuk Seri Najib Razak's coalition and even better its Election 2013 performance.
"As long as we practice this first-past-the-post system, it will be advantageous to BN," Amer told a forum on the 13th general election outcome.
 "History has shown that every time there is a re-demarcation process, BN would perform better," he added.
Despite winning only 47 per cent of the popular vote in the May 5 elections, Najib saw his coalition keeping the government with a simple majority, bagging 133 federal seats against Pakatan Rakyat's (PR) 89.
Amer pointed out that Najib was the first BN chief to score a weaker mandate in his maiden bid for power, a reflection of the faulty fundamentals of the first-past-the-post system.
The Umcedel deputy director said the system's glaring defect could be seen in how BN, bar a few exceptions, had never won the popular vote by more than 60 per cent but yet managed to win a huge number of the seats it contested in.
He also highlighted how several constituencies nationwide had been gerrymandered without reasonable justifications.
"Sometimes you see the re-demarcation is illogical and unfair… the redelineation process is often made to serve the interest of certain parties," he said.
Amer, however, noted that any move to redraw the constituencies must first have the consent of at least half of the members of the Dewan Rakyat.
PR federal lawmakers have signalled their intention to make full use of their increased parliamentary numbers to ensure constituencies are fairly redrawn when the Election Commission (EC) kicks off the redelineation exercise this year-end.
PKR's Pandan MP Rafizi Ramli has said that if the exercise involves an increase in seat numbers, a two-thirds majority vote is needed to approve the changes before they are passed by the lower House.
The allegedly unfair dispersal of voters in constituencies has been used as a major argument point by PR lawmakers to back accusations that gerrymandering in favour of BN has helped the ruling pact stay in power.
In a recent article for news portal FZ.com, Institute for Democracy and Economic Affairs (IDEAS) chief executive Wan Saiful Wan Jan had pointed out that the existing delineation of constituencies defies logic in terms of size and the number of voters.
The issue has also earned the attention of the foreign media, with the Wall Street Journal, in a comment written by its Hong Kong-based journalist Philip Bowring, pointed to how PR had lost the election despite winning 51 per cent of the popular vote ? an outcome that opposition lawmakers and civil society groups have blamed on gerrymandering.
Speaking to The Malaysian Insider, the DAP's publicity secretary Tony Pua said with the polls now over and efforts under way to challenge some of the results through election petitions, the next step for PR would be to focus on the coming redelineation exercise as well as campaigning for a proportional representation system.
BLACK 505 Peringkat Negeri Terengganu
Posted: 22 May 2013 01:56 PM PDT
KHAMIS 23 MEI 2013 Jam 8.30 – 12.00 malam
Lokasi: Pasaraya Mydin, Kuala Ibai, Kuala Terengganu
Dato' Seri Anwar Ibrahim, Tuan Guru Hadi Awang, Lim Guan Eng Dan Pimpinan Tertinggi Pakatan Rakyat Pusat & Negeri Akan Bersama
Pakatan menang dua pertiga di kerusi campuran pada PRU13, dedah kajian
Posted: 22 May 2013 05:30 AM PDT
Pakatan Rakyat (PR) memenangi 59 kerusi campuran di Parlimen pada pilihan raya umum ke-13 (PRU13) iaitu hampir dua kali ganda daripada 30 kemenangan di kerusi majoriti Cina, menurut kajian terbaru yang sekaligus menolak dakwaan "Tsunami Cina" oleh Barisan Nasional (BN) sebagai punca kekalahan.
Badan pengkaji atas talian bebas tersebut berkata parti pemerintah BN memenangi banyak undi di kawasan luar bandar manakala PR meningkatkan sokongan di kawasan bandar dan separa bandar di negara yang sedang mengejar status negara maju 2020.
"BN mewakili majoriti luar bandar dan dapat mengekalkan kuasa dengan luar bandar dan kerusi separa bandar sahaja. Pilihan raya kali ini menunjukkan PR lemah di luar bandar yang terdiri daripada kerusi majoriti Bumiputera Sabah dan Sarawak," kata laporan itu, yang boleh didapati dalam blog rasmi PoliTweet.
Menurut PoliTweet, 108 daripada 133 kerusi (81 peratus) dimenangi BN adalah di kerusi luar bandar, manakala PR memenangi kerusi bandar atau separa bandar hampir dengan peratusan sama (72 daripada 89 kerusi).
PR memenangi semua 16 kerusi bandar majoriti Cina, 12 kerusi bandar Melayu dan 12 kerusi bandar campuran, memberikan mereka 40 daripada jumlah keseluruhan 43 kerusi bandar (93 peratus). Sebagai perbandingan, BN hanya memenangi 4 kerusi bandar Melayu dan 1 kerusi bandar campuran.
Daripada 54 kerusi separa bandar, PR memenangi 34 daripadanya (63 peratus). BN menang baki daripada kerusi separa bandar dengan kawasan separa bandar Melayu adalah sebahagian besarnya 12 kerusi tersebut.]
PoliTweet juga menunjukkan PR memenangi lebih banyak kerusi bandar dan separa bandar majoriti Melayu berbanding BN, ia menunjukkan kerusi majoriti Melayu bukan lagi jaminan kemenangan untuk BN.
Dalam kajiannya, PoliTweet mengkategorikan kerusi kepada tiga kategori yang tidak mengikut klasifikasi oleh Suruhanjaya Pilihan Raya (SPR), tetapi lebih berdasarkan imej satelit peta Google dan peta SPR.
PoliTweet menggariskan kawasan "pendalaman" terdiri daripada kampung, bandar kecil atau tanah ladang dan kelihatan lebih besar secaara fizikal dengan populasi yang kecil. Kawasan "bandar" pula terdiri daripada bandar yang diliputi dengan betuk pembangunan bandar. Kawasan "separa bandar" adalah gabungan kedua-duanya sekali.
Dibawha tiga kategori itu, PoliTweet membahagikan 125 kerusi sebagai luar bandar, 54 separa bandar dan 43 adalah bandar.
Kawasan bandar terdiri sedikit melebihi daripada setengah kerusi majoriti Cina, tetapi kerusi majoriti Melayu masih lagi didominasi di luar bandar. Walaubagaimanapun terdapat lebih banyak kerusi separa bandar yang majoritinya adalah Melayu berbanding majoriti Cina dan kawasan campuran dicampur-aduk sekali.
Firma kajian itu juga menekankan kebarangkalian rendah BN untuk memenangi semula kerusi bandar, memandangkan BN hanya memperoleh 47 peratus undi popular di kerusi separa bandar dan 36 peratus di kerusi bandar, berbanding 57 peratus yang diperolehnya di kerusi luar bandar.
Dalam Banci Penduduk dan Perumahan Malaysia terkini pada tahun 2010 menunjukkan populasi di bandar Malaysia berlaku peningkatan mendadak sejak tahun 1960-an, dengan 71 peratus daripada rakyat Malaysia tinggal di kawasan bandar. Bank Dunia bagaimanapun meletakkan jumlah sedikit lebih tinggi sedikit pada 72 peratus.
Wilayah Persekutuan Kuala Lumpur dan Putrajaya kedua-duanya telah mencapai 100 peratus status kemajuan, manakala Selangor dan Pulau Pinang – kedua-dua kini diperintah oleh PR – merupakan yang tertinggi selepas kedua-dua bandar utama itu adalah dengan lebih 90 peratus status kemajuan.
Kebetulan, Selangor adalah negeri yang paling ramai penduduk dengan 5.46 juta orang, dan seiring dengan Putrajaya, mempunyai kadar pertumbuhan tertinggi di Malaysia disebabkan oleh penghijrahan dan peluang pekerjaan.
Dalam forum yang dianjurkan oleh Pusat Demokrasi dan Pilihan Raya Universiti Malaya (UMCEDEL) minggu lepas, pemerhati bebas pilihan raya Merdeka Centre mendapati pengundi jelas berpecah antara kelas-kelas yang berbeza, dengan kelas bekerja dan berpendapatan rendah kebanyakannya mengundi BN, dan kelas pertengahan dan atasan memilih PR.
Pengarah Merdeka Centre Ibrahim Suffian menekankan perbezaan antara kaum mencadangkan pengundi tidak berpecah mengikut kaum tetapi lebih kepada ideologi yang berbeza yang dikemukakan oleh kedua-dua BN dan PR.
Umno semakin jadi 'Parti Kampong'?
Posted: 22 May 2013 12:49 AM PDT
Salah satu hakikat yang terserlah dalam PRU ke-13 lalu ialah Umno-BN (UBN) semakin jelas telah menjadi "Parti Kampong". Penulisan ringkas ini bercadang untuk menguatkan hujjah kepada tesis dan penemuan ini.
Penulisan saya dengan tajuk "Najib semakin seksa selepas menang" ingin dipanjangkan di sini. Sesungguhnya tajuk ini boleh sahaja dijadikan antara buku yang boleh diterbitkan pasca PRU ke-13 ini oleh penulis-penulis tempatan.
Setelak debu peperangan mendap dan euporia "kemenangan" mula pudar, Najib terpaksa berdepan dengan beberapa hakikat yang sangat menggugah dan menyeksa jiwanya.
 Persetankan "kata-kata nista" pembangkang tentang Kabinet XXL yang baru dilantiknya. Pelbagai kritikan termasuk kelompok pengamal serta pensyarah-profesor undang-undang yang mempertikaikan kesahihan kaedah melantik menteri dari kelompok senator yang belum lagi mengangkat sumpah sebagai senator.
Persetankan apa jua cemohan rakyat tentang "tusnami Cina" ciptaan Najib sekaligus menampakkan dendam kesumatnya terhadap etnik ini serentak menajamkan lagi garis perkauman. Persetankan gagasan "Blackout 505" yang cuba diketengahkan bagi membangkitkan kesedaran rakyat tentang pilihanraya sarat penipuan.
Persetankan "Tribunal Rakyat" cadangan BERSIH dan masyarakat sivil. Persetankan panggilan "Kerajaan Minoriti" walaupun jelas dengan ukuran "undi popular" di semenanjung dan seluruh negara.
Namun seperkara yang tidak boleh dipersetankan Najib dan pimpinan UBN ialah hakikat bahawa parti dan barisan yang dipimpinnya sedang mengalami hari-hari kepupusannya (demise) dalam persaingan sengit "Politik Baru". Najib UBN bukan sahaja masih hidup dalam penafian bahkan cuba menongkah arus menentang kemaraan "Politik Baru" ini.
Justeru fakta-fakta keputusan PRUke-13 mula menyelak dan memaparkan hakikat sebenarnya bahawa Najib dan UBN telah menang kerana diselamatkan oleh undi-undi Borneo yang tidak sempat di"jangkiti" "tsunami semenanjung".
Itu pun tak boleh selesa sangat sebab Sarawak catat peningkatan undi buat pembangkang sebanyak 8.9 peratus, kedua tertinggi selepas negeri Johor. UBN juga mengalami kemorosotan undi di 18 kerusi parlimen dari 31 kerusi parlimen di negeri itu. Dalam 8 kerusi etnik Dayak, BN mengalami 10  peratus kemorosotan undi dan Pakatan hampir merampas 2 kerusi Dayak yakni P205 Saratok and P220 Baram.
Pun begitu halnya di Sabah. BN mengalami kemorosotan undi di 19 dari 26 kerusi parlimen Sabah. Dalam 7 kerusi majoriti bumiputera yang dimenangi BN, kesemua mengalami kemorosotan undi sebanyak 10 peratus. Sangat menyeksa.
Kembali kepada tesis bahawa Umno-BN telah menjadi "parti kampong" atau parti yang hanya kuat di kampong-kampong tradisi Melayu, fakta-fakta berikut adalah sangat memalukan dan mengaibkan Najib.
Pakatan terus mengungguli dominasinya di Wilayah Persekutuan dengan memenangi 9 daripada 13 kerusi yang dipertandingkan. Pertandingan di Lambah Pantai menyerlahkan segala-gala naratif dan pengkisahan tentang percubaan UBN untuk menawan Kuala Lumpur! Kesemua ibu negeri kecuali Kangar dan Johor Bahru, terus dikuasai Pakatan Rakyat. Ini termasuk Alor Star, Kota Bharu,  Kuala Terengganu, Tanjong, Ipoh, Kuantan, Shah Alam, Seremban, Kota Melaka, Kota Kinabalu dan Kuching.
Bagi kerusi Parlimen Selangor, Pakatan Rakyat Berjaya mengekalkan dominasi kawasan Bandar dan pinggir Bandar seperti Petaling Jaya, Ampang, Serdang, Puchong, Kelana Jaya, Gombak, Subang, Shah Alam, Kapar, Klang dan Kota Raja.
BN, sejajar dengan tesis yang dimajukan, hanya mampu menaguasai "anjung utara" yang merupakan "Malay Belt" – Sabak Bernam, Sungai Besar, Tanjung Karang, Hulu Selangor dan kali ini berjaya merampas kembali kerusi Kuala Selangor yang telah berubah demografi pengundi menjadi 65 peratus-35 peratus (Melayu-65 peratus, 23 peratus-India, 12 peratus-Cina) berbanding 60-40 pada 2008 dengan N12 Jeram mencapai 80 peratus20 peratus: Melayu-Bukan Melayu.
Di Negeri Sembilan juga turut menyerlahkan fenomena ini, di mana UB unggul di kawasan luar Bandar seperti Jelebu, Jempol, Kuala Pilah, Rembau dan Tampin sementara Pakatan kekal di kawasan Seremban dan Rasah.
Penulis cenderung untuk meringkaskan dan memudahkan fenomena PRU ke-13 ini sebagai menyerlahkan trend atau pola rakyat-pengundi yang terbelah kepada dua kelompok besar:
i.  pengundi kawasan luar bandar yang tidak dapat capaian internet dan masih tegar dengan keperluan "pembangunan" dan
ii. Pengundi bandar dan pinggir bandar yang sangat terdedah kepada media baru-alternatif berbanding sogokan media UBN dan cenderung untuk menyokong agenda "penambahbaik demokrasi dan kesejahteraan rakyat".
Menyonsong masa depan dalam laluan pembangunan politik negara, ternyata bahawa Pakatan Rakyat lebih bersedia untuk mengisi harapan pengundi dalam kelompok kedua yakni pengundi yang mahukan penambahbaikan Negara dalam apa yang disebutkan kini sebagai penghayatan dan dinamika "Politik Baru".
Amat nyata pula, penulis mendapati bahawa UBN amat meminati kelompok pertama golongan luar Bandar dan juga begitu sebaliknya mereka "diminati" golongan luar Bandar ini yang telah di"bela" dengan "sogokan pembangunan" yang sebenar-benarnya "tidak membangunkan minda dan jiwa mereka" bahkan tidak juga bangunkan pendapatan sebenar (real wage) mereka.
Generasi muda yang telah meninggalkan kampong sebenarnya telah meninggalkan legasi Politik Lama yang sarat dengan Politik Menakut-nakutkan Rakyat dan Politik "Patronage" yakni ketua-ketua yang mesti "disantuni" untuk mendapat tandatangan anak-anak kampong untuk mendapat biasiswa kerajaan UBN dsbnya.
Tegasnya Umno-BN akan cuba kekal dominasi luar bandanya sekaligus menjadi "parti kampong" untuk kekal berkuasa sementara Pakatan mesti menorobos kampong dan luarbandar untuk berjaya menawan Putrajaya dalamPRU ke-14.
Peralihan demografi kearah dominasi generasi muda dalam tahun-tahun mendatang akan memberi kelebihan kepada Pakatan Rakyat sementara mendayakan "Politik Baru" dan "Politik Pencerahan" adalah formula kemenangan yang tepat dan wajar.
UBN tampaknya mungkin sahaja mahu kekal "parti kampong" yang meneruskan amalan dan legasi Politik Lama yang sarat dengan amalan politik perkauman, politik agama yang sempit dan konfrantasi, politik "Paronage-Perlindungan"penguasa politik dan orang-orang besar yang berpengaruh bermula dari JKKP sehingga keperingkat tertinggi parti. Malang!
As thousands rally in Kedah, Mahfuz warns BN against needless spats
Posted: 21 May 2013 08:07 PM PDT
Thousands attended the "Black 505" rally here last night, where Kedah PAS chief Datuk Mahfuz Omar warned Barisan Nasional (BN) leaders against sparking conflict as the majority was with Pakatan Rakyat (PR).
Estimating that a crowd of 50,000 had gathered outside the state PAS headquarters, Mahfuz criticised newly-minted Home Minister Datuk Seri Ahmad Zahid Hamidi and Kedah Chief Minister Datuk Mukhriz Mahathir for warning against the rally.
"I would advise Zahid to accept that the majority of the people are with the Pakatan Rakyat and don't start a war with the people. Be rational," the PAS vice-president and Pokok Sena MP was quoted as saying in media reports.
"As for Mukhriz, I would ask him to open up a bit as he is still a young man. He should not behave like the Umno leaders of the past who adopted a confrontational approach with the people," Mahfuz added.
The state PAS commissioner also reminded Mukhriz's BN government that the previous PAS administration had allowed Prime Minister Datuk Seri Najib Razak the use of the state stadium for a rally last January.
Mukhriz, the youngest son of Malaysia's longest-serving prime minister Tun Dr Mahathir Mohamad, had refused PAS permission to hold the "Black 505" rally in the stadium last night.
The mainly Malay crowd turned up from 6.30pm for the PR rally against alleged electoral fraud and irregularities, initiated by opposition leader Datuk Seri Anwar Ibrahim.
"This is an extraordinary crowd and it proves people like (MCA president) Chua Soi Lek wrong. Soi Lek says only the Chinese attend the 'Black 505' rallies but what we saw tonight were the Malays in full force," Sungei Petani MP Johari Abdul told reporters after the rally.
He was among the speakers that included Anwar, PAS deputy president Mohamed Sabu, PAS vice president Datuk Salahuddin Ayub, PKR vice presidents Chua Tian Chang and N. Surendran
Umno-owned newspaper Utusan Malaysia had reported that crowds attending the six earlier "Black 505" rallies were mainly Chinese youths, taking the cue from BN leaders who complained a "Chinese tsunami" cost them votes in Election 2013.
Previous "Black 505" rallies were held in Selangor, Penang, Perak Johor, Negri Sembilan and Pahang, where thousands defied police warnings to pack stadiums and public spaces.
Taking to the stage last night, Anwar accused BN of vote-rigging and cheating as the crowd roared with cheers. He also gave fresh examples of the Election Commission's (EC) alleged connivance in "making fools of the voters".
The PKR de facto leader also told EC staff to "stand up" and speak out against the alleged polls fraud in the elections where BN won 133 federal seats against PR's 89 seats. PR is disputing the results of 29 seats.
In Election 2008, BN won 140 federal seats to lose its two-thirds super-majority while PR took 82 seats.
Pakatan MPs to use parliamentary strength to block unfair redelineation
Posted: 21 May 2013 08:02 PM PDT
Pakatan Rakyat (PR) federal lawmakers have vowed to make full use of their increased parliamentary numbers to ensure constituencies are fairly redrawn when the Election Commission (EC) kicks off the redelineation exercise this year-end.
PKR's Pandan MP Rafizi Ramli reminded that if the exercise involves an increase in seat numbers, a two-thirds majority vote is needed to approve the changes before they are passed by the lower House.
The ruling Barisan Nasional (BN) does not have required two-thirds majority in Parliament, with only 133 seats to PR's 89 seats, and will require votes from opposition lawmakers to approve the exercise.
"But if they (EC) do not add constituencies and the process only includes redrawing boundaries, this could be dangerous as this allows gerrymandering and there is no need for a two-third vote.
"In the past, they (BN) score big in the elections because the redelineation exercise is often in [their] favour … they disperse our support to other seats," Rafizi told The Malaysian Insider.
But the PKR strategy director said it was likely that, this time, redelineation would include an increase in seat numbers.
He said that in tandem with the DAP's "one vote, one value" campaign push, PR lawmakers will fight hard to use their parliamentary powers to ensure voters are more fairly distributed unlike the present situation.
The allegedly unfair dispersal of voters in constituencies here has been used as a major argument point by PR lawmakers to back accusations that gerrymandering in favour of BN has helped the ruling pact stay in power.
In a recent article on news portal FZ.com, Institute for Democracy and Economic Affairs (IDEAS) chief executive Wan Saiful Wan Jan had pointed out that the existing delineation of constituencies defies logic in terms of size and the number of voters.
"Putrajaya has 15,791 voters compared with Kapar, which has 144,159 voters. It doesn't make sense."
"And then you have a state seat like Sri Serdang with 72,769 voters which is higher than the Putrajaya parliamentary seat," he was quoted saying.
This has also earned the attention of the foreign media.
In the Wall Street Journal yesterday, Hong Kong journalist Philip Bowring commented on how PR had lost the election despite winning 51 per cent of the popular vote ? an outcome that opposition lawmakers and civil society groups have blamed on unfair gerrymandering.
"Thanks to an extreme anti-urban bias and the abolition of rules governing the relative size of constituencies, the largest constituency has nine times more voters than the smallest.
"On that basis, and taking account of the number of closely fought seats, the opposition would probably have to win at least 58 per cent of the popular vote to get a majority of seats," Bowring wrote.
Speaking to The Malaysian Insider, DAP's publicity secretary Tony Pua said with the polls now over and efforts underway to challenge some of the results through election petitions, the next step for PR would be to focus on the coming redelineation exercise.
The EC recently said that the exercise will be kicked off by year-end after the six-month process to hear election petitions are completed. The petitions must be filed within 21 days after the results of the election are gazetted.
The Federal Constitution prohibits a redelineation exercise from being conducted within eight years of the last. The EC last redrew constituency lines in 2003.
"The focus will be on one man, one vote, one value, apart from pushing other related reforms. What we want is a more level playing field in the next general election.
"And this means that we should not be seeing a coalition winning the popular vote but losing the parliamentary seat count by a mile," Pua said.
"Given that BN does not have two-thirds majority in Parliament, the exercise must be agreeable to both sides," he added.
DAP's Rasah MP Anthony Loke agreed with his party colleague, saying it was important that PR makes full use of its influence in Parliament and put up a fight if they are disagreeable to the EC's redelineation proposal.
"We have more than one-third of our MPs in Parliament. We are a strong enough force to ensure that redelineation is done properly and professionally.
"The weightage of votes cannot be as ridiculous as it is today," he said.
PAS's Shah Alam MP Khalid Samad said there must be a more "reasonable" spread of voters across the constituencies to ensure that every vote has the same value across all constituencies.
"In some cases, you have a parliamentary seat with less than 10,000 voters… and elsewhere, you have seats with over 100,000 voters.
"We will be trying to push for fairer representation across the board," he said.
BN snapped up 133 federal seats to PR's 89 seats in the May 5 polls but for the first time ince 1969, the ruling pact lost the popular vote, scoring just under 48 per cent of the votes cast to PR's 51 per cent.
PR leaders immediately cried foul with its de facto chief Datuk Seri Anwar Ibrahim insisting that his federal opposition pact had won the election.
You are subscribed to email updates from Anwar Ibrahim
To stop receiving these emails, you may unsubscribe now.
Email delivery powered by Google
Google Inc., 20 West Kinzie, Chicago IL USA 60610
Posted: 22 May 2013 11:31 AM PDT
---
Kos hantar bungkusan ke luar negara naik 400 peratus
Posted: 21 May 2013 06:15 PM PDT
Kos hantar bungkusan ke luar negara naik 400 peratus
21 Mei 2013
Golongan yang bergantung kepada perkhidmatan mel nasional Pos Malaysia Bhd untuk menghantar bungkusan kini perlu menanggung kos pos lebih 400 peratus berbanding sebelum ini.
Pos Malaysia kini menetapkan kadar tetap RM60 untuk setiap bungkusan dengan berat kurang dari 1kg untuk destinasi ke Eropah.
Kadar lama adalah antara RM15 hingga RM20.
Pos Malaysia dalam satu nota yang dimuatkan di laman rasminya menyebut, syarikat itu menstruktur semula tarif mel dan bungkusannya, serta menetapkan semula zon destinasi berkuatkuasa Mei 2013.
- Malaysiakini
You are subscribed to email updates from AMKNS
To stop receiving these emails, you may unsubscribe now.
Email delivery powered by Google
Google Inc., 20 West Kinzie, Chicago IL USA 60610
Posted: 21 May 2013 07:17 PM PDT
---
Readout of the President's Call with Prime Minister Najib of Malaysia
Posted: 21 May 2013 08:23 AM PDT
President Obama called Prime Minister Najib on the evening of May 13 to congratulate him on his victory in parliamentary elections and to reaffirm the strong bonds of friendship between the United States and Malaysia.  The President noted that Malaysians had turned out in record numbers to vote and welcomed the Prime Minister's efforts to address concerns about election irregularities. The two leaders discussed the importance of continuing to deepen our bilateral cooperation, including on expanding cooperation on trade, regional security, and multilateral cooperation.
Kenyataan Oleh Setiausaha Akhbar Rumah Putih Tentang Pilihanraya Di Malaysia
Posted: 21 May 2013 08:17 AM PDT
[TERJEMAHAN]
Bagi pihak Presiden dan rakyat Amerika Syarikat, kami mengucapkan tahniah kepada Perdana Menteri Najib atas kemenangan koalisinya dalam pilihanraya Parlimen pada hari Ahad, 5 Mei. Kami juga ingin mengucapkan tahniah kepada rakyat Malaysia kerana peratusan keluar mengundi yang tinggi, dan juga kepada parti-parti pembangkang untuk kempen mereka, kerana pembangkang yang teguh adalah batu asas kepada demokrasi. Kami juga sedar bahawa berlakunya penipuan dalam proses pilihanraya, dan percaya bahawa ianya sangat penting bagi pihak bertanggungjawab menyelesaikan isu-isu yang berbangkit. Kami menanti hasil siasatan mereka. Amerika Syarikat akan meneruskan hubungan yang rapat antara kerajaan dan rakyat Malaysia demi mengukuhkan demokrasi, keamanan dan kemakmuran di rantau ini.
Statement by The White House Press Secretary on Malaysia's Elections
Posted: 21 May 2013 07:41 AM PDT
On behalf of the President and the people of the United States, we congratulate Prime Minister Najib on his coalition's victory in Malaysia's parliamentary elections on Sunday May 5.  We also congratulate the people of Malaysia, who turned out in record numbers to cast their votes, as well as the parties of the opposition coalition on their campaigns, as a vibrant opposition is a foundation of democracy.  We note concerns regarding reported irregularities in the conduct of the election, and believe it is important that Malaysian authorities address concerns that have been raised.  We look forward to the outcome of their investigations.  The United States looks forward to continuing its close cooperation with the government and the people of Malaysia to continue to strengthen democracy, peace, and prosperity in the region.
No pillow or blanket for Adam to sleep, says lawyer
Posted: 21 May 2013 03:34 AM PDT
Adam Adli Abdul Halim has been subjected to interrogation for two days in a row and was not even given a pillow or a blanket to sleep, said lawyer Fadiah Nadwa Fikri, who visited student activist today.
Fadiah who met Adam Adli with his father, Abdul Halim Abdul Hamid, at the Jinjang police detention centre at 1.30pm today, had to wait a long time before they could see him.
"After waiting for some time, his father and I were allowed to meet Adam. Bersih co-chairperson Ambiga Sreenevasan, who was also present, was not allowed to see him.
"Halim and I were then led into a room where we met Adam Adli, who was behind a glass panel. We had difficulty communicating with him and for me, being his lawyer, it was difficult to ask for instructions," Fadiah said.
The lawyer said Adam told her that he was subject to continuous interrogation from 10am to 6pm on Sunday and Monday, with the police asking him the same questions over and over again.
In between the interrogations, Adam said, there were short breaks.
However, Fadiah said Adam chose to remain quiet, stopped answering the repetitive questions and told the interrogating officer to watch the video recording of his speech.
No hint whether remand will end on Thursday
The 24-year-old student, who has been suspended by Universiti Pendidikan Sultan Idris, had been remanded since Saturday under Section 4 of the Sedition Act for his speech at a post election forum organised by Solidariti Anak Muda Malaysia (SAMM) on May 13.
Fadiah (right) said the meeting lasted less than 30 minutes and that she does not know whether the police will apply to extend Adam Adli's five-day remand order, which expires on Thursday.
"However, we are glad to see that he is quite well," the lawyer added.
A candlelight vigil in support of Adam has been held outside the Jinjang police detention centre for the past two nights, and also in front of Universiti Sains Malaysia in Penang last night.
Prime Minister Najib Abdul Razak promised last year to repeal the Sedition Act 1948 and replace it with a National Harmony Act.
Despite such promises, the sedition law is still being used against individuals such as Adam Adli. Others also facing sedition charges are DAP chairperson Karpal Singh and Hindu Rights Action Force (Hindraf) leader P Uthayakumar.
GST dulu ke atau gaji minima dulu Najib?
Posted: 21 May 2013 02:35 AM PDT
Telah berakhir tempoh Perdana Menteri Datuk Seri Najib Razak dan pentadbiran Umno-Barisan Nasional (UBN) untuk "berpantang" menahan nafsu amarah mereka "menggasak" rakyat negara ini.
Lepas dia tibai etnik Cina dengan serangan "tsunami Cina" dan pelbagai kata kesat hulubalangnya yang dihamburkan ke arah rakyat termasuk kenyataan kurang cerdik menteri dalam negeri itu, kini giliran menteri di jabatan perdana menteri pula untuk "mendera" rakyat dengan pengumuman sistem cukai baru.
Setelah memenangi kembali Puterajaya, dengan pilihanraya yang sangat dipertikaikan pelbagai pihak kerana sarat dengan penipuan, Najib sudah tidak segan-silu lagi untuk melakukan apa yang dianggapnya "agenda tertangguhnya".
Cukai Barangan dan Perkhidmatan (GST) bakal dilaksanakan oleh kerajaan Najib dalam tahun 2013 ini dan telah diwawar oleh Datuk Seri Idris Jala kononnya akan menjana pendapatan RM27 bilion setahun. Apa tidaknya kalau mereka sanggup mencekik rakyat dengan kadar 7 peratus!
Najib dan Idris Jala juga perlu terangkan kepada rakyat yang akan membayar cukai ini adalah rakyat bahkan semua lapisan rakyat termasuk yang kaya dan juga yang miskin atau berpendapatan rendah. Apabila mereka membeli barangan atau menggunakan perkhidmatan tersebut selagi barangan itu bukan dalam kategori "sifar cukai" atau "zero rated", bermaksud GST tetap dikenakan.
Kadar GST sebanyak 7 peratus adalah sangat tinggi dan ini jelasnya adalah "janji Najib yang tidak ditepati" kerana kadar 4 peratus adalah angka yang disebut-sebut sejak awal GST diperkenalkan. Mungkin Najib telah kemaruk kerana baru sedar hutang kerajaan Pusat dah terlalu membengkak hampir 55 peratus KDNK kerana dirinya sendiri.
Ataukah Najib mahu sahaja "mendera" rakyat yang tidak mengizinkannya untuk mendapat 2/3 majoriti diparlimen dan menawan kembali Selangor, negeri terkaya di Persekutuan Malaysia?
Singapura, yang rakytanya mempunyai pendapatan per kapita hampir dua kali ganda dari kita pun memulakan kadar GST mereka pada kadar 3 peratus. Kerana kos perlaksanaan cukai baru ini adalah sangat tinggi, yang dianggarkan berbilion RM, contohnya Australia A$4 bilion (RM12 bilion) ketika memperkenalkan GST di negara itu, maka tekanan kenaikan harga barang dan perkhidmatan yakni inflasi, adalah tidak dapat dielakkan justeru sebab faktor kos permulaan sistem GST.
Singapura, contohnya mengalami inflasi sebanyak 3 peratus untuk selama 3 tahun akibat dari perlaksanaan GST dan begitu juga dikesemua negara-negara yang melakasanakannya juga turut mengalami tekanan inflasi untuk beberapa tahun.
Pakatan Rakyat secara prinsip tidak menolak sistem cukai penggunaan ini atau "consumption tax" ini tetapi mahukan beberapa syarat penting mesti dilaksanakan oleh kerajaan terlebih dahulu. Pakatan Rakyat mahukan rakyat teramai mempunyai pendapatan yang menasabah bagi mampu menjalani kehidupan yang lebih bermaruah atau "a dignified life".
Bank Dunia sendiri telah mengisytiharkan bahawa gaji sebenar (real wage) rakyat Malaysia dengan mengambil kira faktor inflasi, hanya naik 2.8 peratus dalam satu dekad yang lalu.
Gaji minima adalah satu kaedah memecah hambatan atau "bottleneck" peningkatan pendapatan rakyat. Sudah terlalu lama perlaksanaan "gaji minima" ditangguhkan Najib. Ini satu pengkhianatan! Najib masih berdolak-dalik seperti dulu juga. Memang Najib tak ada tulang belakang atau "spineless" dalam banyak hal.
Pakatan Rakyat menuntut supaya dengan pembenterasan amalan rasuah, kronisme dan sesetengah jenis monopoli, oligopoli dan kartel, negara akan dapat meningkatkan pendapatan dari sumber penjimatan.
Sekaligus kos saraan hidup rakyat akan dapat dikawal dan diperturunkan serentak mengizinkan rakyat meningkatan pendapatan dan "pendapatan boleh berbelanja" (disposable income).
Pakatan Rakyat bercadang GST hanya dilaksanakan ketika pedapatan rakyat adalah pada paras yang lebih menasabah dan tidak seperti hari ini di mana 60 peratus dari isirumah mempunyai pendapatan kurang dari RM3,000 sebulan. Hari ini hanya 10 peratus sahaja mereka yang dalam pasaran kerja yang dikenakan cukai pendapatan kerana pendapatan yang rendah-sederhana.
Kerajaan Najib UBN juga mestilah mendidik rakyat tentang konsep dan perlaksanaan GST ini kerana sememangnya sistem cukai ini rumit dan tidak mudah difahami. Ada yang menganggap bahawa rakyat atau pengguna akan dikenakan cukai sebanyak 28 peratus kalau kita mula dengan pengenalan 7 peratus kerana cukai yang dibayar pengimpot, pengilang, pemborong dan peruncit akhirnya akan dibebankan kepada pengguna.
Fahaman ini adalah silap kerana GST adalah menggunakan sistem nilai-tambah atau "Value-Added Tax" ( VAT) seperti digunakan di beberapa negara seperti United Kingdom. Rakyat keliru bahkan ada akauntan juga tidak faham. Rakyat perlu difahamkan dengan betul.
Meskipun GST, sebagai sistem cukai baru yang bakal menggantikan Cukai Jualan dan Perkhidmatan (SST) sebanyak 5 peratus itu adalah satu sistem yang lebih efisien dari segi pungutannya serta dapat mengurangkan "pengelakkan cukai" (tax evasion), namun ianya perlu mengambil kira syarat-syarat yang lain termasuk menurunkan cukai pendapatan dan cukai korporat supaya ianya tidak terlalu membebankan rakyat dan lebih menasabah.
Terpaling penting ialah GST ini tidak dilaksanakan selagi sumber-sumber kebocoran dan pembaziran yang menelan berbilion RM setahun tidak ditangani.
Tegasnya, Kerajaan Najib UBN jangan paksa dan dera rakyat dengan GST setelah rakyat ditipu untuk memberikan mereka kelebihan kerusi diparlimen sekali lagi dalam pilihanraya umum ke-13 yang lalu.
PM Najib, kalau anda mahu madunya, jangan jolok sarangnya ya!
PKR dakwa pegawai SPR buka beg kertas undi
Posted: 21 May 2013 02:33 AM PDT
Seorang pemimpin cabang Angkatan Muda Keadilan (AMK) mendakwa pegawai Suruhanjaya Pilihan Raya membuka beg mengandungi kertas undi yang disimpan di pejabat jajahan di Ketereh, Kelantan dalam kejadian pada 7 Mei tanpa kebenaran dari Mahkamah Tinggi.
Ketua AMK Ketereh Mohd Sukirman Mustafa memberitahu Malaysiakini, beberapa orang anggota parti dan orang awam membuat laporan polis berhubung kejadian itu pada 16 Mei.
Menurut Sukirman, pegawai SPR hadir bersama anggota polis dan mendakwa memperolehi arahan dari pegawai atasan untuk berbuat demikian, walau peraturan pilihan raya menetapkan bahawa beg kertas undi hanya boleh dibukan dengan perintah Mahkamah Tinggi.
Bagaimanapun, pegawai yang membuka materi keselamatan di beg berkenaan tidak mengeluarkan apa-apa daripada beg yang disimpan di pejabat Majlis Daerah Ketereh.
"Mereka hanya membuka beg dan menyelongkar sedikit, tapi tidak mengeluarkan apa-apa," kata Sukirman.
Katanya cabang PKR di situ dimaklumkan oleh seorang individu yang memberitahu bahawa beg tersebut dibuka oleh pegawai SPR pada kira-kira jam 11 pagi pada 7 Mei.
Sukirman berkata anggota PKR merakam gambar pegawai SPR tersebut yang membuka beg berkenaan dan kini menunggu penjelasan mengenai perkara itu daripada SPR.
Parti berkenaan kini menimbang untuk mengemukakan kes tersebut ke mahkamah.
Posted: 20 May 2013 10:22 PM PDT
Pakatan Rakyat, kata Anwar, meraih 53%. Barisan Nasional hanya 45%.
Tak ada yang mengejutkan dari Pemilihan umum Malaysia 5 Mei lalu. Kubu Barisan Nasional kembali menang. Di tengah protes yang terus bergulir ke rezim itu dalam satu dekade ini, terhitung sudah 56 tahun koalisi yang dipimpin UMNO ini menguasai pemerintahan Malaysia.
Barisan Nasional meraih 133 kursi parlemen dari 222 kursi yang tersedia. Sementara pihak oposisi berhasil memperoleh 89 kursi.
Tapi koalisi oposisi Pakatan Rakyat kali ini protes keras atas hasil pemilu itu. Mereka menuduh ada kecurangan yang dilakukan Najib Razak cs. Pemimpin oposisi Anwar Ibrahim lantas menggelar apel protes yang dihadiri 40 ribu pendukungnya di Stadion Kelana Jaya, 8 Mei.
Anwar tentu saja meradang. Dalam wawancara khusus denganVIVAnews, Anwar mengatakan penghitungan komisi pemilu Malaysia telah dicurangi oleh rezim Najib Razak. Berdasarkan penghitungan independen, seharusnya yang menang adalah Pakatan Rakyat, bukan Barisan Nasional.
Satu jurus curang yang dimainkan Najib, kata Anwar, adalah dengan mendatangkan para pemilih bayangan untuk ikut menyerbu kotak suara. Dia menduga mereka datang dari Bangladesh dan Myanmar. Lalu apa rencana Pakatan Rakyat selanjutnya? Berikut wawancara lengkapnya:
Menurut anda, apakah pemilihan umum Minggu lalu telah berjalan bebas dan mewakili rakyat?
Justru itu isu yang sedang kami bantah sekarang, Soal kecurangan-kecurangan yang terlihat jelas sekali. Meskipun begitu dukungan rakyat masih terlihat kuat kepada koalisi Pakatan Rakyat.
Contohnya salah satu yang kami teliti sekarang, baik yang terperinci maupun yang mutakhir, di tanah Melayu kami meraih suara 53,03 persen. Sementara koalisi Barisan Nasional hanya memperoleh 45,07 persen suara.
Tapi yang menang malah koalisi Barisan Nasional. Justru ini yang aneh. Sedangkan versi nasional menyatakan Pakatan Rakyat memperoleh angka 51 persen dan Barisan Nasional 47 persen.
Angka 51 dan 47 ini versi siapa?
Itu versi Komisi Pemilu. Lima puluh satu persen itu dengan segala penipuan, kecurangan, dan datangnya orang-orang asing dari Bangladesh dan Myanmar ikut memilih sebagai pemilih bayangan. Bayangkan kalo pemilu dilakukan secara bersih. Saya rasa kami akan dengan mudah meraih suara hingga 60 persen
Jadi seharusnya yang dinyatakan sebagai pemenang adalah koalisi oposisi?
Ya. Namun untuk saat ini kami sedang membuktikan dulu bahwa Komisi Pemilu bersekongkol dengan pihak pemerintah. Kami memiliki foto dan video ada pemilih asal Bangladesh dan Myanmar yang dikirim oleh polisi untuk ikut memilih.
Apakah ada juga tenaga kerja asal Indonesia yang dimanfaatkan sebagai pemilih bayangan?
Sudah berkurang jumlahnya. Karena dukungan terhadap oposisi dan Anwar lebih kuat. Mereka pernah diiming-imingi untuk bekerja di Malaysia, tapi diberikan gaji pembantu, dan mereka tetap memilih Anwar.
Anda sebelumnya juga mengatakan ada kecurangan pada tinta pemilu?
Mereka sengaja menggunakan tinta yang tidak tahan lama. Tinta itu bisa dicuci dan dapat hilang. Kami curiga ada pemilih yang bisa memilih dua atau tiga kali. Kami memiliki bukti yang cukup, ada empat orang yang memilih partai  yang sama sampai tiga kali.
Bisa disebutkan di daerah mana saja yang terbukti ada kecurangan?
Kecurangan yang terbukti terjadi di 30 negara bagian. Bukan hanya satu tapi banyak yang sudah dicek.
Rencananya mau diserahkan ke siapa barang bukti kecurangan yang anda miliki?
Kami akan melaporkan polisi dan komisi pemilu ke pihak berwenang. Yang Pakatan Rakyat ingin ubah adalah sistemnya. Setelah itu, kami serahkan kepada rakyat. Dokumen dan rekaman video ini akan kami serahkan kepada media massa dan akan kami unggah ke Youtube.
Kami akan mengeluarkan semua bukti ini ke media sosial karena di tingkat atas semua dikontrol oleh pemerintah. Rakyat saat ini marah sekali karena pemilu dicurangi oleh pemerintah, bekerja sama dengan komisi pemilu yang tidak bebas.
Anda menuntut penghitungan suara pemilu. Betul begitu?
Iya. Tapi tidak perlu semua dihitung ulang. Kami hanya menuntut penghitungan ulang di daerah yang terbukti ada kecurangan.
Pada pemilu awal 30 April lalu, ada setengah juta pemilih yang memilih. Dan ini tidak dipantau sama sekali. Wakil partai oposisi tidak diberikan izin untuk memantau.
Padahal yang memilih saat itu sekitar 30 persen (dari pemilih total). Jadi ini sudah ada penipuan.
Menurut anda, dibandingkan pemilu lima tahun lalu, pemilu kali ini seperti apa?
Pada pemilu kali ini, sebelumnya ada kepanikan di tengah masyarakat untuk menolak mereka. Akhirnya pemerintah terdesak dan melakukan penipuan, karena hasil yang terlalu kentara oposisi akan menang.

Apakah masyarakat yang menolak termasuk etnis China. Terbukti masyarakat China yang sebelumnya memilih pemerintah lalu beralih ke oposisi?
Partai UMNO dan Perdana Menteri Najib Razak menyebut ini "tsunami China". Itu dilakukan untuk mengelabui mata rakyat supaya orang Melayu marah. Tapi jika dilihat lagi faktanya, jumlah pemilih China tidak banyak, hanya 25 persen, membuktikan masyarakat Melayu masih kuat. Mereka ingin
mengadu domba China dan pribumi.
Dari sistem demokrasi yang ada di Indonesia, apa yang bisa dipelajari oleh Malaysia untuk pemilu lima tahun mendatang?
Indonesia sudah lebih maju sistem pemilunya dan berlangsung bebas. Kalau calon presiden di Indonesia bisa berdebat. Sementara di Malaysia, Najib menolak berdebat dengan saya.
Secara objektif ada ruang di mana kita harus mempelajari pemilu dari Indonesia. Walaupun saat ini masih ada permasalahan kesenjangan kaya dan miskin, korupsi, tapi secara institusi demokratis bisa dipelajari.
Tapi pimpinan UMNO ini terlalu arogan. Bagi mereka Indonesia itu cuma soal TKI saja. Mereka seharusnya memiliki sikap yang lebih realistis menerima kenyataan bahwa Indonesia dari sudut pandang memantapkan demokrasi dan pengurusan pemilu yang jujur dan adil harus dipelajari pengalamannya.
Malaysia seharusnya mengundang komisi pemilu Indonesia untuk memantau pemilu di Malaysia, tapi komisi pemilu di sini tidak bersedia.
Posted: 20 May 2013 10:16 PM PDT
Satu tinjauan di lamat web yang direspon oleh beberapa belas ribu orang bersetuju supaya Datuk Seri Anwar Ibrahim berundur dari pimpinan utama Pakatan Rakyat dan ketua pembangkang di Parlimen. Itulah kira-kira sebagai reaksi setelah Pakatan tidak dapat kerusi selalyaknya bagi memenangi PRU 5 Mei lalu.
Respon itu sesuai dengan kenyataan yang pernah Anwar buat bahawa dia akan berundur sekiranya Putrajaya tidak dapat ditawan. Maka itulah dituntut oleh responden.
Responden bersetuju dia berundur kira-kira 80 peratus. Ia tinggi tetapi belum sampai 15,000 orang. Jika seluruh anggota Perkasa mengambil bahagian mungkin yang mahu dia berundur naik 100,000.
Sekalipun Pakatan belum berjaya menguasai Putrajaya tetapi yang mengundinya di seluruh negara yang  direkodkan oleh SPR hampir 51 peratus atau 5.5 juta tidak termasuk yang lesap, sedang BN yang diisytihar menang itu diundi oleh 5.2 juta saja.
Perlembagaan tidak mengiktiraf undi popular sebagai pemenang, tetapi Pakatan telah menang dari segi demokrasi. Maka ada justifikasi Anwar tidak perlu berundur. Pakatan mengikut kekeliruan pengiraan undi tidak  dapat kerusi secukupnya, sedang ia menang undi popular.
Pakatan bukan tidak menang, cuma ia tidak dapat berkuasa. Keputusan muktamat sekarang menunggu apa mahkamah kata apabila sekitar 30 petisyen pilihan raya akan dikemukakan selepas ia diwartakan.
Jika Anwar dalam situasi yang ada mengubah fikiran tidak berunsur tidak dikira dia tidak berpegang kepada janji. Janjinya kiranya Pakatan kalah serba serbi. Sekarang Pakatan tidak kalah serba serbi.
Katakan Pakatan kalah serba serbi, Anwar seorang tidak boleh menentukan dia patut berundur atau mesti menerus usaha menawan Putrajaya. Anwar boleh menawarkan diri berundur tetapi pimpinan Pakatan dari segi moral berkuasa untuk bersetuju atau tidak bersetuju.
Kalau Anwar mahu menjadi ketua atau calon Perdana Menteri, dia memerlukan persetujuan konsenses Pakatan. Kalau pimpinan Pakatan tidak setuju, maka dia tidak boleh jadi pemimpin. Dan apabila dia hendak berundur pula, dia tidak juga boleh buat keputusan sendiri. Dia kena dengar apa pimpinan PAS dan DAP kata.
Apa jua keputusan yang Anwar hendak buat, dia mesti berunding dulu dengan pimpinan PAS dan Pakatan.
Setakat ini kedudukan yang ada di tangan Pakatan Rakyat ialah Ketua Pembangkang di Parlimen. Jika mengikut parti mana yang banyak kerusi ia DAP. Anwar sendiri pun tidak boleh berkeras terus menjadi Ketua Pembangkang. Dia pun tahu Lim Kit Siang perlu ditanya dulu. Dia sudah menyatakan kesediaan untuk memberi kepada pihak yang lebih berhak.
Tetapi Lim Kit Siang sudah menyatakan supaya Anwar wajar meneruskan kedudukan itu. Tiada di kalangan keluarga PR membantah Anwar meneruskan kempen menawan Putrajaya.
Dengan Anwar dikehendaki mendengar apa kerabat Pakatan kata, bukan apa tinjauan laman web kata.
Keupayaan Pakatan Selangor mencapai keputusan yang lebih baik  dari PRU 2008 adalah bukti Pakatan dan pimpinan tiga serangkainya — Anwar, Abdul Hadi Awang dan Lim Kit Siang — adalah isyarat Pakatan belum ditolak dan mereka mesti meneruskan kempen yang belum selesai.
You are subscribed to email updates from Anwar Ibrahim
To stop receiving these emails, you may unsubscribe now.
Email delivery powered by Google
Google Inc., 20 West Kinzie, Chicago IL USA 60610
Posted: 21 May 2013 11:25 AM PDT
---
WARNA TEMA HITAM "SUARA RAKYAT, SUARA KERAMAT" DI MAJLIS BANDARAYA PETALING JAYA ~24 & 25 MEI~
Posted: 21 May 2013 01:18 AM PDT
Tema hitam di Kongres KEADILAN 24 & 25 Mei ini
KUALA LUMPUR, 21 MEI: Kongres Nasional KEADILAN ke-9 akan diadakan pada 24 dan 25 Mei 2013 bertempat di Dewan Sivik MBPJ (Majlis Bandaraya Petaling Jaya)
Kongres KEADILAN kali ini membawa warna tema hitam dengan slogan 'Suara Rakyat, Suara Keramat' simbol kebangkitan rakyat bagi menuntut pilihan raya yang bersih dan adil.
Presiden KEADILAN, Datuk Seri Dr Wan Azizah akan menyampaikan ucaptama pada hari Sabtu jam 8.30 pagi sekaligus merasmikan Kongres Nasional Tahunan KEADILAN ke-9.
Perasmian bersama Kongres AMK dan Wanita akan disempurnakan Timbalan Presiden KEADILAN, Mohamed Azmin Ali pada hari Jumaat jam 2 petang.
Pendaftaran boleh dibuat bermula jam 10 pagi. Dijangka lebih 2,500 perwakilan dan pemerhati serta jemputan khas dari luar negara akan hadir.
Ibu pejabat KEADILAN juga akan membuat siaran langsung (livestream) bagi upacara perasmian Kongres Nasional Tahunan KEADILAN kali ke-9.
Untuk mendapatkan sebarang maklumat digalakkan untuk menghubungi urusetia program di talian 012-6541415 (Syed Shah) atau emel kepada Pengurus Operasi ibu pejabat KEADILAN di alamat nurulhuda@keadilanrakyat.org
You are subscribed to email updates from BULETIN RAKYAT
To stop receiving these emails, you may unsubscribe now.
Email delivery powered by Google
Google Inc., 20 West Kinzie, Chicago IL USA 60610
Posted: 21 May 2013 11:23 AM PDT
---
Rumah kakak Muhyiddn, adik IGP dirompak
Posted: 20 May 2013 06:12 PM PDT
Semoga Menteri Keselamatan Dalam Negeri yang baru dilantik dapat mempertingkatkan keselamatan awam dan rakyat. Adakah beliau akan mengeluarkan kenyataan kepada warga asing yang merompak dan melakukan jenayah agar balik ke negara asal atau keluar dari Malaysia?
Rumah kakak Muhyiddn, adik IGP dirompak
Malaysiakini, Mei 20 2013
Hanya dalam masa lima jam, dua kediaman milik anggota keluarga orang kenamaan negara dirompak dalam dua kejadian berasingan pada hujung minggu lalu.
Laporan China Press menyebut, kejadian pertama berlaku di kediaman milik seorang kakak kepada timbalan perdana menteri Tan Sri Muhyiddin Yassin di SS3, Petaling Jaya.
Kediaman tersebut, sebuah rumah banglo, dilaporkan dipecah masuk pada jam 10 malam pada hari Sabtu.
Pada jam 3 pagi selepas itu, satu lagi kejadian rompakan dilaporkan berlaku di Mantin, Negeri Sembilan di sebuah rumah banglo milik seorang adik kepada ketua polis negara Tan Sri Khalid Abu Bakar.
Seramai lima orang dalam keluarga terbabit diikat oleh lima orang perompak, dipercayai warga asing.
Menurut satu kiriman berita Nanyang Siang Pau, perompak berkenaan menghilangkan diri tanpa dikesan manakala mangsa enggan mendedahkan jumlah kerugian.
You are subscribed to email updates from AMKNS
To stop receiving these emails, you may unsubscribe now.
Email delivery powered by Google
Google Inc., 20 West Kinzie, Chicago IL USA 60610
Posted: 21 May 2013 03:05 AM PDT
---
You are subscribed to email updates from MEDIA 4RAKYAT
To stop receiving these emails, you may unsubscribe now.
Email delivery powered by Google
Google Inc., 20 West Kinzie, Chicago IL USA 60610
Posted: 20 May 2013 11:21 PM PDT
---
Ambiga: Bersih's 'People's Tribunal' a 'Moral Force' to Investigate Electoral Fraud
Posted: 20 May 2013 08:52 PM PDT
KUALA LUMPUR, May 21 — Bersih 2.0's "People's Tribunal" may not have any legal standing but will serve as a "moral force" to investigate allegations of electoral fraud, said Datuk Ambiga Sreenavasan when defending the polls watchdog's final attempt at proving wrongdoing in the May 5 polls.

The renowned civil rights activist told The Malaysian Insider that Bersih 2.0 will soldier on with its plan to set up the tribunal which, she said, should be announced in two or three weeks' time, despite earning condemnation from polls regulator Election Commission (EC).

"It is true that it is not set up under any law or statute. That is why it is called the People's Tribunal," she said.
"It will be an evidence-gathering tribunal and what we have is the moral force to examine the allegations. That is its main aim — to gather evidence," she added.
On May 6, a day after the tumultuous 13th general election, Bersih 2.0 announced its plan to set up the tribunal to look into the hundreds of reports of alleged cheating that took place during the polls.
The coalition of over 80 non-governmental organisations insisted that the polls results had favoured the ruling Barisan Nasional (BN) largely because of these irregularities, and said it would not recognise the outcome until it had verified all allegations of fraud.
In the polls, BN continued its half-a-century unbroken rule and emerged victors yet again despite winning with a significantly smaller seat majority in the 222-seat Parliament.
It is true that it is not set up under any law or statute. That is why it is called the People's Tribunal. — Datuk Ambiga Sreenevasan
The ruling pact snapped up 133 seats this time to Pakatan Rakyat's (PR) 89, failing yet again to recapture the coveted two-thirds parliamentary majority that it first lost in the 2008 general election.
PR refused to accept its losses, however, pointing to the fact that it had won the overall popular vote by scoring 51 per cent of votes cast, while BN only took 48 per cent — an outcome reminiscent of the 1969 polls when the ruling pact first lost the popular vote.
The federal opposition pact of PR has since confirmed plans to file election petitions to challenge the results in 27 federal seats where BN had won with marginal majorities, allegedly due to electoral fraud.
PKR strategy director Rafizi Ramli has also said that the same complaints will be brought before Bersih 2.0's "People's Tribunal" where, he said, PR's evidence was likely to be treated with more seriousness than in any court of law.
Ambiga told The Malaysian Insider that the tribunal will be presided over by a five-member panel, which will include individuals of repute and who will not be members of any political parties or even from Bersih 2.0 itself.
She said the panel will likely come up with a set timeframe to conduct its probe, apart from deciding on appropriate terms of reference before commencing any hearing.
"We will then expect some sort of recommendations or findings to be made. This will be presented to all the relevant authorities, including human rights bodies like Suhakam," she said.
"For Bersih... our role is just to facilitate the setting up of the tribunal. Further to that, we will not get involved. It must be completely independent," she added.
Ambiga also explained that the setting up of the tribunal was taking longer than originally planned due to the complexity of its scope of investigation, as well as the selection of its panel members.
"We originally wanted to have it done by June but it looks impossible at this point. We should announce the panel within two or three weeks' time.
"But as to when the panel will begin their hearings, that would be entirely up to the members to decide," she said.
Despite widespread protests against its handling of the 13th general election, the EC has insisted that it had conducted the polls fairly and successfully, citing the higher turnout of voters at a whopping 84 per cent as evidence of voters' confidence in the Malaysian electoral system.
"We have conducted a successful polls, there was an 85 per cent turnout… we have good job as you can see from the turnout," EC deputy chairman Datuk Wan Ahmad Wan Omar said last week.
PR has been organising mammoth rallies across the country to prove voter dissatisfaction against the polls, which PR de facto chief Datuk Seri Anwar Ibrahim has insisted had been stolen from his pact.
Source: TheMalaysianInsider
Model GST Singapura Tak Relevan Untuk Malaysia, Hanya Bantu Orang Kaya
Posted: 20 May 2013 08:46 PM PDT
PETALING JAYA, 21 MEI: Menjadikan pengutipan Cukai Barangan Dan Perkhidmatan (GST) di Singapura sebagai model tidak bersesuaian berikutan pendapatan perkapita rakyat negara ini jauh lebih rendah berbanding Singapura.

Mengenakan GST sebanyak tujuh peratus seperti yang dibayangkan Menteri Di Jabatan Perdana Menteri, Datuk Seri Idris Jala baru-baru ini juga membimbangkan kerana bercanggah daripada kadar empat peratus seperti yang dicadangkan Kementerian Kewangan sebelum ini.

"Menjanjikan penurunan cukai korporat dan cukai pendapatan untuk off-set GST hanya membantu orang kaya.

"Dalam erti kata lain, plan GST BN adalah regresif dan pada dasarnya akan melihat majoriti rakyat membayar lebih cukai daripada minoriti kaya," kata Pengerusi Biro Perdagangan dan Pelaburan PKR, Wong Chen dalam sidang media di ibu pejabat PKR di Merchant Square semalam.
Menurut Wong Chen, Idris juga gagal memaklumkan keadaan sebenar Singapura ketika melaksanakan GST pada 1994 tidak terus mengenakan tujuh peratus, sebaliknya hanya mengenakan tiga peratus, dinaikan kepada empat peratus pada 2003 dan hanya 13 tahun kemudian pada 2007 barulah mencapai tujuh peratus.
Menurut Wong Chen yang juga merupakan Ahli Parlimen Kelana Jaya itu, kerajaan sepatutnya menumpukan usaha membaiki kelemahan asas cukai yang lemah, pembaziran perbelanjaan dan rasuah sekaligus mampu mengurangkan defisit negara.
Menurut beliau kelemahan asas cukai berpunca daripada fakta bahawa pendapatan majoriti rakyat Malaysia adalah masih rendah sekaligus berada di bawah paras had pembayar cukai.
Pada April tahun lalu, kerajaan menangguhkan lagi bacaan Rang Undang-Undang GST buat kali ketiga selepas pertama kali dibentangkan di Dewan Rakyat sejak tahun 2009.
Langkah penangguhan tersebut diambil dipercayai disebabkan kebimbangan BN akan ditolak dalam Pilihan Raya Umum Ke 13 (PRU-13) baru-baru ini.
Bagaimanapun BN selepas mencapai kemenangan dengan majoriti merosot berbanding PRU-12 sebelumnya, dijangka tidak akan teragak-agak untuk melaksanakan GST selepas diluluskan dengan sokongan wakil rakyat BN di Dewan Rakyat nanti.
Sumber: Selangorku
Xavier, Wong May Be Dropped From Selangor Exco Lineup
Posted: 20 May 2013 08:13 PM PDT
PETALING JAYA (May 20): PKR's Dr Xavier Jayakumar and Elizabeth Wong have accepted the possibility that they may not been reappointed to the Selangor state executive council.

This is apparently because the new lineup will feature six Malays and four non-Malays, as requested by the Sultan of Selangor to better reflect the racial composition of the assembly members.

With three or four of the non-Malay exco positions going to DAP, PKR will at the most have only one non-Malay representative in the lineup.

Wong, when contacted today, said she is committed towards working for her Bukit Lanjan state constituency and addressing environmental issues irrespective of whether she gets an exco post.

"Yes there is a possibility (of not being re-appointed) but it won't affect my resolve to represent my constituents and my work on the environment," she said.

"We place our trust in MB (Menteri Besar Tan Sri Abdul Khalid Ibrahim) to make the best decision on this matter (exco line-up)," she added.

Xavier told fz.com that PKR had agreed to include a non-Malay assembly member in its exco list but the decision was not final.

'There are a few names. We will have to wait and see," he said.

In previous discussions, Selangor Pakatan Rakyat leaders had agreed that the 10 exco positions would be equally distributed between Malays and non-Malays, with PAS representatives holding three posts (in addition to the speaker's post), DAP holding four posts and PKR holding three posts (as well as the menteri besar's post).

DAP had already mooted former speaker Datuk Teng Chang Khim and Seri Kembangan assembly member Ean Yong Hian Wah to fill two exco positions.

Teng was known to have thrown his name in the hat for the exco position even before the May 5 polls.

Also, DAP won more seats in Selangor compared to PKR. DAP and PAS each won 15 seats while PKR won 14 seats.

However, in a surprise announcement on Saturday, Abdul Khalid revealed the ratio of positions between DAP and PAS had switched.

According to a PKR source, the reason behind this was due to a proposal from the Sultan of Selangor for Malay elected representatives to assume six exco positions while non-Malay representatives will assume the remaining four exco positions to better reflect the racial composition of the newly elected state assembly.

Out of 56 state assembly members, 37 are Malays and 19 are non-Malays.

The previous exco lineup had five Malays and five non-Malays.

If Pakatan were to accede to the ruler's proposal, and maintained DAP's ratio of four exco positions, then PKR would have to nominate its Malay elected representatives for the exco posts and exclude Wong and Xavier.

The Pakatan leadership is now in discussion to solve the kerfuffle over the exco line-up.

Wong had previously championed environmental policies and worked on the drafting as well as implementation of the Freedom of Information legislation.

She had tabled an amendment to the National Forestry Act 1984 which calls for a public inquiry compulsory before a forest reserve can be de-gazetted. It was passed by the state assembly during its sitting in April 2011.

She also worked closely with orang asli communities, and embarked on a first attempt in the administrative history of the Selangor government to use geo-mapping
technology in order to delineate orang asli villages and native customary land in the state.

Wong also worked on the No Plastic Bag on Saturdays campaign which was successful in the state.

Xavier is known to champion Indian community issues.

He has worked on various matters, including the relocation and construction of Tamil schools, ironing out land matters affecting Tamil schools and improvement of Tamil school education via a committee made up of Selangor Pakatan leaders.

He also administered the relocation of Hindu temples as well as facilitated talks between former plantation workers and landowners for relocation.

Xavier also facilitated administrative matters to solve flooding woes in Taman Sentosa, with the construction of a water retention pond slated to begin soon.
Source: fz.com
You are subscribed to email updates from Suara Sri Andalas
To stop receiving these emails, you may unsubscribe now.
Email delivery powered by Google
Google Inc., 20 West Kinzie, Chicago IL USA 60610
Posted: 20 May 2013 07:26 PM PDT
---
KERAJAAN PULAU PINANG KESAL USAHA BOIKOT BARANGAN KELUARAN CINA BERSTATUS HALAL - ABD MALIK
Posted: 20 May 2013 06:26 PM PDT
KENYATAAN MEDIA 20 MEI 2013
DATO' ABDUL MALIK KASSIM
EXCO PERDAGANGAN DALAM NEGERI, HAL EHWAL PENGGUNA, HAL EHWAL AGAMA ISLAM PULAU PINANG
KERAJAAN PULAU PINANG KESAL USAHA BOIKOT BARANGAN KELUARAN CINA BERSTATUS HALAL
Kerajaan negeri Pakatan Rakyat Pulau Pinang amat kesal dan membantah tindakan beberapa Pertubuhan Bukan Kerajaan (NGO Melayu) diterajui Persatuan Pengguna Islam Malaysia (PPIM) yang menyeru umat Islam memboikot barangan keluaran syarikat milik Cina yang berstatus halal.
Jelas, tindakan itu menunjukkan mereka separuh matang dan kebudak-budakkan, hanya sebagai membalas tindakan majoriti masyarakat Cina menyokong Pakatan Rakyat dalam pililihan raya lalu.
Lagipun, soal sokongan mana-mana pihak dalam pilihanraya bukan menjadi kesalahan di sisi undang-undang. Bahkan ia juga bukan suatu kesalahan jenayah sehingga mereka perlu bertindak ke tahap itu.
Sebagai sebuah persatuan pengguna, sewajarnya mereka bergerak memperjuangkan hal-hal kepenggunaan sahaja. Sebelum ini PPIM diketahui umum begitu aktif dalam hal-hal kepenggunaan yang melibatkan halal haram atau tidak sihat sesuatu barangan itu kepada pengguna. Namun, apabila PPIM menyeru orang Melayu memboikot barangan keluaran syarikat Cina atas faktor politik, menunjukkan PPIM telah terkeluar daripada landasan perjuangan yang sebenarnya. Tindakan itu, tidak ubah seperti perjuangan pelampau Melayu - Perkasa.
Ketika kesedaran pengguna dan pengusaha semakin meningkat berkaitan status halal, PPIM bertindak sebaliknya dengan memberikan imej buruk tentang Islam. PPIM seharusnya membantu kerajaan pusat atau negeri dalam memperjuangkan hal-hal kepenggunaan khususnya berkaitan status halal.
Selaku Pengerusi Halal Penang (PIHH) dan Exco Hal Ehwal Agama Islam, sejak tahun 2008 kerajaan negeri telah berjaya meningkatkan syarikat dan barangan berstatus halal di Pulau Pinang sebanyak 605 peratus. Ini bagi memenuhi sebahagian tuntutan persatuan pengguna Islam, demi kepentingan semua pihak, khususnya kepada pengguna Islam.
Sebagai sebuah negara majmuk seperti Malaysia, di mana masyarakat Cina lebih menguasai pengeluaran produk pengguna, sebagai pengguna, tidak mungkin kita dapat mengelak daripada menggunakan barangan bukan Islam.
Selaku Pengerusi Hal Ehwal Pengguna saya menyeru PPIM menfokuskan isu halal haram dan barangan pengguna yang diragui masih banyak perlu diperjuangkan. PPIM sewajarnya memperjuangkan isu ini, lebih daripada memperjuangkan politik adu domba yang akan memecahbelahkan keharmonian kaum negara ini.
You are subscribed to email updates from N37 Batu Maung
To stop receiving these emails, you may unsubscribe now.
Email delivery powered by Google
Google Inc., 20 West Kinzie, Chicago IL USA 60610
Posted: 20 May 2013 07:11 PM PDT
---
Not everyone is as cowardly as you, Rafizi slams Zahid: Kedah rally is on, Mukhriz or not
Posted: 20 May 2013 08:23 AM PDT
PKR strategy director Rafizi Ramli ridiculed his rivals in Umno for cowardice and being out of touch with the people over a spate of rallies that have taken the nation by storm.
"Intimidation and fear tactics don't work anymore. It only worked on Zahid Hamidi in 1998, that's why he turned around within the first 2 weeks after the first demo. If Zahid Hamidi thinks everyone is like him, he is sorely out of touch with the public," mocked Rafizi, who is also the newly-elected MP for Pandan.
"You can see that despite several statements made by the authorities, the people are still coming out because this is a big issue. I would suggest that Zahid does not interfere in the job of the police. Let the police do their work professionally. We don't need another Home Minister who makes the silliest comments."
Zahid's U-turn of the decade!
Rafizi was referring to Umno vice president Zahid Hamidi, who taking over as Home Minister from Hishammddin Hussein last week had promptly warned the Opposition and rally-goers that action would soon be taken against them.
In the 1990s, Zahid was a staunch supporter of Opposition Leader Anwar Ibrahim, who had then been the Umno deputy president. Zahid had protested against Anwar's jailing on trumped-up sodomy and corruption charges in 1998, but recanted and cut all ties with Anwar after former premier Mahathir Mohamad threw him into jail under the Internal Security Act. Zahid was released in 1999 after he reversed his stance and declared loyalty to the Umno leadership controlled by Mahathir.
It is also worth noting that during the 53th Umno General Assembly in 1997, Zahid had lashed out against Mahathir, calling for an end to cronyism and nepotism in the government. In response, Mahathir publicized the names of those Malay/Bumiputeras who had received shares and high positions in government-linked corporations (GLCs) and these had included Zahid.
Not your father's country either : Stop the polemics and do your job!

Apart from sabre rattling on the Blackout 505 rallies spearheaded by Anwar and his Pakatan Rakyat coalition, Zahid has also attracted public odium for himself and his Umno party for saying that those unhappy with the current political system in Malaysia should migrate.
His brash comments sparked a wave of public condemnation and added impetus to the Blackout 505 movement to protest electoral fraud and to demand re-elections in seats where the Opposition claims it has accumulated evidence of vote-rigging and phantom voters.
Zahid's comments have also sparked a wave of "lu siapa" and "ini bukan negara bapa kau" (who are you to ask us to leave, this is not your father's country) comments against him at the rallies.
"This country is also not (Anwar's) father's. It is neither my father's country nor his father's country," Zahid said in an outburst to the press earlier this morning.
Although not a week has elapsed since he was picked to replace the controversial Hisham, who was slammed for stirring up hornets' nests and creating racial tensions, it looks like Zahid may "outperform" his predecessor going by the fires he has lit in just the space of a few days.
"If he has time, he should tackle the issue of false I.C.s and phantom voters. That is more in line with his job. He needs to know the boundaries and not interfere with the professional work of the police," said Rafizi.
Would anyone take heed of what Mukhriz says?
The 36-year-old PKR leader also slammed Mukhriz Mahathir for disallowing a Blackout 505 rally scheduled for Tuesday night to be held at a stadium in Alor Setar. Mukhriz, who is Mahathir's youngest son and newly-appointed chief minister of Kedah, had drawn flak for his high-handed action and accused of being "like father like son".
"It doesn't surprise us at all because they have always behaved us this way. It doesn't even register on our mind what he (Mukhriz) says or what kind of warnings he makes because we have stepped forward to a new Malaysia to a much more liberated Malaysia. What he thins belong to the past and I dont think a lot of people will take heed of what he says," said Rafizi
"We are more interested in maintaining professional relations with the police because public safety and public order is of utmost importance and we are sure that any rallies if done properly and with full cooperation with the police will have positive results as has taken place in the past two weeks."
New IGP and Blackout 505 in Kedah to proceed
When asked if the new Inspector General of Police Khalid Bakar who last week took over from the retiring Ismail Omar would affacet Pakatan's relations with the police, Rafizi said he would wait and see.
Khalid has been widely condemned over many cases and he has even been caught red-handed trying to cover up mis-practices and wrong-doings such as in the Kugan Ananthan murder case as well as in trying to insinuate wrong-doing on the part of the Opposition to give Prime Minister Najib Razak's administration a 'boost' in image.
Such partisan conduct by the senior members of the police force has led to a tremendous loss of public confidence in the police, with most Malaysians having the perception that their cops were out to harm them or solicit bribes rather to protect them and maintain law and order.
"We are more than willing to wait and see. I am more than willing to give the benefit of doubt to Khalid Bakar," said Rafizi.
He added that the Blackout 505 rally in Kedah would proceed and a new venue to be announced on the social media network soon.
"I am sure 40 to 50,000 people will still come to Alor Setar or Pokok Sena, even if it has to be held in Mahfuz Omar's house," said Rafizi, referring to the Kedah PAS commissioner, who is helping to organize the event.
Posted: 20 May 2013 08:11 AM PDT
After the 13th general election in Malaysia recently, Prime Minister Najib Razak grumbled about a "Chinese tsunami" that barged against his Barisan Nasional coalition, leaving it with only 47 percent of the popular vote. Barisan Nasional has a Chinese component, the Malaysian Chinese Association, but the Chinese vote went heavily to the opposition Pakatan Rakyat, a three-party coalition led by former deputy prime minister Anwar Ibrahim.
Still, thanks to the gerrymandering of rural constituencies and to the huge perks of incumbency, Barisan Nasional won 133 of 222 parliamentary seats at stake and retained power. Najib remains prime minister.
So why is he grousing about a Chinese tsunami? I think it's because he has felt a tectonic shift — in this case a tectonic shift in the political mood of Malaysia. It well may be that Malaysian politics will never be the same again. That doesn't bode well for the Barisan Nasional, or for Najib himself.
Perhaps it's a comeuppance. There were numerous reports of shenanigans attributed to the ruling coalition. Of flying voters. Of immigrants in Sabah who were given identity cards on condition they would vote for the ruling coalition. Of padded voters' lists. Of people long dead who were able to vote. Of the Barisan Nasional campaign doling out a total of $2.5 billion to poor voters, and resorting to other forms of subsidy schemes.
If these reports are true, and the evidence is piling up that they're accurate, then there's nothing that the local politicians of the Philippines, past masters of election fraud, can teach their Malaysian counterparts. However, to the credit of the Malaysian politicos, although there were some accounts of violence, there wasn't a single shooting throughout the campaign.
As for the tsunami, it wasn't Chinese. True, most Chinese Malaysians are sick and tired of the discrimination they've suffered over four decades. It rankles that they don't have equal rights in business, in the civil service and in education. They clamor for a Malaysia that is a meritocracy like next-door Singapore. But there aren't enough Chinese voters to raise a tsunami.
The tsunami was Malaysian — Muslim Malay and Chinese and Indian Malaysian. Urban, young and idealistic Malaysian. It had nothing to do with ethnicity. It had everything to do with a thirst for change. They're through with divisive racial politics. They want an end to corruption and cronyism. They want to unleash the potential of a richly diverse Malaysian nation.
Once again, Anwar Ibrahim has failed to win the prime ministership, but he has led Malaysian politics out of the wilderness — and that should be enough for now. He won't rest, however. Insisting the elections had been stolen from Pakatan Rakyat, he is leading public protests reminiscent of Cory Aquino's civil disobedience campaign in the Philippines after she thought Ferdinand Marcos had robbed her of the presidential election in 1986.
Aquino's protest movement led to regime change only because it merged with a military coup. For a people power revolution to succeed it must be supported by a sizeable part of the military, or else the entire military must stay neutral. That won't happen in Malaysia. But national politics will continue to change. Meanwhile, the Najib government will try to rule with a weak and questioned mandate. It will have to cope with the divisions it has largely created, economic problems from exorbitant election spending, and extravagant promises impossible to keep.
Najib himself is politically wounded. His rivals in the ruling party, the United Malays National Organization, smell blood. That's a pity because among party eminences, he is the one who has a streak of the reformist in him. To survive, UMNO must undergo sweeping and painful reform to match the shifting mood of Malaysian politics. Otherwise, the election this month was its last hurrah.
Disputed Election Sends Malaysian Politician Back to Fight on the Streets
Posted: 20 May 2013 08:04 AM PDT
Not long ago he was flirting with the idea of semiretirement, maybe a teaching job at an American university. But now Anwar Ibrahim, the leader of the Malaysian opposition, former political prisoner and longtime bugbear of the establishment, says those plans are firmly on the shelf.
After a disputed election this month, in which he and his allies won a majority of votes but failed to capture control of Parliament, Mr. Anwar has returned to his roots as a political street fighter, drawing large crowds across the country to protest what he calls mass vote rigging.
"Rise up!" he beseeched a crowd of thousands crammed last week into a field in this seaside city. "We won the election, but we were robbed of victory."
Street politics is a sort of political oxygen for Mr. Anwar, who turns 66 in August. His wife jokes that when he complains of aches or fatigue, the only way she can revive him is with a microphone and a crowd.
As a Malay radical in the 1970s, he led student protests for expanded Malay rights and was imprisoned for two years without trial. In the 1990s, he led tens of thousands of followers through the streets of Kuala Lumpur, the capital, embarrassing the government during a visit by Queen Elizabeth II. He was later convicted of sodomy, a charge brought by his political enemies that was ultimately overturned. He spent six years in prison.
Now, as Mr. Anwar poses a new type of challenge to his government, many questions loom for him — and indeed for this relatively prosperous but unsettled country of about 30 million people. How long will he continue to protest the election results? And how long will the government, which has been slowly relaxing its mildly authoritarian powers, put up with the unrest?
At stake in the battle, besides the questioned validity of the election, is a fight over two visions for the future of this multiethnic country: the government view that continues to favor the Malays and those linked to the governing coalition with preferences versus Mr. Anwar's campaign to curtail patronage and make government assistance operate on the basis of need, not ethnicity.
For Mr. Anwar, a Malay who once defended those preferences, the shift is a personal sea change, which some say is born of political ambition but that he says came to him during years of reflection in jail.
"My dream was to have a Malaysian spring that would be unique in the sense that we would do it through votes, not in the streets — a peaceful transition into a vibrant democracy in Malaysia," Mr. Anwar said in an interview at his modest office in an obscure neighborhood outside Kuala Lumpur. Now, with victory elusive, he said he wanted a peaceful resolution but hedged when asked how far he would take his protests.
Malaysian politics, so closely entwined with the country's ethnic complexity, can be bewildering to outsiders.
Like Indonesia, Myanmar and many other countries in Asia, Malaysia is a product of European colonialism and still a work in progress. The mix of ethnic Malay, Chinese and Indians (a much smaller group) is far from a melting pot — more a Babel of language, a hodgepodge of foods and a tense coexistence of Islam, Christianity, Buddhism and Hinduism.
Malay Muslims have a slim majority of the population but have dominated politics since independence from Britain in 1957. Their wide-reaching set of preferential policies — cheap loans, scholarships and government contracts among them — were put in place in large part to help them rise in a society in which much of the wealth was held by the strongly entrepreneurial Chinese, who make up about a quarter of the population.
Under the social contract of decades past, ethnic groups shared power within the governing coalition led by the United Malays National Organization, or U.M.N.O. But that informal compact is now in tatters, with a majority of Chinese Malaysian voters defecting to the opposition over resentment of what many term "second-class citizenship."
The falling out between the governing party and Chinese Malaysians seems mutual. "It's the first time that a Malay government thinks it can govern virtually without any minority representation," said Bridget Welsh, an associate professor at Singapore Management University and a leading researcher on Malaysian politics who said that many people "feel traumatized" by the election and the alleged irregularities.
The May 5 election was the closest that the opposition had come to defeating the governing party. Mr. Anwar and his allies won 51 percent of the vote, compared with 47 for the governing coalition. That was not enough for Mr. Anwar to win control of Parliament because the governing coalition is strong in rural areas, where it captured many more small districts, adding up to a comfortable majority of 133 seats, with 89 for the opposition.
There are glimmers of a multicultural Malaysian identity among Mr. Anwar's supporters. At rallies where speaker after speaker proclaims interethnic brotherhood, Chinese Malaysian women in skimpy shorts stand next to Malay Muslim women fully covered in Islamic robes. Chinese Buddhists drape themselves in the green flag of the opposition's Islamic party.
Mr. Anwar, his supporters say, is a sort of midwife in the slow birth of Malaysia's multiethnic identity.
"Anwar sparked people's thinking," said Mohammed Razif, a 30-year-old Islamic teacher who attended the rally Tuesday. "Malaysia is a multicultural country, but only recently I realized that not every race is treated equally."
Najib Razak, the prime minister who was returned to power after the elections, announced what he described as a "unity cabinet." It includes several new faces, including the head of the local chapter of Transparency International, an anticorruption group.
"Together we will act to bring about national reconciliation," he said.
Yet his new cabinet is most notable for the dominance of Malays — and the near absence of ethnic Chinese. Mr. Najib angered many in the opposition when he said that his coalition's weak showing was the result of a "Chinese tsunami," the withdrawal of support by Chinese Malaysian voters.
The opposition said the shift in support was by voters of all ethnicities and that singling out Chinese Malaysians served only to deepen divisions.
Such anger and frustration are palpable at opposition rallies, where protesters wear black because, as their T-shirts proclaim, they see May 5 as "the day that democracy died."
At the rally in Kuantan, leaders of the opposition took turns addressing the crowd, but when Mr. Anwar's arrival was announced, people rose to their feet and cheered. An ethnic Chinese woman, wearing a Malaysian flag draped over her shoulders, began jumping up and down.
"At the moment, he's the only leader who can keep the opposition together," Selva Raja, a courier-company employee who attended the rally, said.
Mr. Anwar paced the stage, telling the crowd that the election had been stolen and that the governing party was trying to divide the country.
"Look to your left; look to your right; look in front of you and behind you," Mr. Anwar said. "You will see Chinese, Malays and Indians. This is the new Malaysia."
Voting denial proves phantom voters, integrity of ICs in doubt, says Rafizi
Posted: 20 May 2013 12:15 AM PDT
PKR's Rafizi Ramli today offered proof of phantom voters, which he alleged was widespread fraud that could potentially "discredit" the recently-concluded general election, besides put the integrity of Malaysia's identity card in doubt.
"The moment you have similar IC used by different people, so much so that the genuine or actual person proving the identity is denied to vote, that means this is part of a bigger planning to allow phantom voters to come in," the PKR strategy director said at a press conference.
Rafizi (picture)listed eight people who had approached PKR about being denied their right to vote as others had already voted in their names, while also showing reporters the police reports which he said they had lodged voluntarily.
The Pandan MP said that these complaints were also made in the constituencies where the federal opposition Pakatan Rakyat (PR) had won, which he said showed that the alleged electoral fraud was "widespread" and "systemic".
But Rafizi said that such evidence has bigger implications than just proving the existence of phantom voters in the electoral roll, claiming that the National Registration Department (NRD) had failed to guarantee that the country's ICs are genuine and unique to all Malaysians.
"What comfort do we have that our ICs are now not subjected to counterfeiting, not subjected to fraud, where people can have multiple ICs to do various things with different identities?" he asked.
In Sabah, a royal commission of inquiry (RCI) panel today resumed its hearings on the state's illegal immigrants issue and allegations that foreigners were given citizenship in exchange for their votes.
PKR: GST will 'punish the poor', BN should cut corruption first
Posted: 19 May 2013 11:36 PM PDT
The Barisan Nasional (BN) government should not introduce the "regressive" Goods and Services Tax (GST) which, together with promised tax cuts, will "punish the poor", PKR's Wong Chen has said.
"It is regressive, it punishes the poor rather than the rich," the PKR trade and investment bureau chief said of the proposed GST scheme at the party's headquarters here today.
Wong (picture)claimed that the BN government's rationale of bringing in the new tax scheme to widen the tax base was "fundamentally flawed".
The Kelana Jaya MP explained that the majority of Malaysians are not evading the payment of tax to the government, but are instead earning too little to pay taxes.
It is estimated that currently only about 10 per cent of Malaysia's 28 million population pay taxes.
Wong also said the BN administration should look at tackling corruption and dubious mega-projects first before looking at implementing the GST.
Posted: 19 May 2013 11:10 PM PDT
When Ahmad Zahid Hamidi – the new home minister – told disgruntled opposition supporters that they should migrate if they were unhappy with the results of GE13, he had unwittingly confessed that Umno Baru has a hidden agenda.
This little-known plan is Umno Baru's mass immigration policy and is a deliberate ploy fuelled by political self-interests. Asking people to emigrate will ensure that Malaysia is populated largely by Umno Baru-putras and selected foreigners.
Zahid reluctantly acknowledged that the rakyat was disappointed with the rigging of the polls, but at the same time, he revealed the fears of Umno Baru leaders. The cheating did not go as smoothly and secretly as they had intended.
Zahid possesses neither charisma nor intellect. His oft repeated line is for people to shape up or ship out. With each new political appointment, he stuns us with his ability to set new standards for boorish behaviour.
In 2008, he was appointed a minister in the Prime Minister's Department of Abdullah Ahmad Badawi with a portfolio which included religious affairs and agencies like the Malaysian Islamic Development Department (Jakim). He caused controversy when he warned officers that they had to support the government's policies, or leave.
When Abdullah resigned and Najib Abdul Razak took over in 2009, Zahid was made the defence minister. He invited criticism when he said that the low percentage of non-Malays in the armed forces showed that they lacked patriotism.
Last week, Zahid could not resist baiting the public, telling the people who opposed the results of GE13 to "migrate elsewhere".
Now, one out of every seven people in the country is a foreigner. If we were to follow Zahid's advice, this would increase to one in five. This is based upon a population of 28 million, however, none of the rakyat know the true population of the country. The census figures are another of Umno Baru's dirty little secrets, which they use to exert control over the rakyat.
Zahid has the ability to make remarks without thinking of the consequences. Perhaps his mouth works faster than his brain. On the other hand, his boss, Najib prefers to keep mum when ministers make provocative statements.
A history with Najib and Anwar
The two men – Zahid and Najib – share a long history which started when Zahid became Najib's political secretary in 1986, but Zahid has also been closely linked with Anwar.
In 1998, Zahid supported calls for the then prime minister Dr Mahathir Mohamad to curb cronyism and nepotism. After a brief period of incarceration, Zahid claimed that he had been duped by Anwar to challenge Mahathir.
After a much publicised apology to Mahathir, Zahid returned to Umno Baru, presumably with more than just his reputation bolstered.
Malaysia's youth are not as easily fooled by Umno Baru's tactics, social networking sites keep them informed and in GE13, they demanded fairness and change.
Influential people like student activist Adam Adli have been threatened with sedition, Seri Setia assemblyperson Nik Nazmi Nik Ahmad (left) has been charged with organising a mass rally, and Anwar Ibrahim has predicted that the authorities will be arresting him soon.
Most of us are shaped by our experiences in youth. Friends who grew up with Mahathir claim that the young Mahathir saw a lot of poverty on his rounds as a doctor. He would have known about the economic disparities between the various races, and to be fair, he treated many people without charge.
When he became a politician, Mahathir probably realised that his affirmative action policies could not remain in perpetuity. He knew that as Malays became better educated and more affluent, they would not return to the rural areas.
He understood that as people became increasingly exposed to global changes and opened their minds to different experiences, his affirmative action polices would lose their appeal.
Mahathir (right) knew that if ordinary Malaysians refused to vote for Umno Baru, he would have to bring people in from overseas to address the shortfall.
Our poorer neighbours – Indonesia, the Philippines, Burma, Bangladesh and Pakistan – have several million people who would willingly work for longer hours and less money. By giving them jobs and promising them citizenship, they became indebted to Mahathir.
Only Malays may join Umno Baru, and hence only Malays are likely to vote for Umno Baru, so only Muslims who could become 'instant Malays' were imported.
Mahathir used these people, in a most evil fashion, to provide short-term economic benefits at the expense of ordinary Malaysians. His desire to give Umno Baru (and BN) long-term political and electoral advantages was even more pernicious.
The difficulty of introducing a Malaysian minimum working wage is widely known. Why would the authorities and employers approve this policy, when laws exist to import cheap labour to depress wages and control the people, the economy and future votes?
Rural folk made vulnerable
Mahathir abused people in the rural areas, as they were more vulnerable. He continued to neglect the rural communities by not providing job opportunities or by depriving them of infrastructure and services.
Many children of Felda settlers are graduates, but they are hampered by a lack of suitable jobs back in their communities and cannot make a valuable contribution to society.
Friends have complained of large numbers of Felda graduates who are unemployed. Some hold degrees in aeronautical engineering which cannot benefit their community, whilst others have complained that some graduates have skills which are not put to good use in their areas.
In the end, the disheartened youth gravitate to the cities, to be followed shortly by the older generation. Then, the rural areas become depopulated, and to sustain the economy, more foreign workers are smuggled in by the authorities.
With more foreigners, both legal and illegal being imported, the Umno Baru vote bank is endless. The migrants provide Umno Baru with votes, they generate production on the estates and boost the economy.
Umno Baru does not care that the urban areas are bursting with displaced Malaysians from the surrounding countryside.
Recently, parts of some cities are also being populated by foreigners. Malaysians have complained about a decline in services provided by hospitals, schools and community housing. The worst places record high rates of crime.
We know that from the 1980s onwards, Indians were displaced from the estates when plantations took over large tracts of land, perhaps, to satisfy Mahathir.
If the import of foreigners is not properly managed in the near future, the remaining Felda settlers and rural Malays will complete the exodus to the cities.
When that happens, and the Malays finally realise that Umno Baru has duped them, the recriminations will begin in earnest and Umno Baru will face a severe backlash from a cynical Malay community.
Then, politicians like Ahmad Zahid will wish that they had acceded to the relatively mild demands of free and fair elections from genuine Malaysians, rather than tell them to migrate.
Rafizi reveals evidence of phantom voters, dares Khairy to show his stand on GE fraud
Posted: 19 May 2013 11:08 PM PDT
Newly-elected MP for Pandan Rafizi Ramli challenged Khairy Jamaluddin, Umno's newly-appointed minister, to speak up on the issue of phantom voters, which the political Opposition in the country has blamed as being one of the main factors that "robbed" them of victory at the May 5 general election.
"I would welcome Khairy who has happily assumed his seat in the Cabinet to speak up on this matter. He models himself as a reformist – so what does he have to say in the face of the mass of evidence that has been accumulated," Rafizi Ramli, who is also the PKR strategy director, told a press conference on Monday.
The 36-year-old Rafizi had earlier revealed the names of 8 voters who have lodged police reports when they were barred from voting after the records showed that "other people had already voted using their names".
"This implies that false ICs (identification cards) may have been issued by the National Registration Department to allow the phantom voters to go to the balloting stations and cast their votes," said Rafizi.
PKR to start revealing electoral fraud evidence
Posted: 19 May 2013 11:05 PM PDT
PKR director of strategy Rafizi Ramli today revealed the names of eight individuals who had made police reports about someone else voting on their behalf across the country, which he says proves the existence of phantom voters.
He added that PKR will start revealing evidence of electoral fraud that happened during the May 5 election beginning this week.
Rafizi (right) said that the party and Pakatan Rakyat coalition have now collected enough evidence and will be releasing them periodically.
"We will have one press conference every two or three days to reveal things to the media, while others will go into our election petitions," said the newly-elected Pandan MP.
You are subscribed to email updates from Anwar Ibrahim
To stop receiving these emails, you may unsubscribe now.
Email delivery powered by Google
Google Inc., 20 West Kinzie, Chicago IL USA 60610
PARTI KEADILAN RAKYAT NEGERI SEMBILAN
Posted: 20 May 2013 11:14 AM PDT
---
'Kabinet Transformasi' Najib bayangi zaman diktator Mahathir
Posted: 19 May 2013 08:26 PM PDT
KUALA LUMPUR, 19 MEI : Tindakan polis menahan Pengarah Komunikasi KEADILAN, Nik Nazmi Nik Ahmad dan aktivis mahasiswa, Adam Adli di bawah Akta Hasutan adalah cubaan biadab Kementerian Dalam Negeri (KDN) bertujuan menakutkan rakyat, kata Timbalan Presiden KEADILAN, Mohamed Azmin Ali.
Tegasnya, tindakan polis dipersoalkan kerana hanya menahan individu yang melaksanakan tanggungjawab kepada negara, namun gagal bertindak terhadap individu dan kumpulan yang cuba menimbulkan suasana tidak stabil dalam negara dengan memainkan isu perkauman.
"Adakah kita sudah kembali ke zaman Tun Dr Mahathir yang terus memperalatkan kuasa polis untuk bertindak terhadap rakyat yang mahu hak asasi mereka dikembalikan? kata Azmin dalam kenyataannya, hari ini.
"Apabila kita lihat Jabatan Peguam Negara juga mula bersikap penakut, maka kita akan saksikan lebih banyak penahanan dan dakwaan akan dikenakan terhadap pemimpin Pakatan Rakyat dan aktivis hak asasi," ujar Ahli Parlimen Gombak.
Secara sinis, Azmin turut mengucapkan 'tahniah' kepada Menteri Dalam Negeri, Datuk Seri Zahid Hamidi kerana menggunakan jawatannya dan mengeluarkan kenyataan bahawa pihak yang tidak berpuas hati dengan sistem pilihan raya di Malaysia agar pergi ke negara lain.
"Inikah maknanya 'kabinet transformasi' yang dilaungkan Perdana Menteri Datuk Seri Najib Razak apabila Zahid bertindak angkuh dan bodoh terhadap Pakatan?
"Beliau harus faham. Kita bukan bergadu. Ini adalah negara kami dan anda (Umno BN). Masalah sekarang ialah Umno-BN yang sebenarnya gagal memahami hasrat rakyat yang mahukan pilihan raya yang bersih dan adil," tegas Azmin.
Short URL: http://www.keadilandaily.com/?p=52213
Semakan dapati kajian sokong 'Anwar bersara' palsu
Posted: 19 May 2013 08:01 PM PDT
Kajian laman web The Edge yang menunjukkan 81 peratus pembacanya bersetuju bahawa Datuk Seri Anwar Ibrahim harus bersara daripada politik rupa-rupanya palsu.
Mengikut laporan penjelasan The Edge, editor laman webnya, Ho Wah Foon mendapati kajian yang berusia seminggu itu telah menarik 12,736 reaksi yang berat sebelah. Ini menyebabkan beliau menghentikan kajian tersebut pada 14 Mei lalu.
Setelah disemak, jabatan ITThe Edge telah mendapati 6,354 reaksi datang daripada satu alamat IP yang sama, dan 1,700 datang daripada beberapa alamat IP yang lain dari bangunan yang sama.
"Manakala 2,000 lagi datang daripada tujuh alamat IP berlainan. Daripada ini, ia adalah jelas kajian telah digodam dan keputusannya tidak boleh diambil sebagai satu yang objektif dan boleh dipercayai," kata The Edge.
Difahamkan keadaan itu berlaku akibat telah digodam cybertroopers.
Dalam kajian yang keputusannya disiar media kelmarin, laman itu bertanya sama ada Anwar harus terus memimpin Pakatan Rakyat atau bersara ekoran kegagalan Pakatan itu untuk memenangi pilihan raya 5 Mei lalu.
81 peratus atau 10,396 daripada 12,736 reaksi yang diterima berpendapat Anwar patut bersara. – Harakah Daily
Short URL: http://www.keadilandaily.com/?p=52152
Ketua AMK Negeri Sembilan dipanggil polis berhubung #Black505 Seremban
Posted: 19 May 2013 07:59 PM PDT
SEREMBAN, 19 MEI : Naib Ketua Angkatan Muda KEADILAN (AMK) Pusat, Mohd Nazree Mohd Yunus dipanggil memberi keterangan di balai polis Seremban hari ini, berhubung himpunan Suara Rakyat Suara Keramat anjuran Pakatan Rakyat di Seremban, 17 Mei lalu.
Beliau memaklumkan didatangi sepasukan polis di rumahnya sehari selepas himpunan dan memintanya hadir ke balai polis Seremban untuk memberi keterangan.
"Saya meminta agar ditangguhkan ke hari Isnin. Namun pegawai polis bertegas kena hadir hari ini dengan alasan kertas siasatan mengenai kes ini akan dihantar ke Bukit Aman pada 20 Mei ini," katanya kepada Keadilandaily.
Nazree memberitahu, beliau ditanya beberapa soalan berkaitan himpunan itu di bawah Akta Perhimpunan Aman 2011 selama lebih dua jam
"Saya tegaskan akan hanya menjawab di mahkamah. Mereka terus mencuba bertanya. Jawapan sama saya berikan,
"Selepas lebih dua jam di soal siasat, saya dibebaskan," katanya ditemani, Naib Ketua AMK negeri, Ramlan Roes dan 15 aktivis muda Pakatan Rakyat.
Pada 19 Mei lalu, Pakatan Rakyat mengadakan himpunan edisi Negeri Sembilan yang menyaksikan lebih 60,000 rakyat pelbagai kaum membanjiri Pusat Komersil Oakland, Seremban bagi membantah keputusan pilihan raya umum ke-13.
Siri himpunan 'Suara Rakyat Suara Keramat' Black 505 akan diteruskan di Kompleks Pas Kedah pada hari Selasa, 21 Mei, Terengganu (Khamis, 23 Mei) dan Melaka (Jumaat, 24 Mei).
Short URL: http://www.keadilandaily.com/?p=52203
Posted: 19 May 2013 01:08 PM PDT
---
You are subscribed to email updates from PKR CABANG LANGKAWI
To stop receiving these emails, you may unsubscribe now.
Email delivery powered by Google
Google Inc., 20 West Kinzie, Chicago IL USA 60610
Posted: 18 May 2013 07:14 PM PDT
---
SEREMBAN rushes for a slice of Anwar, PR:Who are you to tell us to get out – Zahid scolded
Posted: 17 May 2013 10:54 PM PDT
Yes, it was another easy victory for Anwar Ibrahim and his Pakatan Rakyat team. The 50,000-odd crowd at the Seremban Blackout 505 rally on Friday night was only too happy to lap up their speeches, and Prime Minister Najib Razak should take note that when Anwar asked, "should we give BN another 5 years", the crowd roared back "NO WAY!"'
So great is Anwar's and Pakatan's hold on the people that they have become superstars. On arrival, they are mobbed and at the end of theceramah (rally), the crowd rushes up to the stage to take photos with their favourite Pakatan leaders and to get their autographs.
Tonight, apart from Anwar who as always got the loudest cheers, it was Nik Nazmi, the PKR assemblyman for Seri Setia, who got the hero's welcome, while stealing the show was Johari Abdul, the PKR MP for Sungei Petani.
Nik Nazmi was this morning charged under the Peaceful Assembly Act for failing to give 10 days notice to the police before holding the mammoth Suara Rakyat Suara Keramat rally (the first in the Blackout 505 series) at the Kelana Jaya stadium in Selangor on May 8.
He is the first PR leader to be charged but with Prime Minister Najib Razak expected to go all out to suppress public support for Anwar and PR, observers believe there will be many more leaders who will suffer the same fate.
Shoddy organization and incompetence
The crowd's complete lack of fear and implicit trust in in the PR is clear to see but this has also become a double-edged sword, for the responsibility heaped upon the Pakatan is now greater than before. As they call on the people to rally together and reject the results of the tainted 13th general election, it is also incumbent on Anwar and team to reciprocate by ensuring public safety.
Blackout 505 has taken on a life of its own and Anwar and PR are no longer mere Opposition leaders but mega-stars capable of drawing tens of thousands to their gatherings. Britney Spears, Justin Bieber and even Psy would go green with envy at the PR's star appeal. And this is why it is imperative that the Blackout 505 gatherings are professionally managed if they are to be continued. The rallies should not be left alone to be handled by overzealous and rather ignorant volunteers from the state level, whose sole idea of public security is to yell "duduk duduk" at the people and media.
For example at Friday night's rally, the PKR state chief should be made to answer as to why there was no cordoned-off area for the press and the guest-speakers?  Why were members of the crowd allowed to come right up to the stage? Where was the space for the press and camera crew? What if there had been a stampede or trouble? Really, it doesn't always need agent provocateurs to create trouble. Very often, all it takes is an over-enthusiastic audience and a very poorly-trained team of marshals to trigger a stampede that can leave dozens injured.
These are the nuts and bolts that PKR leaders have to come to grips with if they are to continue with their rallies spree. They need to snap out from the 'after-glow' of their huge success and work harder to overcome sheer, shoddy and incompetent organization. The support and trust of the people are not given for free, it must be returned not just with expressions of thanks and gratitude but with real and greater professionalism. More than ever before because PR leaders have now assumed near 'cult' status. Safety is a basic prerequisite and should no longer be left to amateur volunteers with little or even zero training.
It's what we can do
Be that as it may, the Seremban folk who came were oblivious to danger or risk. They only wanted one thing – to take part in Blackout 505. "It's the only thing we can do," a Chinese girl in her 20s told Malaysia Chronicle at the end of the ceramah. She had come with a group of friends, most of whom are working in Seremban while a few are still final-year college students.
When asked if she would come again,"Yes, I like Ubah and as much as I can, I and my family will do our part. It can be signing petitions or some small monetary contribution but we will try to show our support."
Indeed, the star-studded PR lineup was hard to resist. Apart from Anwar, who made another stunning speech, were PAS deputy president Mat Sabu, PAS vice president Salahuddin Ayub, DAP life adviser Chen Man Hin, DAP Youth chief Anthony Loke, PKR president Wan Azizah, vice president Tian Chua, communications director Nik Nazmi, Selangor assemblywoman Elizabeth Wong and Seremban PKR Youth chief Nazree Yunus.
But stealing the show was Johari.  A former director of the notorious Biro Tata Negara or National Civics Bureau, he has performed the role of 'chief emcee' for the Blackout 505 rallies since they started on May 8. An outstanding speaker, Johari has also been instrumental in breathing oomph into the rallies, controlling and motivating the crowd with his booming voice. And tonight, he was in top form.
"Najib said 'apa lagi Cina mau' (what more do the Chinese want), Utusan wrote 'apa lagi Cina mau', Ibrahim Ali said we must boycott Chinese goods. I want to ask, are there any Malays here (in the crowd)? Any Indians? Any Chinese?" asked Johari.
He received a thunderous "ada" or 'yes' to each question.
"This shows not only the Chinese reject Umno-BN but we the children of Malaysia. Let us send a clear message to Umno-BN that not just the Chinese but Malays, Kadazans and others reject Umno-BN. For more than 50 years, the Chinese, Malays and Indians supported BN but even as they grew stronger, in the end they cheated us. And now that the people have awakened, they feel under pressure and so they ask 'what more do the Chinese want?'. Pordah, pordah, pordah (get lost, get lost, get lost). We are the children of Malaysia.
"And because 52% of us did not vote for them  but for Pakatan Rakyat, an Umno leader said you can go pick another country and get out of Malaysia. Oi, who are you (to say this) , who are you you? Is this your father's country? This is our country, this our country, this is our country. Who is this person who wants to chase us out. Oi, pordah! Oi pordah! Oi pordah!
"We know that in GE13 we won but victory was stolen from us and this is why we are gathering tonight. Enough is enough! You have cheated us, we don't want to wait till GE14, we want today itself. Hidup rakyat (long live the people)!"
Najib takut oh!
In his 80s, Chen Man Hin – the grand old man of DAP – still found the energy to come out and join the Ubah movement.
"We are very angry. Anwar is very brave. We want him to be firm. At the moment, he is the leader of PR. One day not very far, Anwar will be PM. This is why Najib manyak goncang, takut oh, takut oh (Najib is shaking, he's very scared, very scared). Why? because he lost and had to play dirty in order to win," Chen told the laughing crowd.
At least 30 dubious seats: DAP will never join BN
DAP youth chief Anthony Loke told the crowd there were at least 30 dubious seats that the Pakatan wanted a review on and re-election for. He also said the Pakatan was now in process of gathering evidence and hoped to file all the election petitions sometime next month.
Anthony also had the crowd on their feet when he said DAP would never join BN, quashing rumors that it was set to replace MCA and be the new Chinese component party for the BN.
Why should we wait till GE13
And when it was Anwar's turn to speak, the 64-year-old veteran bolstered Anthony's list of cheating allegations with some examples of his own including in his Permatang Pauh constituency and those of his colleagues also hit by alleged fraud such as PAS deputy president Mat Sabu and vice president Salahuddin Ayub.
He also tested the sentiment of the crowd, asking them if he should – as some have suggested – wait until the next general election which could take place as far away as in 2018, or should he stick on and fight for the 'rightful' results of the May 5 general election.
The response was clear. No way, yelled back the crowd and cheered him on to challenge the controversial GE13 results.
"Some people say never mind, be patient, you can win the next election, the GE14, the youth are with you, you can do it. Nonsense! We have already won this election. We demand our rights," Anwar said.
"The principle is what is stolen must be returned. You have stolen this election, we demand our right for victory in the 13th general election. BN has no more agenda."
Anwar also took to task the Attorney General Gani Patail, warning the latter not to 'over-abuse' his power when going after opposition leaders, for example such as Nik Nazmi.
"Perhimpunan (rally) is not halal. Stealing timber is halal, stealing land is halal, cheating is halal, cheating voters is halal. I want to see them. I want to tell the Attorney General, stop your nonsense," said Anwar.
'So you think this is your father's country?'
Posted: 17 May 2013 10:51 PM PDT
PKR de facto leader Anwar Ibrahim has described the statement urging those unhappy with the May 5 general election results to leave the country as an insult to Malaysians.
"So you think this is your father's country? This is an insult to the people," said Anwar during his speech at the Negri Sembilan leg of the Black 505 rally in Seremban last night, which was attended by 30,000 Pakatan Rakyat supporters.
He was commenting on the statement made by newly sworn-in Home Minister Ahmad Zahid Hamidi in an opinion piece published byUtusan Malaysia on Thursday.
Penang Chief Minister Lim Guan Eng had yesterday lashed out at Zahid's statement, saying the new home minister's statement was preposterous.
However, newly-minted Youth and Sports Minister Khairy Jamaluddin has attempted to soothe the public outrage over the statement.
He said the statement was Zahid's personal opinion and not that of the cabinet.
Ahmad's 'sodomise' article slammed
Asserting that home minister's statement was "stupid", Anwar also slammed another opinion piece by Deputy Finance Minister Ahmad Maslan, which appeared in the same paper a day after Zahid's article was published.
According to Anwar, Ahmad's use of the word 'sodomise' in his article to dismiss the number of popular votes garnered by Pakatan, which was higher than BN, was "obscene".
"Another Umno minister says 'Anwar, don't sodomise the people's thinking'. (This is) an obscene way to insult the people's thinking," said Anwar.
Ahmad is his article reminded Pakatan that they should understand the country's laws and not 'sodomise' their knowledge when claiming they should form the government based on the percentage of the popular votes obtained.
According to him, the laws of the country determined that the winner of the general election was based on the number of seats won and not the popular votes.
You are subscribed to email updates from Anwar Ibrahim
To stop receiving these emails, you may unsubscribe now.
Email delivery powered by Google
Google Inc., 20 West Kinzie, Chicago IL USA 60610
Posted: 17 May 2013 07:03 PM PDT
---
Hipotesis AS-PKR Ruhanie tak cukup akademik
Posted: 17 May 2013 04:04 AM PDT
Saya ingin merujuk kepada satu laporan media mengenai kenyataan Datuk Ruhanie Ahmad, penulis blog sosio-politik Kuda Kepang dan calon doktor falsafah (PhD) dalam bidang geopolitik dan kajian keselamatan di Universiti Kebangsaan Malaysia.
Dalam satu pembentangan di sebuah forum anjuran Pusat Kajian Demokrasi dan Pilihan Raya Universiti Malaya (Umcedel) pada 16 Mei yang lalu, Datuk Ruhanie Ahmad melemparkan persoalan apakah Pakatan Rakyat, atau PKR lebih tepat, "menjadi ejen pertukaran rejim bagi menguntungkan Amerika Syarikat".
Terdapat dua kekaburan pada dakwaan, pertanyaan atau hipotesis di atas. Kekaburan pertama melibatkan kerangka kajian Ruhanie (kiri).
Setiap kajian akademik perlu didatangkan bukti nyata iaitu hasil penelitian yang mendalam dan panjang.
Sebagai ahli akademik, saya tidak berminat dengan dakwaan-dakwaan berasaskan teori konspirasi.
Dalam sesi soal jawab forum tersebut, saya telah bertanya apakahframework atau metodologi akademik yang beliau gunakan untuk mencapai kesimpulan tersebut.
Ini penting kerana Ruhanie membuka pembentangan beliau dengan penegasan yang beliau bukan lagi ahli politik tetapi bakal menamatkan pengajian PhD beliau dalam bidang kajian keselamatan.
Ini memberi isyarat bahawa pembentangan beliau adalah pembentangan akademik dan dapatan beliau adalah dapatan akademik.
Kerangka ilmiah apa?
Namun demikian, Ruhanie tidak dapat menjawab komponen paling penting dalam satu pembentangan atau kajian akademik iaitu apakah kerangka ilmiah beliau.
Kekaburan kedua ialah, sebahagian besar hipotesis tersebut adalah bersandarkan tulisan Tony Cartalucci berjudul "Malaysia: Failure of US to Subvert the Elections and Install a 'Proxy Regime': US 'Pivot' Toward Asia Trips in Malaysia.
Adalah penting dalam sebuah kajian akademik yang berwibawa untuk mendatangkan penyangkalan pihak yang dituduh.
Ini kerana sesebuah kajian akademik bukanlah tulisan di blog atau tulisan popular di media. Kajian akademik meraikan dapatan dari dua pihak yang berseberangan.
Dalam hal ini, tulisan Tony Cartalucci bagi pihak Global Research, bertarikh 9 Mei lalu perlu ditekuni. Badan Global Research: Centre for Research on Globalization diasaskan oleh Profesor Michel Chossudovsky.
Beliau salah seorang penandatangan Kuala Lumpur Initiative to Criminalise War dalam tahun 2005, yang diinisiatif oleh bekas Perdana Menteri Tun Dr Mahathir Mohamad (atas).
Hubungan akrab mereka berdua ini juga diterjemahkan menerusipelancaran sebuah buku Chossudovsky oleh Tun Dr Mahathir sendiri. Ia dilakukan di Taman Tasik Perdana.

Dua insiden ini tentu sahaja mencairkan hujah Datuk Ruhanie Ahmad, kerana terdapatnya sentimen politik melampaui garis rasional akademik.
Kajian sendeng, berat sebelah
Ia juga menambah elemen konspirasi yang bukan merupakan satu sandaran yang baik dalam tulisan akademik.
Selain itu, Tony Cartalucci yang menulis bagi pihak Global Research ialah seorang pengarang yang terkenal dengan teori-teori konspirasi yang tidak dapat dibuktikan.
Salah satu dakwaan beliau yang menjadi jenaka dalam kalangan sarjana international relation adalah apabila beliau mengaitkanpengganas Sulu yang menceroboh Lahad Datu, Sabah pada Mac 2013 lepas sebagai sebahagian dari Free Syrian Army dan merupakan proksi Amerika Syarikat dan Arab Saudi.


Usaha mengaitkan pencerobohan salah satu keluarga Kiram tersebut dengan gerakan salafisme di Timur Tengah menimbulkan tanda tanya kerana terdapatnya kelompongan atau missing link.
Sesebuah tulisan atau pembentangan akademik yang berkredibiliti haruslah dipasak oleh kerangka ilmiah yang sesuai, relevan dan munasabah.
Kajian akademik juga harus tidak bersikap berat sebelah dan sendeng. Lebih penting, teori konspirasi tidak ada tempat signifikan dalam kajian akademik.
Sesebuah kenyataan akademik harus disandar dan dirujuk kepada dapatan kajian yang berwibawa dan telah diperiksa secukupnya.
Oleh kerana itu saya berpandangan kenyataan Ruhanie dalam forum anjuran UMCEDEL semalam tidak akademik, dan bersifat sensasi.
Najib, BN fight for political survival: Nik Nazmi charged in bid to stop Black505 rallies
Posted: 17 May 2013 03:16 AM PDT
In a bid to suppress massive public support for the Black505 rallies kicked off by Anwar Ibrahim, it looks like Prime Minister Najib Razak has reverted to scare tactics and draconian measures just days after unveiling a new "transformational" Cabinet and promised to practise "the best democracy".
Nik Nazmi Nik Ahmad, the PKR state assemblyman for Seri Setia, was charged in the Petaling Jaya Sessions court on Friday morning over the recently-held Kelana Jaya rally to protest fraud and irregularities in the May 5 general election.
According to his lawyer Eric Paulsen, Nik was charged under the Peaceful Assembly Act for allegedly failing to give 10 days notice to the police before the Suara Rakyat Suara Keramat or Black505 rally was held on May 8.
"The charge is an abuse of process and against public policy. The prosecution is done in bad faith, selective and politically-motivated. We will be filing an application to set aside the charge and to declare Section 9 of PAAA as unconstitutional and therefore null and void," Eric told Malaysia Chronicle.
Landmark rally: Don't concede defeat – Gen Y
Anwar, the Opposition Leader who had refused to concede defeat, had launched the rally to protest the electoral victory that he claims was stolen from his Pakatan Rakyat coalition.
The landmark gathering at the Kelana Jaya stadium had drawn more than 150,000 people from all walks of life, mostly young Malaysians in their 20s and 30s who came despite the short notice. Concerned about the fraud allegations, many urged Anwar not to give up or concede defeat.
"I pleaded not guilty," Nik Nazmi tweeted out shortly after he was charged.
"Kinda like a police state right? Rule by fear, intimidation and favours," his PKR collegue Nurul Izzah, the Lembah Pantai MP, said on her Twitter.
Nurul, Kelana Jaya MP Wong Chen and DAP's Ronnie Liu had gone to the court to show solidarity for Nik Nazmi, who is also the PKR communications chief.
"Eerie looking @ the numerous policemen, special branch officers &fru s on standby for @niknazmi s case. Reminiscent of 1998. PJ," tweeted Nurul.
Najib fights for political survival
Apart from the landmark Kelana Jaya rally, Pakatan has held mega-rallies in Penang, Ipoh, Kuantan and Johor. Tonight, Anwar and team will be in Seremban and next week in Kedah (Tuesday, May 21), Terengganu (Thursday, May 23), Malacca (Friday, May 24).
So far, not less than 500,000 people have come to see the Pakatan leaders talk about GE13 fraud. The unprecedented public support may indeed be w
'BN confirming their guilt'
The latest high-handed police action is also unlikely to deter the Pakatan from carrying on with their wildly-successive 'roadshows'. Neither is it likely to stop the people, who braved the rain to see their 'heroes', from coming to the future rallies.
"It will only create greater public disgust and unhappiness with Najib Razak. Already the people feel he is not a legitimate prime minister and BN not a legitimate government because of the electoral cheating which many experienced first-hand for themselves, such as the indelible ink which washed out in less than an hour," PKR MP for Batu Tian Chua told Malaysia Chronicle.
"By using the police and under-handed tactics to the Black505 rallies, BN is only confirming their own guilt making things worse for themselves."
Crackdown on organizers
Police have also hauled up the alleged organisers for Wednesday's Black505 rally held in front of the PKR's office in Taman Puteri Wangsa, Johor.
PKR state secretary Abdul Shukor bin Ayob and state work secretary Yuneswaran A/L Ramaraj were called up for alleged involvement in the gathering which drew a crowd of more than 60,000.
"The move to interview them over the event is an intimidation of those seeking to exercise their right to assemble in a peaceful manner," PKR's communications bureau had said in a statement issued on Thursday.
According to PKR officials, Nik Nazmi was charged under Section 9(1) of Peaceful Assembly Act and faces a fine of up to RM10,000 if found guilty. Lawyer Eric Paulsen is representing the 32-year-old assemblyman.
hy Prime Minister Najib Razak is moving to mow down the Pakatan's momentum.
The 59-year-old PM, whose announcement of a new Cabinet just days ago was brushed aside by an indifferent public, seems to be in a quandry as to how to quell the uprising of popular support for his political rivals.
The Pakatan has identified 27 seats in the federal Parliament that they claim were won "dubiously". They want a review and re-election in these seats.
But fighting for his own political survival, Najib is unlikely to agree. Most analysts expect him to use a combination of delaying and scare tactics to defuse the situation.
Kes Ganjil Perak dan Negeri Sembilan: Persekongkolan SPR dan Kecacatan sistem PRU
Posted: 17 May 2013 03:06 AM PDT
Pelaksanaan Pilihan Raya Umum (PRU-13) yang dicemari oleh pelbagai penipuan dan kontroversi mengakibatkan kebebasan dan keadilan Suruhanjaya Pilihan Raya (SPR) dipersoal oleh para pengundi dan rakyat Malaysia. Ia juga mendedahkan sektor awam yang diperkudakan oleh kerajaan Barisan Nasional (BN) selama setengah abad merentasi sempadan antara negara dan antara parti politik. Bersama kerjasama SPR sewaktu PRU-13 ini, BN berjaya mengekalkan kuasa mentadbir walaupun kadar sokongan BN dalam keputusan PRU-13 telah jatuh kepada kurang daripada separuh.
Pengerusi BN Datuk Seri Najib Tun Razak menyalahkan keputusan PRU-13 kepada "tsunami Cina". BN mendakwa walaupun mereka gagal meraih sokongan etnik Cina, BN sebenarnya meraih sokongan daripada kumpulan etnik yang lain. Dalam dunia politik BN selama setengah abad ini, rejim pemerintah telah bergabung dengan sektor awam sambil mempromosi ideologi politik BN melalui media-media arus perdana bahawa erti BN adalah persamaan dengan maksud sebuah negara atau nasional dan bukannya sebuah parti politik semata-mata. Begitu juga, BN turut memanipulasi sektor awam seperti Jabatan Pendaftaran Negara (JPN) dan SPR untuk melaksanakan pelbagai tipu helah dalam pilihan raya di samping menimbulkan konstroversi insiden-insiden keganasan politik.
Badan pemikir Kajian Politik untuk Perubahan (KPRU) mendapati bahawa BN mendakwa mereka telah meraih sokongan daripada etnik lain selain daripada etnik Cina, lantas, ini mengakibatkan rejim BN mengekalkan status politik mereka dalam PRU ini. Namun begitu, kadar sokongan dan jumlah kerusi di negeri Perak dan Negeri Sembilan tidak selari jika ianya dibandingkan dengan negeri-negeri yang lain. Secara amnya, pertumbuhan kadar sokongan akan membawa peningkatan jumlah kerusi Dewan Undangan Negeri (DUN). Namun keadaan tersebut tidak dilihat dalam PRU-13 ini.
Sebagai contoh negeri Perlis (Sila lihat Jadual 1) melihatkan Pakatan Rakyat (PAKATAN) hanya meraih satu kerusi DUN di Perlis menjelang PRU-12 pada tahun 2008, di mana kadar sokongan menyumbang sebanyak 39.9 peratus. Manakala, dalam PRU-13 ini, PAKATAN meraih dua kerusi DUN, lantas kadar sokongan adalah selari dengan jumlah kerusi DUN kerana sokongan melonjak sebanyak 44.3 peratus.  Sebaliknya, kadar sokongan kepada BN menurun sebanyak 4.8 peratus daripada 60.1 peratus tahun 2008 kepada 55.4 peratus pada tahun 2013. Ini melihatkan kadar sokongan selari dengan penurunan jumlah kerusi DUN. Namun, dengan anehnya, negeri Perak dan Negeri Sembilan mengalami satu fenomena yang berbeza daripada negeri-negeri lain; iaitu PAKATAN mengalami peningkatan kadar sokongan tetapi jumlah kerusi DUN telah dikurangkan dalam negeri-negeri tersebut.
Kadar undi meningkat tapi jumlah kerusi menurun?
Jadual 1?Kadar pengundian dan Jumlah kerusi antara PAKATAN dan BN
2013

2008

Peningkatan/

Penurunan

Jumlah kerusi DUN

Peningkatan/

Penurunan

Kadar Sokongan undian

BN

PAKATAN

BN

PAKATAN

BN

PAKATAN

BN
PAKATAN
Negeri
Jumlah Kerusi DUN
Kadar Sokongan Undian (%)
Jumlah Kerusi

DUN

Kadar Sokongan Undian (%)
Jumlah Kerusi

DUN

Kadar Sokongan Undian (%)
Jumlah Kerusi

DUN

Kadar Sokongan Undian (%)
Jumlah Kerusi

DUN

Jumlah Kerusi

DUN

Kadar Sokongan Undian (%)

Kadar Sokongan Undian

(%)

Perlis

13

55.4

2

44.3

14

60.1

1

39.9

-1

1

-4.8

4.4

Kedah

21

50.6

15

48.5

15

46.8

21

53.2

6

-6

3.8

-4.7

Kelantan

12

43

33

53.7

6

44.7

39

55

6

-6

-1.8

-1.3

Terengganu

17

51.4

15

48.5

24

55.1

8

44.7

-7

7

-3.7

3.7

P.Pinang

10

31.6

30

67.8

11

36.9

29

63

-1

1

-5.3

4.8

Perak

31

44.9

28

54.7

26

46.5

33

53.3

5

-5

-1.6

1.4

Pahang

30

55.2

12

44.4

38

59.5

4

40.5

-8

8

-4.3

3.8

Selangor

12

39

44

59.4

20

44.3

36

55.4

-8

8

-5.3

4

N. Sembilan

22

51

14

47.3

21

54.7

15

45.1

1

-1

-3.7

2.2

Melaka

21

53.8

7

46.2

23

57.4

5

42.6

-2

2

-3.6

3.6

Johor

38

54.9

18

45

50

65.3

6

34.7

-12

12

-10.3

10.3

Sabah

49

55

11

35.9

59

61.6

1

32.5

-10

10

-6.6

3.4

Malaysia

276

47.4

229

50.9

307

51.4

198

47.6

-31

31

-4

3.2
Nota: Calon parti STAR yang memenangi kerusi DUN di Sabah pada PRU-13 dan calon bebas yang memenangi kerusi DUN di Kedah dan Pahang pada PRU-12 digolongkan bersama jumlah kerusi BN.
Sumber: laman web SPR dan akhbar bahasa Cina.
Rajah 1: Penurunan Kerusi DUN dibandingkan dengan Peningkatan Kadar Sokongan PAKATAN di Negeri Sembilan
PAKATAN memenangi sejumlah 15 kerusi DUN di Negeri Sembilan (Rajah 1) menjelang PRU-12 tahun 2008. Kadar sokongan kepada PAKATAN pada PRU-12 adalah sebanyak 45.1 peratus. Pada PRU-13 baru-baru ini, PAKATAN hanya memenangi 14 kerusi DUN di Negeri Sembilan, namun begitu, kadar sokongan telah meningkat kepada 47.3 peratus. Sebaliknya, BN memenangi sejumlah 21 kerusi DUN di Negeri Sembilan pada PRU-13 dan kadar sokongan kepada BN adalah sebanyak 54.7 peratus. Walaupun dengan kemenangan tambahan 1 kerusi pada PRU-13, kadar sokongan kepada BN sebenarnya menurun daripada 54.7 peratus kepada 51 peratus, iaitu penurunan sebanyak 3.7 peratus. Di samping itu, Perak juga mengalami keadaan yang sama dengan Negeri Sembilan; iaitu kadar sokongan yang tidak selari dengan jumlah kerusi yang dimenangi.
Rajah 2: Penurunan Kerusi DUN dibandingkan dengan Peningkatan Kadar Sokongan PAKATAN di Perak
PAKATAN memenangi sejumlah 33 kerusi negeri di Perak pada PRU-12 tahun 2008 (Rajah 2), dengan kadar sokongan mencapai 53.3 peratus. Lantas, PAKATAN berjaya merampas rejim kerajaan negeri Perak dari BN. Walau bagaimanapun, pada tahun 2013, PAKATAN hanya memenangi 28 kerusi negeri di Perak, iaitu penurunan sebanyak 5 kerusi negeri. Akan tetapi pada masa yang sama, kadar sokongan kepada PAKATAN telah meningkat kepada 54.7 peratus.
Sebaliknya, BN memenangi 26 kerusi DUN Perak pada tahun 2008, dengan kadar undi sebanyak 46.5 peratus. Ini melihatkan BN memenangi sejumlah 31 kerusi DUN dengan peningkatan sebanyak 5 kerusi pada PRU-13 ini. Akan tetapi pada realitinya, kadar undi BN dilihat menurun daripada 46.5 peratus kepada 44.9 peratus. Walaupun kadar sokongan adalah petunjuk sebagai hala tuju sokongan rakyat terhadap sesebuah parti politik, akan tetapi penurunan kadar undi ini telah memberikan BN kemenangan kuasa politik di Perak dalam PRU-13!
PAKATAN mengambil alih kerajaan negeri Perak daripada cengkaman BN pada tahun 2008 dengan kemenangan sebanyak 33 kerusi DUN. Namun begitu, BN menggunakan cara licik dan tidak beretika untuk merampas kembali kuasa pentadbiran kerajaan negeri PAKATAN di Perak dengan menyebabkan 4 anggota Ahli DUN PAKATAN keluar daripada PAKATAN dan memberi sokongan kepada BN. Insiden ini telah menidakkan Perlembangaan Persekutuan dan mengabaikan prinsip demokrasi rakyat memilih PAKATAN sebagai kerajaan negeri dan pelantikan Menteri Besar oleh PAKATAN.
Mahkamah Persekutuan kemudiannya memberi pengiktirafan kepada keputusan Sultan negeri Perak yang mengabaikan Perlembangan Persekutuan dan membawa kepada punca PAKATAN kehilangan kuasa politik di Perak selepas 11 bulan mentadbir.
PRU13 'ibu segala penipuan'
Insiden rampasan kuasa pentadbiran kerajaan negeri di Perak adalah satu contoh baik menunjukkan usaha BN menghalang PAKATAN mengambil alih kuasa pentadbiran daripada tangan BN kerana ianya melihatkan BN sebagai sebuah parti politik yang sanggup memperkudakan kuasa sektor awam dan insititusi raja yang sepatutnya menegakkan prinsip keadilan dan kesaksamaan demi kepentingan politik tersendiri. Menjelang PRU-13 ini, ianya dapat dilihat bahawa kadar sokongan dan jumlah kerusi DUN yang diraih oleh PAKATAN adalah tidak selari di samping ianya turut mendedahkan kewujudan penipuan dalam pilihan raya yang membawa kesan negatif kepada ketelusan pelaksanaan PRU-13.
Pada PRU-13 ini, BN berjaya mengekalkan status politik mereka akan tetapi kejayaan tersebut diselitkan dengan kemenangan yang tipis iaitu hanya kemenangan 133 kerusi Parlimen daripada 222 kerusi Parlimen. Berbanding dengan PRU 2008, BN kali ini mengalami kehilangan sebanyak 7 kerusi Parlimen dan 31 kerusi DUN di seluruh negara. Kadar sokongan BN daripada 51.4 peratus juga menurun kepada 47.7 peratus.  Sebaliknya, kadar undi PAKATAN meningkat daripada 47.6 peratus pada tahun 2008 kepada 50.9 peratus pada tahun 2013. Lantas, ianya dapat dilihat bahawa PAKATAN berjaya meraih lebih dari separuh sokongan para pengundi. Namun, PAKATAN masih gagal untuk mengambil alih kuasa pentadbiran kerajaan pusat. Ini berpunca daripada SPR yang memainkan peranan bersekongkol dengan rejim pemerintah,  dan melaksanakan sistem pilihan raya yang tidak adil.
Kontroversi-kontroversi lain PRU-13 termasuklah dakwat kekal yang didakwa senang dicuci, pekerja asing yang disyaki turut mengundi, dakwaan SPR menandatangani borang 14 sebelum kiraan undi atau tidak memberikan salinan borang 14 selepas kiraan undi, insiden-insiden keganasan politik, dan Kelab Kebajikan Pulau Pinang 1Malaysia pro-BN yang didakwa memberikan sogokan wang tunai kepada para penduduk kawasan DUN Air Putih, iaitu kawasan yang dimenangi oleh Lim Guan Eng pada tahun 2008.
Pelbagai insiden di atas menunjukkan SPR bersifat berat sebelah dan  ini bersama faktor-faktor yang telah dinyatakan membawa BN kepada pentadbiran berterusan selama 56 tahun sambil menikmati keistimewaan-keistimewaan politik. Pada masa yang sama, BN menggunakan tipu helah tidak beretika untuk memastikan pentas persaingan antara PAKATAN dan BN tidak adil mahupun sama rata. Keadaan ini, sekali dengan sistem first-past-the-post yang mnguntungkan rejim pemerintah, akhirnya membawa kepada keputusan PRU yang tidak munsabah aneh iaitu peningkatan dalam kadar sokongan dan undian kepada PAKATAN, pada masa yang sama, jumlah kerusi DUN dikurangkan.
KPRU mempercayai bahawa jika masalah struktur melibatkan sektor awam, terutamanya SPR yang terus menuruti pucuk pimpinan BN, maka impian rakyat bagi perubahan rejim atau pertukaran kerajaan tidak akan tercapai. SPR telah mengabaikan dakwaan-dakwaan penipuan dalam pilihan raya dengan kerap. Dakwaan-dakwaan yang telah diabaikan termasuklah pendaftaran undian yang mencurigakan iaitu dakwaan pendaftaran berulang warga Sabah dan Sarawak di negeri-negeri lain, isu penyempadanan semula kawasan pilihanraya, dan dakwaan keputusan pengundi pos pengundi di luar negara dan tentera yang tidak telus.
Oleh sedemikian rupa, sistem pilihan raya yang tidak adil mengakibatkan kekalahan kepada PAKATAN walaupun PAKATAN telah meraih sokongan yang lebih daripada separuh para pengundi serta kegagalan PAKATAN untuk mengambil alih kuasa pentadbiran negara ini dengan berpaksikan prinsip demokrasi, iaitu kemenangan majoriti pengundi.
Pengerusi SPR, Tan Sri Abdul Aziz Mohd Yusof dan Timbalan Pengerusi SPR Datuk Wan Ahmad Wan Omar telah didedahkan sebagai bekas ahli parti UMNO. Mereka kemudiannya menggunakan taktik pendirian "tidak ingat" dan "tidak pernah membayar yuran keahlian tahunan" sebagai alasan untuk terus menyandang jawatan-jawatan sebagai Pengerusi dan Timbalan Pengerusi SPR.
Namun, PRU-13 telah membuktikan SPR tidak boleh melaksanakan tugas-tugas mereka secara profesional kerana akibat latar belakang parti politik kedua-dua pegawai senior mereka yang mempengaruhi kebolehan melaksanakan tanggungjawab mereka secara telus. Ini adalah kerana Abdul Aziz Mohd Yusof dan Wan Ahmad Wan Omar telah membiarkan penipuan berlaku sepanjang tempoh pilihan raya PRU-13 ini tanpa sebarang perasaan bersalah.
KPRU mempercayai SPR dan JPN telah menjadi pembela kuasa pentadbiran BN sewaktu pentadbiran berterusan BN selama 56 tahun. Oleh itu, demi menegakkan prinsip-prinsip demokrasi dan pilihan raya yang adil dan saksama, SPR mestilah diperbaharui dengan menangani segala kelemahan dalam struktur organisasi dan pentadbiran. Selain itu sektor awam juga memerlukan penstrukturan semula dan menamatkan fenomena amalan kronisme.
Penutup
Pasca PRU-13, PAKATAN mengadakan Perhimpunan Suara Rakyat Suara Keramat di seluruh negara dan usaha PAKATAN ini berjaya meraih sambutan bersemangat daripada rakyat Malaysia. Ini menunjukkan rakyat seluruh negara menuntut sistem pilihan raya yang adil dan saksama. Di samping itu, Pasukan Siasatan PRU-13 PAKATAN dijangka membuat rayuan di mahkamah mengenai keputusan 27 kerusi Parlimen PRU-13 pada hujung bulan Mei ini.  27 kerusi Parlimen tersebut melibatkan kerusi-kerusi yang meraih kemenangan tipis termasuklah kerusi di Machang, Bentong, Pasir Gudang, Titiwangsa, Bagan Serai, Setiawangsa, Segamat, Balik Pulau, Kuala Kangsar, Kulim-Bandar Baru dan lain-lain.
Akan tetapi, sebarang peluang untuk memperbetulkan keputusan PRU-13 adalah sangat tipis di bawah rejim pentadbiran BN.  Walau bagaimanapun, perhimpunan yang diadakan di setiap negeri dan usaha PAKATAN untuk menuntut PRU yang adil di bawah undang-undang telah menonjolkan sikap tidak putus asa PAKATAN dan rakyat untuk melindungi hak-hak dan kepentingan rakyat di bawah sistem demokrasi demi masa hadapan Malaysia.
Akhir kata, KPRU berpendapat walaupun rakyat Malaysia mengidamkan PRU-14 nanti akan berjaya membawa kepada perubahan rejim atau pertukaran kerajaan bagi mengakhiri rejim BN; akan tetapi jika JPN meneruskan tindakan memberi kad pengenalan kepada warga asing dan bukannya warga Malaysia, disamping SPR terus mengabaikan tututan PAKATAN dan Gabungan Pilihanraya Bersih dan Adil (Bersih) untuk mengemaskini senarai nama pengundi, menutup sebelah mata kepada insiden penipuan pilihan raya dan pihak berkuasa yang tidak menangani masalah keganasan politik, maka sebarang pertukaran kerajaan atau penukaran rejim, sebagai proses bagi negara demokrasi tidak akan berlaku di Malaysia walaupun negara ini digelar sebagai sebuah negara demokrasi.
Rakyat Malaysia kini berhadapan masalah struktur institusi awam yang genting. Sebarang reformasi atau perubahan dalam jangka masa lima tahun ini hanya akan tercapai jika BN mempunyai kesedaran untuk melakukan sebarang reformasi atau perubahan kepada masalah-masalah ini. Kegagalan atau keengganan BN untuk menyedari fakta ini hanya akan membawa kekecewaan kepada rakyat Malaysia tidak kira sama pada masa kini atau dalam jangka masa lima tahun akan datang.
CONFIRMED, Anwar poll was wrong: It was hijacked by cybertroopers – the Edge
Posted: 17 May 2013 03:05 AM PDT
Business news website The Edge has said the results of a recent online poll on PKR de facto leader Anwar Ibrahim was "compromised" and has likely been hijacked  by cybertroopers.
In a report yesterday the website reported that the threefold spike in respondents to that particular survey fuelled suspicion as the site normally attracted 2,000 to 4,000 respondents.
"On Tuesday May 14, when The Edge's online editor Ho Wah Foon saw that the one-week survey had attracted 12,736 responses which were overwhelmingly one-sided, she immediately took down the poll.
"Upon checking, the Edge's IT department found that 6,354 of the responses came from one IP address, and about 1,700 came from several IP addresses within the same building.
"Another 2,000 responses came from seven different IP addresses.
"From this, it was obvious that the poll had been compromised and the results could not be treated as reliable or objective," said the website.
The online poll had asked readers whether Anwar should continue to lead Pakatan Rakyat or step down following the coalition's failure to win in the May 5 general election.
A whopping 10,396 of the 12,736 polled felt that Anwar "should call it quits" as he made this pledge to step down should Pakatan fail to wrest federal power on May 5.
PKR vice-president N Surendran responded to the polls saying the poll did not reflect the sentiment on the ground in favour of Anwar.
"This poll result is completely contradicted by the massive ground support Anwar has been receiving throughout the country since he announced that he would not accept the fraudulent GE results and would fight on to take Putrajaya," said Surendran.
In the recently concluded general election, Pakatan was denied a win despite gaining 53.3 percent of the popular vote.
You are subscribed to email updates from Anwar Ibrahim
To stop receiving these emails, you may unsubscribe now.
Email delivery powered by Google
Google Inc., 20 West Kinzie, Chicago IL USA 60610
You are subscribed to email updates from BLOG - BLOG PARTI PKR
To stop receiving these emails, you may unsubscribe now.
Email delivery powered by Google
Google Inc., 20 West Kinzie, Chicago IL USA 60610